On May 26, Antonio Tarver defends his marginal IBO Cruiserweight Title against unbeaten Lateef Kayode. Tarver, 43, breathed some life back into his career with a dominant 9th-round stoppage of streaking Danny Green last year. A win over Kayode would greatly further his cause in a cruiserweight division that is on its way up.
In order to do that, Tarver, 29-6 (20), will need to repel the challenge of the strong Nigerian contender who is unbeaten in 18 fights–with 14 knockouts. Kayode also enjoys a 14-year advantage in age. But if you ask Tarver, his age is not a burden, but rather a representation of having far more experience. The "Magic Man" has been to the top of the sport and if Kayode wants to get there, he will need to beat a veteran who showed in his last fight that he can still bring it.
Date: May 26, 2012
Site: TBA
Titles: IBO Cruiserweight: 12 Rounds
Styles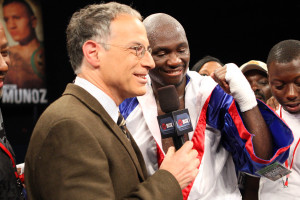 Tarver: The southpaw has a crackling left hand that can still reach its target effectively, but Tarver can also work on his opponent with the boxing skills that have been honed over a glorious amateur and pro career that stretches back two decades. Fights with the confidence befitting a man of his accomplishments, which includes never being stopped over the course of a long career.
Kayode: Not the slickest guy around, especially considering that he works with Freddie Roach. Though he's been trying to add some new elements to his game, he is a fighter who relies on his strength, power, and toughness. At the same time, if he doesn't get the knockout, he knows how to grind out decision victories, as he's done in his last 3 bouts. While it might not pretty, it's been effective so far.
Resumes
Tarver: Antonio's accomplishments will one day garner him serious consideration for the Hall of Fame. Long ducked by Roy Jones, he finally got his shot, losing a decision that could have easily gone his way in 2003. His 2nd-round flattening of Jones the following year was perhaps the most emphatic dethroning of a PFP #1 fighter ever. He split a pair of fights with Glen Johnson, beat Jones again, and then was soundly outboxed by Bernard Hopkins in 2006. Won a piece of his old belt back in 2008, before dropping a pair of decisions to Chad Dawson. Fought at 221 pounds in a decision win in 2010, before traveling to Australia and shocking favorite Danny Green with a vicious stoppage.
Kayode: While he certainly can't compete with Tarver in this category, Kayode has been putting together a nice run of wins for a guy who doesn't even have 20 fights yet. Slowly raised the level of his opposition, knocking out decent journeymen in Alfredo Escalera, Jr. and Epifanio Mendoza. After winning a closer-than-expected decision against Nicholas Iannuzzi, Kayode returned to his dominant ways, easily decisioning Matt Godfrey and Felix Cora, Jr. in his last two outings.
Strengths
Tarver: The "Magic Man" has many fine qualities as a fighter, including durability, power, pride, experience, and boxing skills. At a more-filled-out 6'3," he also has good size for the weight, despite spending most of his career at light heavyweight. He is also savvy and slick enough to make his southpaw stance work for him, though Kayode has shown he can beat lefties. Tarver is very intelligent and knows how to use his smarts in the ring. Very tough to beat when he gets on a roll and builds up confidence in a fight.
Kayode: Kayode is a big and strong cruiserweight. He also has a certain mental looseness to him, which helps allow him to have good stamina, unlike many heavily-muscled punchers. He just might be the strongest cruiserweight in the world, even though his punching power has diminished as he has risen in class. At the same time, no cruiserweight wants to get hit by Kayode, who can change a fight around quickly with his heavy hands. A confident young man who will not be easily dissuaded, Kayode is aggressive and well-conditioned. Fires a nice long jab and can string together nice flurries of hard shots from long range.
Weaknesses
Tarver: While recent events in the sport have caused us to to re-gauge our perceptions of chronological age, 43 is not young anyway you want to cut it. And despite Tarver's success, he hasn't always been the most consistent performer–fighting well below expectations on a number of occasions. There have been times where he has been out-hustled, something that could pose problems against Kayode.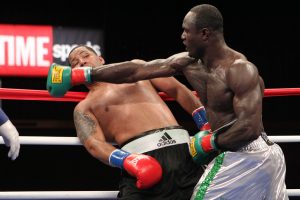 Kayode: Against this particular opponent, his crudeness poses an obvious problem. Lateef is no easy night's work for any cruiserweight, but one can't help but wonder if his total lack of slickness will be his undoing against a true pro like Tarver. Not to generalize, but he has a certain defensive rigidity that plagues many of his fellow boxers from Nigeria. The young contender seems to take the full brunt of a blow. He just doesn't roll with punches, nor does he possess a particularly sharp defense. And for a guy who relies on power, he hasn't been impressing in that category as of late.
Questions
Tarver: Is his heart still in it? With a cushy announcing job with Showtime, can he prepare the way he wants to and does he have the same urgency anymore? While his win over Green was impressive, is it possible we're overrating Tarver based on that one fight, especially considering a slew of disappointing performances leading up to that? Will his lack of activity hurt against an opponent who has been getting a lot of ring-time?
Kayode: Can he hurt a man who never seems to get hurt? Does he have any kind of Plan B if Tarver starts walking through or avoiding his crude offerings. Is he a modern-day Matthew Saad Muhammad or more of an Andrew Maynard clone? Is he better off trying to add a few wrinkles or should he embrace his all-guns-blazing style? Is he too raw for Tarver?
Tarver vs. Kayode Prediction
The result of this fight comes down to which set of skills will prevail. Will Kayode's persistence, strength, youth, and energy trump Tarver's experience, skills, and chin? And can Tarver still be counted on to bring those traits into the ring? We more or less know what we're getting with Kayode. Tarver is the question mark. If a listless Tarver shows up, he will likely be outworked. But if anything resembling vintage Tarver comes into the ring on May 26, Kayode will likely be out of his depth.
I see Kayode taking it to Tarver and perhaps taking some early rounds with a high work-rate. As Tarver warms up his old bones, look for him to start timing Kayode's advances with well-placed counters. Kayode will grow a bit more leery, as the sharpness of Tarver will begin to win the day. Kayode has never seen a straight left like the one Tarver can deliver from the southpaw stance. It seems wholly likely that Tarver will find a home for that shot with a fighter as aggressive and available as Kayode.
The fight might be fairly even after ten rounds, but the momentum will be squarely with Tarver. After figuring out and wearing Kayode down mentally and physically, Tarver will begin to score with enough power and regularity to justify giving Kayode the hook.
Prediction: Antonio Tarver TKO 11 Lateef Kayode