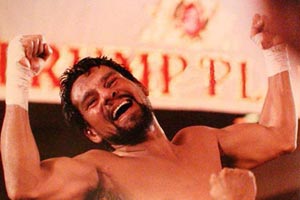 The Ten Greatest Lightweights in Boxing History
135 pounds just might be the deepest division in historical terms. Fighters who can't even get a whiff of this top ten are in the Hall of Fame. Throughout history, no division has been home to more #1 fighters in the sport. Along with the middleweight title and, of course, the heavyweight belt, this is among the most prestigious honors in the sport, where the best have tangled in hopes of earning championship laurels.
Therefore, it is a difficult top-ten to form–with numerous excruciating exclusions. Here are the top ten best boxing 135-pounders to ever lace 'em up in the prize ring:
1. Roberto Duran (1968-2001):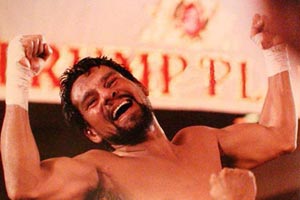 The most brutal lightweight who has ever lived. The last guy on this list that you'd want to run into in a ring, or in an alley for that matter. But to drone on about Duran's power only serves to mask the other attributes he brought into his fights. Duran also possessed the best feet in the sport–always able to be in position to hit his opponent with subtle defensive moves to boot. Not only was he the best in-fighting lightweight of all-time, he just might have been the best close-range boxer of all time.
Won the title with a 13th-round stoppage of 43-1 future Hall of Famer Ken Buchanan. Lost a non-title fight to Esteban DeJesus, but never lost at lightweight poundage, twice avenging the DeJesus loss in a pair of knockout defenses. From 1972-1978, made 12 defenses–all of them dominant wins and most of them bordering on savage. While he would go on to win titles in 3 other weight classes, this is where Duran was at his best. And his best at 135 was as good as there ever was.
Check out our entire collection of the all-time best fighters by weight class, as well as the breakdown of how these lists were made and what factors were included.
2. Benny Leonard (1911-1932):
If he's behind Duran (and some don't think he is) it's not by much. "The Ghetto Wizard" was always a step ahead of his opponents and he may have possessed the best mind of all ring legends. It's difficult to find another champion in history who was as far ahead of his contemporaries as Leonard was. He simply eviscerated the entire division and left it bare before leaving the throne still champion. He took some losses at the beginning of his career, but soon found his stride, winning NWS decisions over Rocky Kansas and Lightweight Champ Freddie Welsh. A 1917 knockout of Welsh officially netted Leonard the Lightweight Title.
A 3rd-round knockout of featherweight great Johnny Kilbane and NWS win over welterweight great Jack Britton closed out 1917. Another win over Britton and a draw with Welterweight Champ Ted "Kid" Lewis marked a solid 1918 campaign. In 1919, Leonard beat Vince Dundee, then met the excellent Willie Ritchie, stopping him in 9 brutal rounds. Another 8 defenses followed, including wins over Hall of Famers and standouts Johnny Dundee, Richie Mitchell, Rocky Kansas, and two wins over the great Lew Tendler. From 1917-1932, only a 4 round NWS decision and a DQ loss spoiled a perfect run.
3. Pernell Whitaker (1984-2001):
By far the best lightweight of the last 35 years and maybe the most dominant 135-pounder ever. He may not have ruled the greatest of lightweight eras. Then again, who knows what would have become of that particular lightweight class without the presence of Whitaker? It's rare to never lose a fight. The Jose Luis Ramirez debacle aside, I never even saw anyone get particularly close to beating "Sweet Pea." He totally cleaned out the division without a serious challenge. It might not have been the most thrilling reign and the lack of competition made it seem routine, but one could not have asked for more from Whitaker's lightweight days.
Whitaker may just have the greatest legacy of any fighter in history with under 50 fights. Four of Whitaker's lightweight rivals went on to later win world titles. His better wins at the weight include triumphs over Roger Mayweather, Greg Haugen, Jose Luis Ramirez, Freddie Pendleton, and Jorge Paez–fighters who handled themselves well in their careers, except when they faced the masterful Whitaker. The southpaw was one of the slickest fighters ever.
4. Joe Gans (1893-1909):
The "Old Master" was just that, a boxing prodigy who was light years ahead of his contemporaries. It's not easy to compare Gans with more modern fighters who competed in a much more defined framework of weight classes. But there's no mistaking greatness here. He lost his first title try to Frank Erne on cuts in 1900. By 1901, Gans found his footing and was nearly unbeatable for the better part of the next decade. A first-round knockout of Erne netted Gans lightweight honors. His first 7 challengers never saw the final bell. In 1907, he won a 42-round DQ win over Hall of Famer Battling Nelson, but in 1908, a long career caught up with Gans, as he was twice stopped by Nelson.
5. Carlos Ortiz (1955-1972):
A unique fighter, Ortiz was one of the division's great champions and the era he competed in was one of the best. Not many fighters have combined physical prowess with a keen mind with as much aplomb as Ortiz. One of the best resumes of any lightweight, Ortiz won the belt against a man who nearly made this list in Joe Brown. Prior to that, he beat an impressive array of contenders like Lou Filippo, Joey Lopes, Dave Charnley, Kenny Lane, and Len Matthews, in addition to a run as junior welterweight champion. His third lightweight title defense was a 14th-round stoppage of Hall of Famer Flash Elorde.
Following another win over Kenny Lane, dropped a majority nod to another Hall of Famer in Ismael Laguna in 1965. Seven months later, he regained the belt from Laguna via unanimous decision. Five more defenses followed, including repeat wins over Elorde and Laguna, and a pair of knockouts over the great Sugar Ramos. Some members of the hardcore set think Ortiz should be at the or near the top of this list and considering his resume, it's not such a crazy position to take.
6. Ike Williams (1940-1955):
While inconsistency costs him a higher slot, Williams at his best just might be the guy you take in a mythical fantasy tournament among this top ten. He was that good. Big, spidery, and hard as steel, Williams was a primal fighting force who could smother and vaporize opponents with an irresistible whirlwind of speed and crackling power. A pair of 1944 wins over Hall of Famer Sammy Angott showed he meant business, but despite those wins and triumphs over Juan Zurita and Willie Joyce, he was still taking losses. Beat future welterweight king Johnny Bratton in 1946, winning the NBA Lightweight belt in the same year.
The following year, Williams consolidated his world title honors with a brutal 8th-round stoppage of world champ Bob Montgomery. In 1948, scored a decision win over welterweight great Kid Gavilan. Brutally stopped Beau Jack in 6 hellacious rounds in 1948 and beat Bratton again the following year. Scored two more defenses in 1949, before finally losing the belt to Jimmy Carter in 1951. Williams finished on a winning note, drawing and knocking out old rival Beau Jack in his final two fights. Sure, he absorbed some setbacks, but still stands out as the best lightweight of a great era.
7. Henry Armstrong (1931-1945):
The multi-division king was at one point virtually impossible to beat and if you had to pinpoint his peak, it would likely be in this weight class. So how is a fighter in the top-five of all divisions not in the top five at the weight class where he was at his best? You can blame the fact that he spread his greatness over 3 weight classes for that, but make no mistake, Armstrong at 135 was one of the most robust packages ever seen in a prize ring.
"Homicide Hank" beat some good lightweight before winning the title, besting Tony Chavez, Mike Belloise, Frankie Klick, Benny Bass, Baby Arizmendi, and Lew Feldman, among others. Won the Lightweight Championship with a decision win over top-ten all-timer Lou Ambers, despite four point deductions. In his next bout with Ambers, he couldn't survive 5 point deductions and lost his title. While his run as Lightweight Champion was brief, he beat almost every leading 135-pounder of the day. He was at lightweight poundage when he beat Hall of Famers Barney Ross and Ceferino Garcia. It's just impossible to deny one of the greatest ever fighters at the weight where he was at his most lethal.
8. Tony Canzoneri (1925-1939):
The former bantamweight title challenger and Featherweight Champion needed more than one try to snatch honors at 135, but when he did, he did so as emphatically as anyone on this list. His 1:06 title-winning wipeout of Al Singer in 1930 was brutal and typical of the great Canzoneri. He tore apart Hall of Famer and former conqueror Jackie "Kid" Berg in a lopsided 3-round title defense. Following another win over Berg, Canzoneri beat another legend in Kid Chocolate by decision. With one foot in the junior welterweight division, Canzoneri notched another quality win over Billy Petrolle, before dropping the belt in a debatable decision to Barney Ross.
After losing another squeaker to Ross, Canzoneri beat top contender Frankie Klick, knocked Chocolate out in 2 rounds, and continued to hold the upper hand over a good group of lightweights. In 1935, he reclaimed his belt at 135 with a decision over the great Lou Ambers. Nine straight wins followed, including a decision over Hall of Famer Jimmy McLarnin, before a frenetic schedule against the best in the business caught up with Canzoneri. But in his prime, he fought all the best and far more often than not–came out on the winning side. One of the greatest fighters who ever lived.
9. Freddie Welsh (1905-1922):
Perhaps not a name that jumps out like the other men on this list, Welsh nonetheless was a standout lightweight with a great pedigree of success. Though he wouldn't win the title until 1914, he distinguished himself early in his career with some nice results, including a 1908 draw with 49-0 Packey McFarland, a win over Hall of Famer Abe Attell, and a victory over 53-1-4 Jim Driscoll in 1910. Beat Willie Ritchie in America in 1911, before avenging a prior loss by beating Matt Wells in London. Won a decision over unbeaten Johnny Dundee and Mexican Joe Rivers, setting up a shot against former victim and reigning champ Willie Richie–won by Welsh by 20-round decision.
A knockout of Ad Wolgast followed, as did many wins over some leading men of the time, though most of Welsh's fights were non-title tilts. After losing a NWS decision to Benny Leonard, he scored a NWS win of his own, clearly getting the best of the "Ghetto Wizard" in the return match–one of few men who can say they got the better of Leonard. In 1917, he beat Battling Nelson. A lot of tough matches caught up with Welsh as he was finally relieved of his title by Leonard later that year.
10. Lou Ambers (1932-1941):
While generally not found on many top-ten all-time lightweight lists, Ambers is hard to deny. When your list of victims includes names of Hall of Famers like Fritzie Zivic, Baby Arizmendi (twice), Tony Canzoneri (twice),Pedro Montanez, and Henry Armstrong, you're doing something right. Sure, he relied on point deductions to get the Armstrong win and Canzoneri had seen better days, but the Canzoneri he beat for the title in the first go-around was still a helluva fighter. In addition, Ambers bested so many good lightweights that it's impossible to describe in this small space. The "Herkimer Hurricane" was as tough and durable as they come, losing by stoppage only to murderous-punching Lew Jenkins at the very end of a difficult career.