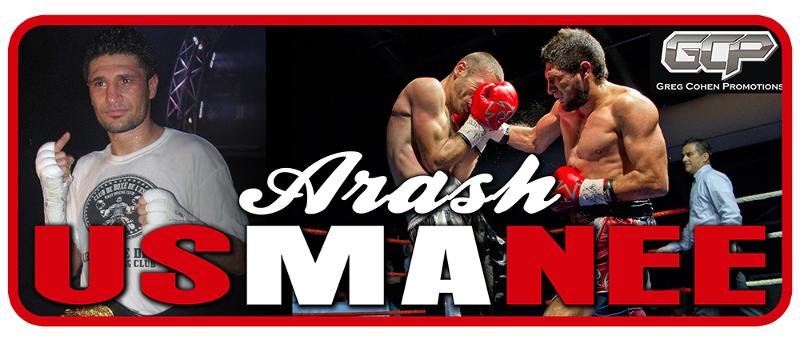 Disappointed Arash Usmanee Discusses Injury, Pulling out of Friday Night Fights Main Event:
IBF #8-ranked Afghani-Canadian Arash Usmanee says he's very disappointed to be missing out on his scheduled main event this Friday night at the Emerald Queen Casino in Tacoma, Washington.
Usmanee (20-1-1, 10 KOs) was scheduled to face Mexican KO artist Juan Antonio "El Mozo" Rodriguez (25-4, 23 KOs) in a 10-round super featherweight battle before suffering an injury in training earlier this week, forcing him to withdraw.
"My feet got tangled in sparring. I had injured it before in my last two fights. I twisted it when my feet got tangled and I fell," explained Usmanee. "I'm babying it. It's a sprain, so it could take a while. Sometimes it heals quickly and sometimes it takes a bit. It's starting to feel better. I have to wear a brace."
The timing of the injury is especially unfortunate for Usmanee, who would have liked to use the momentum of a globally televised victory on Friday Night Fights to propel him into a rematch with arch rival Rances Barthelemy, who recently won the IBF World Championship at Junior Lightweight.
The pair fought to a very controversial draw in January of last year, a fight which many felt Usmanee deserved the nod.
"I was excited about it. It was a good fight for me. Barthelemy just won the title. It was perfect for setting up a rematch between me and him on a bigger stage."
Still Usmanee is hoping Barthelemy's words post winning the title were his true intentions.
"He said he doesn't care who he fights, and that he'd fight the Lion of Damascus. Well, The Lion of Afghanistan is ready. For him, on the inside, to feel like he has that belt, he has to fight me. He has to have a win over me. With the way our last fight turned out, it's only fair I get a shot for him to feel like he's the real champion."