Undefeated super middleweight Derrick "Take it to the Bank" Webster (14-0, 7 KOs) is now confirmed to end what will be a one-year layoff, meeting gritty veteran Yasin Rashid (7-5, 2 KOs) on Friday, January 31st, at Harrah's Philadelphia. The bout, which is slated to be for the vacant IBS Super Middleweight Title, is part of the debut show of 2014 for Joey Eye Boxing Promotions.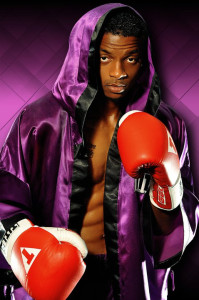 "I appreciate Yasin taking this fight because we went after everyone from undefeated prospects to guys with 16-2 type records, only to keep getting turned away," Webster stated. "So while I plan to put on a show on January 31st, I still respect this man. Sometimes, God has us wait on our moment, and He just let me off the leash. To all of Team Webster and all of my Glassboro Bulldogs, we are going to show up and show out on the 31st."
Rashid has a deceptive record at first glimpse, as the Brooklyn native has already stepped into the ring against some fighters with very impressive resumes. After starting his professional campaign with seven consecutive victories, he has dropped five straight contests, but those five opponents have shared a collective 47-2-1 record.
Webster last fought in January of 2013 when he won a decision victory over the highly underrated Darnell Boone. In 44 professional fights, Boone has faced just seven total fighters who had three or more losses, standing as the first man to drop number two pound-for-pound fighter Andre Ward and the only man to defeat current WBC Light Heavyweight Champion Adonis Stevenson.
"The anticipation of getting back in the ring has my emotions running on high," Webster remarked. "To see that I can go from having a year layoff and still have my fans there like they are says a lot about not only myself, but also my fans. Seeing their excitement is making me go even harder in my training because I love seeing my fans happy. There is nothing quite like having a plethora of people who love me like the way my fans do."
The type of support he receives from his fan base is what Webster credits as helping him survive the frustration he faced in 2013. Now with a fresh new year in front of him, he says that he is ready to reward them for their unquestionable loyalty.
"Words can't describe the way I feel about my fans," he continued. "A lot of athletes out there – once they're gone, they're gone. I've been getting a lot of feedback about how my constantly helping out in the community makes me deserving of all of the loyalty and support I receive. Despite the fact that I haven't been able to get fights over the past year, I've still been spending a lot of time in championship camps, which has kept me on everyone's radar on the boxing scene. When I first told my close friends, supporters and family that the commission had approved this fight, the type of reception I got from everyone was truly overwhelming."
Now that this long layoff is finally coming to an end, Webster says everyone can expect an incredible performance from him on the 31st.
"My fans will see a 'Take it to the Bank' that they have never seen before," he predicted. "I've grown so much. I've improved so much. I've truly learned how to take my brush and paint a beating like no other. They're going to see something that they've never seen before. At the end of my fights, I always get a standing ovation. Everyone always ends up on their feet. I'm giving that from the very start of this fight. When go in, we're going in. My fans have something coming for them."