Arthur Abraham (36-4, 28 KOs) is convinced that soon he will be a world champion once again. But before he can even start to think about another crack at a world title, the 33-year-old has to get past his next opponent. The prodigy of coach Ulli Wegner takes on Willbeforce Shihepo (20-6, 15 KOs) at the Sport- und Kongresshalle Schwerin, Germany on August 24.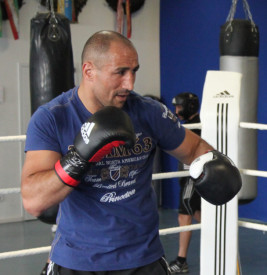 Abraham, a former Middle- and Super-Middleweight titlist, is currently undergoing a tense preparation under the guidance of Wegner's assistant Georg Bramowski.
"I know that I have to look ahead and train as hard as I can. Shihepo is very uncomfortable to box and varies his style during a fight. He is a brawler, so I have to be on my toes", said the super-middleweight. To make sure that he does not take his 30-year-old foe lightly, Ulli Wegner had some warning words. "Before Mr. Wegner went on holiday, he made it clear what I have to do during his absence. Therefore, I am giving it my all."
But even from the sunny island of Gran Canaria, Spain Wegner has some words of advice.
"There is a lot on the line. Shihepo will be highly motivated ahead of this fight. Although he doesn't possess one particular strengths, he is physical strong and difficult to predict. He tries to overpower his opponents by constantly looking for the infight. If Arthur wants to crown himself as the world champion again in the future, he has to be focused on August 24. That is the only way back to the top."