Manny Pacquiao's place as the world's #1 welterweight, boxing's pound-for-pound king and even his moral authority over Floyd Mayweather have all taken quite a beating during the last few months, with the end result that Pacman has slipped in the minds of fight fans (at least non-Filipino fight fans) to second place on all counts. Reasonable people have gone from thinking Mayweather was ducking Pacquiao to thinking the reverse, and the outrage over Mayweather's insistence that Pacquiao submit to steroid testing has all but disappeared. This sea change in boxing came about for no other reason than Bob Arum's flawed matchmaking strategy, and by extension, Manny Pacquiao's acceptance of it.
The Downward Slide for Pacquiao – The Timeline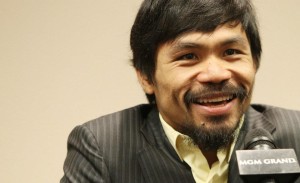 A quick review of the chain of events that undermined Pacquiao's stature is in order. The first link was Pacquiao's close and controversial Majority Decision win over Juan Manuel Marquez. Many experts though "Dinamita" was robbed in both the 2011 rubber match and the 2008 rematch. Even those who do not, however (once again excepting the rabid Filipino crowd), admit that the fight essentially picked up where Pacman vs. JMM I and II left off, and therefore revealed no major growth in Pacquaio's boxing style.
Compounding this result was the response to it by Top Rank and Pacquiao's camp. Freddie Roach started backpedaling from a showdown with Mayweather immediately after the fight, with Arum following suit and eventually scheduled away any possibility of such a fight taking place in the first half of this year.
Floyd Mayweather, on the other hand, trounced Victor Ortiz back in September. In comparing recent victories, Mayweather looks a lot better than Pacquiao. Also, Mayweather sensed the blood in the water after the outcome of Pacquiao vs. Marquez III, and he promptly pounced, calling out Pacquiao again for a May 5th bout that Pacquiao could have easily have made.
Most of the boxing world had accused Floyd Mayweather of being the main stumbling block in making a showdown with Manny Pacquiao happen. Now the shoe is on the other foot, and it's Pacquiao who is perceived as dodging the issue.
Arum's Flawed Strategy
In both matchmaking and promotional terms, this role reversal is entirely due to blowback in Bob Arum's basic strategy. Manny Pacquiao's fame exploded in December 2008 with his shocking upset victory over an aged, drained, rusty Oscar de la Hoya. That fight took place roughly nine months after the controversial outcome Pacquaio vs. Marquez II. The only fight date most boxing fans wanted to see Pacquiao undertake more than Mayweather was with Juan Manuel Marquez, yet the Pacquiao camp put off a rubber match with Marquez for more than three years. In doing so, a considerable amount of hype and expectation was built up around Pacquiao, and that bubble has burst. Also, Pacquiao has lost valuable time in tuning up for an engagement with Pretty Boy Floyd.
Bob Arum pursued a string of fights where he served as promoter for both Pacquiao and the opponent. In retrospect, it is now clear than the only man well-served by this strategy was Arum himself, who made fistfuls of extra cash in playing both ends of the equation. Planning for a potential mega-fight against the likes of the Pretty Boy, a more intelligent matchmaking strategy would have put Pacquiao in with a reasonable facsimile of Floyd Mayweather back in 2009 and/or 2010. That would have meant either the rubber match with Juan Manuel Marquez (skilled counter-puncher) or with Andre Berto (speedy slickster). Neither of these fighters is Mayweather, but both would have tested the same Pacquiao weaknesses as Mayweather.
The Pacfans in particular should take this criticism to heart. Imagine if Pacman had fought Marquez for a third time in 2009. Whatever the outcome, Roach's response would have been the same as now: "You need more work – back to the gym!" Then imagine that Pacquiao takes on Berto in 2010, and whatever the outcome, Roach sees more room for improvement. If Pacquiao could have been retooled for a showdown with Floyd Mayweather, that is the road that should have been followed. Instead, Arum chose to maximize his earnings, and Roach and Pacquiao acquiesced. Those choices have now boomeranged on the people who made them.