History of Boxing in the 1960s
A young man named Cassius Clay, dubbed "The Louisville Lip", wins the Olympic gold medal in the 1960 Rome games, and the story for much of the decade in boxing, and the decade in culture and society as a whole, began. While Clay would shock the world, and Ali would go on to rule it and change it, the '60s were also a period rich in boxing greats, including deep divisions and plenty of action in the lightweight, welterweight, middleweight and light heavyweight classes, amongst others.
Where Boxing Stood in the 1960s
If you wanted to summarize the 1960s in boxing, as well as offer a close reflection of the rest of the culture and feelings of the time, you could do so fairly quickly: Cassius Clay. Muhammad Ali.Vietnam War. Racism. You could end things there, and you would have a fairly strong sense of what the period was all about. But of course, there was much more to it than that.
The single defining event of the decade in the sport, and one of the single most defining moments in American culture ever, came in 1967 when the undefeated heavyweight champion of the world, Muhammad Ali, refused his entry into the United States Army. He was arrested, suspended from boxing, and found guilty despite his intentions of being a conscientious objector due to his religious beliefs.
The controversy this created helped fuel his eventual meetings with Joe Frazier in the 1970s, while enabling Frazier to claim the championship without first going through Ali. Of course, by this time, Ali's religion had already long been controversial.
After dethroning Sonny Liston in 1964, Clay publicly announced his name change to Muhammad Ali, and his alignment with the Nation of Islam. Seen as a radical group, and not without some merits to those charges, much of mainstream society shunned Ali. Simultaneously, he became the voice, image and hero of the poorer population in the country, African Americans as a whole, and much of the global community as well.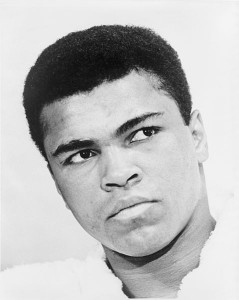 To only focus on Muhammad Ali though would be a disservice to the wide sampling of fantastic boxers who plied their trade in the 60s. There was Emile Griffith, Dick Tiger, Bob Foster, Nino Benvenuti and Jose Torres amongst others at the upper weight classes, and Carlos Ortiz, Flash Elorde, Eder Jofre and Fighting Harada dominating the scene from flyweight up to lightweight.
Griffith took part in one of the defining moments in the sport's history, when welterweight rival Benny Paret died 10 days after their third meeting. Paret infamously taunted Griffith before the final bout, questioning his sexuality, and Griffith unleashed a furious onslaught on Paret, including dozens of unanswered punches, which along with the two previous wars they had been through was enough to mark the end of his life. The final bout, and the brutal beating it contained, was televised nationally, and one could say was a landmark moment in the decline of the sport's popularity.
But boxing during the 1960s was at its best. There was a flock of all-time great champions and contenders smattered across all of the weight divisions, and the best all fought the best, and then fought each other again, and perhaps again. Controversy with Liston's fights against Ali showed the mob still had a heavy hand in the sport's major events, but its influence was on the way out, while television and big money purses began to rule the day, and the Olympics began churning out gold-adorned, ready-made stars for the sport and its television-watching base.
Best Fighters & Champions of the 1960s
Muhammad Ali: The self-proclaimed GOAT was at his own greatest in the 1960s, even if his most memorable fights largely came in the 1970s. Starting the decade with his given name, Cassius Clay, and with a gold medal win in the Olympics, Ali stormed the heavyweight division, and chased down Sonny Liston, goading him into a fight in which he was a massive underdog. The rest, of course, is history, and before Ali's suspension robbed him of three and a half years of his athletic prime, he ran off 9 title defenses.
Emile Griffith: The three division world champion is likely one of the most underrated fighters ever, thanks in part to the tragic ending to his trilogy against Benny Paret. Griffith though was a fantastic technician with a fierce fighting spirit, and he fought a string of top quality fighters and Hall of Famers that outdoes the resumes of most of boxing's best. First winning the welterweight title from Paret in 1961, by the end of the decade he was in decline, but in the interim fought trilogies against Nino Benvenuti (lost 1-2) and Luis Manuel Rodriguez (won 2-1), defeated Dick Tiger, and beat Joey Archer twice, amongst other action.
Dick Tiger: Tiger had a fantastic two-division championship run in the 1960s. He won the middleweight title in 1962 against Gene Fullmer, and defended it twice against him, before losing the belt to Joey Giardello and winning it back. After losing to Emile Griffith, he won the light heavyweight title against Jose Torres, and then beat him again. Other notable wins in a great, and often overlooked, career came over Nino Benvenuti and Rubin Carter.
Nino Benvenuti: Likely the best Italian boxer in history, Benvenuti was a two division champion with a career nearly entirely fought in the 60s. A career record of 82 (35) – 7 – 1 includes a trilogy winning effort over all-timer Emile Griffith, and wins over Luis Manuel Rodriguez, countryman Sandro Mazzinghi and an undefeated Ki-Soo Kim.
Carlos Ortiz: The two-division champion is best known for his work at lightweight. He captured the lightweight title in 1962 from the great Joe Brown, then held onto it for much of the next six years, twice defeating contemporaries Flash Elorde and Ismael Laguna, and fighting to a draw against Nicolino Locche.
Sonny Liston: In just over five months in 1960 before Sonny Liston became heavyweight champion, he knocked out Cleveland Williams, knocked out Zora Folley and beat contenders Eddie Machen and Roy Harris. Five months. He then detonated Floyd Patterson to win the heavyweight championship, knocking him out in the first round, twice. Then that loud mouth Muhammad Ali had to go and screw things up.
Fighting Harada: Known the world over as Fighting Harada, Masahiko Harada was a two-division champion at flyweight and bantamweight. He took home the bantamweight title from an undefeated Eder Jofre in 1965, and then beat him again in one of his four successful title defenses. He previously won the flyweight title in 1962.
Eder Jofre: In 78 fights, Eder "The Golden Bantam" Jofre lost only twice. The two losses, came within a three fight stretch, and both were at the hands of Fighting Harada via very close decisions. Prior to those losses, Jofre was 9-0 in world title fights at bantamweight, beginning with his first major title win in November of 1960 against Eloy Sanchez. Jofre later would win a title at featherweight in  1973.
Bob Foster: The bulk of Foster's title run, as well as his bold challenges for the heavyweight title in which he gave up between 30 and 40 lbs, were all in the 70s. But in 1968, already with a reputation as one of the most vicious punchers of all-time, Foster knocked out Dick Tiger in 4 rounds for the light heavyweight title. He defended his belts twice before the decade was out, both quick TKOs.
Jose Torres: The Puerto Rican light heavyweight champion took the title by knocking out Willie Pastrano in 1965. He defended it three times, including the 1966 Fight of the Year against Eddie Cotton, before running into Dick Tiger and losing to him twice. He fought only twice more, both wins against subpar composition, after the back-to-back losses against Tiger.
Flash Elorde: Gabriel "Flash" Elorde is one of the best Filipino boxers of all-time. His career spanned the 130-135 lb waters, and included two very tough, 14th round stoppage losses to Carlos Ortiz. But before and in between those losses came an 11-0 stretch in world title fights. He first won the world super featherweight title from Harold Gomes in March of 1960, after an unsuccessful featherweight bid against Sanny Sadler in 1956.
Gene Fullmer: Remembered more as a fighter from the '50s, Fullmer's short run in the 60s included all title fights against unparalleled competition. He opened the decade with a draw against Joey Giardello, then beat Carmen Basilio (again) and went 1-0-1 against Sugar Ray Robinson (he had went 1-1 against Robinson in 1957) before defeating Benny Paret and Florentino Fernandez, and going 0-2-1 against Dick Tiger to end his career. All in all, a very memorable 9 fight stretch.
Biggest Fights of the 1960s
Ali vs. Liston I, II: It was Cassius Clay that showed up the first time to meet Sonny Liston for the heavyweight championship. Liston wasn't just expected to win, people were scared for Clay's safety. He shocked the world, of course, became the then youngest heavyweight champion in history, changed his name and announced his membership with the Nation of Islam, and then defeated Liston via the infamous phantom punch in the rematch, in front of a 2,500 person crowd in Lewiston, Maine admits much controversy and a dark cloud of death threats.
Griffith vs. Paret Trilogy: The Griffith-Paret trilogy, fought in just an 11 month span between 1961 and 1962, is remembered today for its tragic consequences, in which Paret died 10 days after the final bout after sustaining a severe beating, which he may have in part provoked from Griffith by calling him a maricón. Before that, it was a very close and very hard fought series of meetings of top welterweight fighters.
Liston vs. Patterson I, II: The two heavyweight title fights between Sonny Liston and Floyd Patterson lasted all of four minutes. Liston absolutely crushed Patterson, knocking him out in the first round on both occasions. It further proved that the undersized Patterson should have pursued a light heavyweight career, despite his great skills, and it made Liston seem invincible heading into his bout against Cassius Clay.
Ali vs. Folley: A seemingly typical defense for Muhammad Ali in the prime of his career, without knowing any back story to the proceedings, was won by 7th round KO over the well-traveled heavyweight contender. However, the fight became Ali's last for 43 months, following his arrest and suspension from boxing for his refusal to be drafted into the U.S. Army.
Patterson vs. Johansson Trilogy: The first Patterson-Johansson fight was from June of 1959, but the following two matches were from the early 60s. The first match was an embarrassment for Patterson, a quick third round KO loss in which he went down 7 times. He rebounded strongly with a 5th round KO win in the next meeting to regain his title, and then defended it, after surviving two knockdowns, in their third encounter via a 6th round KO.
Griffith vs. Benvenuti Trilogy: In three matches between two of the best fighters of their time, Benvenuti managed to get the best of Griffith, winning the first and final matches in between a Majority Decision loss. The fights were all decided by close decisions, including the 1967 Fight of the Year for their first match, and were fought in an 11 month period between 1967 and 1968. In each meeting, all for the WBC and WBA middleweight titles, there was at least one knockdown.
Ortiz vs. Elorde I, II: Two meetings between the contemporary lightweight greats came down to the wire. On each occasion, Ortiz defended his title via 14th round TKO over Elorde, cementing his status as the era's premier lightweight.
Harada vs. Jofre I, II: Eder Jofre lost only twice in his career, and both were to the same man, via close decision, in a one year stretch. The bantamweight great gave up his titles to Harada in 1965 via Split Decision, and then unsuccessfully tried to take them back in 1966. Both fights were held in Japan.
More Boxing History
1950s Boxing ← 1960s → 1970s Boxing