History of Boxing in the 1970s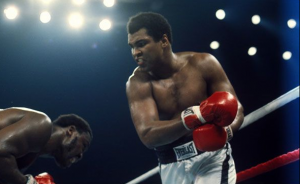 For many, boxing in the 1970s boils down to two words: "Muhammad Ali." Yet Ali's dominance and popularity are a matter of hindsight, and the decade looked very far from being the "Era of Ali" when the Louisville Lip returned from exile in 1970. Ali was still a highly questionable figure outside of African-American circles, and other heavyweights had come to the fore during his three-year absence. Elsewhere in the world, at least as much attention was focused on the great champions of the bantamweight, lightweight, welterweight and middleweight divisions as on the brash American with the Muslim name.

Where Boxing Stood in the 1970s
Boxing in the 1970s was characterized by dominant world champions. Antonio Cervantes, Alexis Arguello, Bob Foster, Roberto Duran and Carlos Monzon all came to rule their divisions for several years each, and often in the face of substantial opposition.
However, the decade is best remembered as the Golden Age of the Heavyweights. Never before or since have the ranks of the big men been so stuffed with talent, all of it presided over by the decade's three undisputed champions: Joe Frazier, George Foreman, and Muhammad Ali. Ali's resume in particular reads like a who's who of 1970s heavyweights, as he fought most of the era's best, and in some instances fought them two or three times each.
This sheer depth of talent, combined with Ali's charisma, led to record-breaking purses and made it possible for a top boxer with crossover appeal to really rake in the cash. In 1971, Ali and Fraizer were paid $2.5 million for "The Fight of the Century." Three years later, Ali and Foreman topped that sum by earning $5 million apiece for "The Rumble in the Jungle." Paydays for the sport's golden elite continued to spiral upwards from there.
The 1970s also saw the entry of two promotional figures who would dominated the sport for the next quarter-century: Bob Arum and Don King. Both men established themselves in boxing by working on Muhammad Ali promotions in the 1970s, with King most famous for masterminding "The Rumble in the Jungle."

Noteworthy Fighters of the 1970s
Muhammad Ali: Arguably not just the best heavyweight of all time, but the best P4P boxer in history, Muhammad Ali needs no introduction. Many look at the 1960s as Ali's best era, but I disagree. Ali was an early bloomer, and in the first half of his career he demolished the aging remnants of the prior generation of heavyweights (Liston, Patterson, Foley, Williams). It was in the 1970s that he fought men his own age (Frazier, Norton, Quarry), and then took on and beat an entire crop of young lions to boot (Foreman, Shavers, Lyle).
Alexis Arguello: Ranked 20th among The Ring's Top 100 Punchers, Arguello built his reputation as "The Explosive Thin Man" in the 1970s. He reigned as featherweight and super featherweight champion from 1974 to 1980. He didn't really meet his match until the early 1980s, in the form of a younger, bigger man named Aaron Pryor. At his natural weight and in his prime, he was the stuff of legend.
Wilfred Benitez: Known as "El Radar" for his intuitive ability to move, slip and weave out of the way of punches, Wilfred Benitez defeated WBA Junior Welterweight Champion Antonio Cervantes in 1976 at the tender age of 17 to become the youngest professional boxing champion in history. He then went on to win the WBC Welterweight Crown by beating Carlos Palomino in 1979, setting the stage for a showdown with a rising Sugar Ray Leonard later that year. What is often forgotten about that classic encounter is that it was Benitez, not Leonard, who was the established champion with the proven track record in 1979. That makes Benitez the great 140/147 lbs fighter of the late 1970s.
Antonio Cervantes: Cervantes' career wasn't perfect, as he struggled hard in a throwback-style career that saw him face several losses through the late 1960s and early 1970s. Yet to imagine the 1970s junior welterweight picture without him would be impossible. His first reign ran from 1972 to 1976, and was ended by the aforementioned Benitez. He got his title back after Benitez moved up in weight, and held it until 1980, when it was taken from him by the aforementioned Pryor. Cervantes was a good, consistent fighter who came out second best when faced with greatness, but through dogged determination and hard work placed his indelible stamp on the 1970s.
Roberto Duran: Many consider Roberto Duran the greatest lightweight of all time, and that part of his career belongs to the 1970s. It was the era where the furious Panamanian truly earned his moniker as "The Hands of Stone."
Bob Foster: The light heavyweight champion from 1968 to 1974, Bob Foster was a lanky, hard-punching knockout artist who stands as a contender for the title of greatest 175 lbs boxer of all time. Unlike the other fighters who contend for that status, Foster did not do very well in his many forays into the heavyweight ranks. As a puncher, he simply lacked the sheer size to translate his style into taming men who outweighed him by as much as 40 lbs. However, at his own weight he was pure dynamite.
Joe Frazier: Often overshadowed by Ali, people tend to forget what a great heavyweight "Smokin" Joe really was. He unified the world title in 1970, having defended the New York version four times already, including a Fight of the Year against Jerry Quarry. He went on to five more defenses, including his victory of Ali. That title reign alone makes him the #2 heavyweight in what was the Golden Age of the division.
Carlos Monzon: Winning the middleweight crown from Nino Benvenuti in 1970, "Shotgun" Monzon beat a host of contenders and reigned for seven long years. His passionate, chaotic lifestyle contributed as much to his fame as his long string of victories, as he partied across Europe with his Argentine swagger, smacking around paparazzi and Italian fashion models alike.
Saensak Muangsuring: In 1975, this Thai boxer set a peculiar record that continues to stand to this day. After only two professional fights as a boxer, he challenged for and won the WBC Junior Welterweight Title. In winning a world title in only his third professional fight, Saensak Muangsuring set the record for the quickest rise to a world title in history, and this was in an era when boxing had only the WBC and WBA belts!
Carlos Zarate: One of only two fighters in history to put together a pair of knockout streaks of 20 or more in a row, Zarate was ranked by The Ring as the 21st greatest puncher of all time. He reigned as bantamweight champ from 1976 to 1979, and didn't lose a fight until he challenged an even bigger puncher, Wilfredo Gomez, for the 122 lbs championship. In many ways, Zarate is the classic lower weight division Mexican banger.
Best Fights of the 1970s
Joe Frazier vs. Muhammad Ali I: Dubbed "The Fight of the Century," this first encounter between Frazier and Ali lived up to its billing and transcended not just boxing, but sports as a whole. Both men received a $2.5 million purse, a record in 1971. Ali did well at first, but visibly tired after the 6th, had fits with Frazier's relentless pressure, and was knocked down and badly hurt in the 15th and final round. The bout was Joe Frazier's career-best performance.
Joe Frazier vs. George Foreman: With 36,000 in attendance from Jamaica, Foreman, already 37-0 with all but three of his wins coming by knockout, blew Frazier out of the building. He knocked Smokin' Joe down three times in the first and the second, with calls of "Down goes Frazier!" from Howard Cossell ringing across televisions, to claim the heavyweight championship of the world.
Muhammad Ali vs. George Foreman: Many thought Foreman was invincible in the run-up to "The Rumble in the Jungle." He had demolished both Frazier and Ken Norton, two guys who had given Ali all he could handle. Yet Ali proved the truth of the axiom "styles make fights," and through a mixture of guile, hand speed and durability, took Foreman out into deep water and drowned him to reclaim the World Heavyweight Title. The entire event became the subject of an award-winning 1996 documentary, When We Were Kings.
Muhammad Ali vs. Joe Frazier III: "The Thrilla in Manilla" is memorable as a life and death, action-packed struggle marking the last great efforts by two of boxing's best-ever heavyweights. In the sweltering Southeast Asian heat, Ali did not so much beat Frazier as much as he simply outlasted him. Both men were on the verge of collapse when Frazier's trainer, seeing that "Smokin" Joe was virtually blind from swelling and therefore defenseless, threw in the towel in the 15th.
George Foreman vs. Ron Lyle: A knockdown-laden, see-saw encounter between two of the biggest sluggers the heavyweight division has ever fielded, this bout was the greatest slugfest in the history of the heavyweight division.
Larry Holmes vs. Ken Norton: Ken Norton had struggled a long time to earn his WBC heavyweight championship, and was arguably robbed of the crown during his third encounter with Muhammad Ali (itself a classic fight held at Yankee Stadium in the midst of a police strike), and was determined to put a stamp of authority on the title now that he had it. Larry Holmes was a hungry, rising contender destined for greatness. The result was a clash where two great heavyweights gave everything, especially in the 15th round, which saw them tear at each other in the final and deciding round of a desperately close fight. Holmes proved just slightly more able and just slightly hungrier.
Carlos Monzon vs. Nino Benvenuti I: Benvenuti was a distinguished champion, having reigned as 154 and 160 lbs champion since 1965, including wins over Dick Tiger and Emile Griffith. Then in 1970, he met Carlos Monzon of Argentina, and was stopped in the 12th in a passionate clash that became Fight of the Year. It was the end of Benvenuti's long reign and the start of Monzon's.
Roberto Duran vs. Esteban De Jesus II: Having lost their first encounter, a savage Duran comes out looking for revenge. De Jesus puts Duran on his ass in the 1st Round and wages war with him through the first third of the fight, but then wilts under Duran's pressure and the Central American heat. Hooks and uppercuts batter the life out of DeJesus, leading to a TKO11. With that victory, Duran evened the score and thereby cleared the way to become one of the greatest lightweights of all-time.
Wilfredo Gomez vs. Carlos Zarate: Another installment in the Mexico vs. Puerto Rico rivalry, this time between two of the greatest punchers in bantamweight history, both undefeated at the time. Gomez absolutely drilled Zarate, effectively ending his stint as a world class boxer.
Sugar Ray Leonard vs. Wilfred Benitez: The first great fight of the 1980s welterweight scene took place in November 1979, as Sugar Ray Leonard met his first worthy opponent in the form of the Puerto Rican prodigy, Benitez. In this supremely scientific boxing match, Leonard proved to be just a bit faster, stronger, and more skillful than "El Radar," wearing him down and stopping him with six seconds to go in the 15th Round.
More Boxing History
1960s Boxing ← 1970s → 1980s Boxing