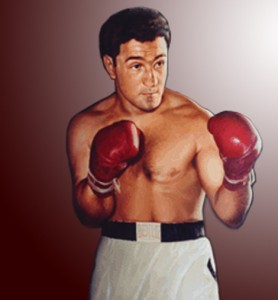 History of Boxing in the 1950s
Many people consider the 50s the golden era of boxing. When you look at the sheer number of top fighters from the period, it makes sense. The fact that this was a time when all the top guys fought each other makes it a truly special period. There was hardly a compelling match that didn't get made in the 1950s.
Where Boxing Stood in the 1950s
Boxing was a major sport in the 50s—competing with baseball as the most popular form of sporting entertainment at the time. The sport began to undergo major changes that continue to resonate today. Asians and South Americans started to fill prominent positions—giving the sport a distinctly international flavor. The continuing advances made in the area of aviation made it a truly global sport, as fighters could now easily cross oceans to pursue their championship dreams.
Boxing thrived in the 50s in spite of itself. Great fights and highly visible superstars made up for the severe corruption during this time. Always a sport filled with shady sorts, the 50s saw a spike in the mob's influence of the sport. Gangsters Blinky Palermo and Frankie Carbo, in addition to omnipotent promoter Jim Norris, ran the game with an iron hand. More often than not, a fighter's success was tied to his willingness to "go along" with the monkey business that was so prevalent at the time.
The sport has never truly been free from these corruptible influences, but during the 50s, there was a strong link between boxing and gambling, and therefore the Mob. Thrown fights and scandalous decisions were rampant—usually taking place at the behest of unscrupulous gamblers. At the time, gambling on sporting events was controlled by organized crime and they took a very "hands on" approach with their interests.
Boxing all over the world, but particularly in the United States is tied to economics. The more disadvantaged groups have typically provided the best boxers. As the complexion of the ghetto changes, so does the sport of boxing. The 1950s were the last era where a vast amount of  Jewish, Irish, and Italian fighters truly thrived in the states. Latinos and African-Americans began to increasingly dominate the American boxing landscape.
The 50s introduced the beautiful partnership between boxing and television. Perhaps the best sport to watch on TV, boxing saw unprecedented exposure during this time. Regularly shown fights, such as the Gillette Cavalcade of Sports, allowed fans to watch their heroes for free. This was a crucial turning point in the history of boxing. Exponentially more people watched fights. It provided a steady stream of fans and revenue to a sport that previously thrived only as a live attraction.
There were no closed-circuit events at the time and no pay-per-view, enabling anyone with a TV to watch the best fighters in the world. Even contenders were household names. None of the junior divisions really made more a ripple during this period. There were essentially eight divisions with eight champions. It was clear-cut. Any 4th grader could recite the names of all the champions.
With the advent of television, boxing was forced to begin moving away from its blatant monkey-business manner of operating. Millions of people were now watching. It's a little easier to pull the wool over the eyes of a few thousand people in a smoky arena than it is to trick millions of fans that are so close to the action—they might as well be standing on the ring apron. The 50s by no means signaled the end of shenanigans. It's just the last time where there was such a prevalent criminal culture—an almost accepted form of widespread chicanery in the sport.
Perhaps there were decades that can match the 50s in terms of excitement or greatness. There seems to be little dispute, however, that this was the most pivotal decade in the history of boxing.
Best Fighters and Champions of the 1950s
Sugar Ray Robinson: The greatest fighter of all time was more vulnerable in the 50s than the 40s, but still managed to add a mind-numbing amount of quality wins on his growing resume, including winning the Middleweight Title an incredible five times. Remained a factor throughout the entire decade.
Rocky Marciano: The greatest heavyweight of the decade and the only undefeated heavyweight champion of all time. His lack of coordination, miniscule 67-inch reach (1 inch more than tiny flyweight legend Jimmy Wilde), and lack of boxing skill should make you wonder how in the world he ever became heavyweight champion. Depended on power, stamina, and legendary willpower. Passionately heaved himself into opponents and overwhelmed them, many of whom surpassed him by light years in the talent category. Quite possibly the most fearsome fighting force in the history of boxing at under 190 pounds. (Read up on how a Rocky Marciano vs. Muhammad Ali fight would have gone)
Archie Moore: The long-neglected "Mongoose" languished for years before getting his rightful opportunity to win the light heavyweight title, finally getting his shot after 160 fights at age 39 in 1952. Reigned throughout the entire decade, becoming the de facto #1 light heavyweight of all time.
Willie Pep: No longer the unparalleled boxing force he had been in the 40s. Pep still began the decade as the reigning Featherweight Champion after his upset rematch win over Sandy Saddler. After a few more defenses, the greatest 126-pounder of all-time lost in two stoppage defeats to Saddler in 1950 and 1951.
Sandy Saddler: After splitting a pair of title bouts against Willie Pep, he dominated Pep in this decade, winning their two fights by stoppage. In his final title fight, he beat future Hall of Famer Flash Elorde by 13th-round knockout, before a car accident forced him to retire at age 29, still a reigning champion with over 100 knockout wins.
Ike Williams: If you could design a lightweight, you might come up with something close to Ike Williams—a tall, sturdily-built boxer-puncher. Winding down a bit by the time the 50s came around, Williams is one of the greatest lightweights of all time.
Ezzard Charles: "The Cincinnati Cobra" is often perceived as a good, but unspectacular heavyweight champion. That's like judging Mike Tyson by what he did in the 90s. Taking in the entire scope of Charles' career reveals one of the very best fighters of all time, a great light heavyweight who never got a chance at the title. Was better in the 40s but still managed wins in this decade over luminaries such as Joe Louis, Jersey Joe Walcott, Joey Maxim, and Jimmy Bivins.
Jersey Joe Walcott: One of the few fighters who was better at 37 than 27. Late-blooming heavyweight broke out of the journeyman role late. First sign that he had turned his career around was when he got robbed of a decision against champion Joe Louis. Was still considered an afterthought after losing two decisions to Ezzard Charles. But in their third fight, Walcott turned the tables with a memorable knockout win to become champion. Also beat Charles in their 4th fight, before dropping a pair of fights to Marciano to bring an end to his career.
Floyd Patterson: 1952 Olympic Gold Medalist started off at light heavyweight, before blossoming into the signature heavyweight of the last half of the 50s. Destroyed Archie Moore for the vacant title at 21, stringing together 4 defenses before Ingemar Johansson shocked him in 1959, exposing Patterson's iffy chin with a 7-knockdown TKO in the 3rd round.
Kid Gavilan: Fought absolutely everybody. There weren't many more demanding boxing careers than that of the legendary Cuban welterweight champion. Popularized the famous "bolo" punch. Among the greats he defeated in the 50s were Billy Graham (thrice), Johnny Bratton (twice), Gil Turner, Carmen Basilio, and Johnny Saxton. Miraculously, never stopped in 143 bouts.
Carmen Basilio: Onion farmer began his career with little aplomb. Was 28-10-4 after losing to Billy Graham in 1952. Turned his career around by beating some leading welterweights, and then by winning the Welterweight Title with a 12th round knockout of champion Tony DeMarco in 1955. Shocked Sugar Ray Robinson in 1957 to win the Middleweight Title, before losing the rematch. Both bouts were the Fight of the Year.
Gene Fullmer: Utah strongman was at the head of the class at middleweight in the late 50s. Fought Robinson four times, losing only once. Scored a pair of stoppages over Carmen Basilio. Their 1959 war was Fight of the Year.
Pascual Perez: 4'11" fireplug was one of the greatest flyweights of all time. Olympic Gold Medalist ran of to 51-0-1 record to begin his legendary pro career. Reigned from 1954-1960, beating the best flyweights from Europe, Asia, and South America.
Duilio Loi: Unsung Italian junior welterweight lost only 3 of 126 career fights and was never stopped. Lost only once in 97 fights during this decade. While his biggest wins (a pair of wins over Carlos Ortiz) would come in the beginning of the next decade, Loi was nonetheless a dominant factor in Europe during the 50s.
Sonny Liston: Not yet champion, the last part of this decade was when Liston might have been at his fearsome best. Long denied a title shot due to his questionable ties and Floyd Patterson's management wisely trying to avoid him. By the end of the decade, his demolitions of Cleveland Williams and Nino Valdez established him as a true heavyweight threat.
Joe Brown: Lightweight champion reigned from 1956-1962. "Old Bones" made 7 defenses of the world title to end the decade as reigning champion.
Jose Becerra: Foremost bantamweight was a dominant fighter in the southwest, beating a slew of quality banties in California and Mexico, before annexing the world title by crushing respected champion Alphonse Halimi in 1959.
Harold Johnson: Would not become champion until the 60s, but wins over names like Archie Moore, Bob Satterfield, Nino Valdez, and Ezzard Charles established him as a top fighter in this decade.
Biggest Fights of the 1950s
Saddler vs. Pep III: Pep, coming off an improbable rematch win over Saddler, boxes well in the early-going, despite taking a count in the 3rd. The energetic, roughhousing, and highly physical style of Saddler proves too much for an aging Pep in their rubber match, as "the will of the wisp" fails to come out for the 8th round—citing an injured shoulder.
Charles vs. Louis: Louis returned from retirement in 1950 to take on his replacement as champion. In losing a clear 15-round decision, it was clear the aging Louis had lost his edge. Charles was clinical in his dominant dissection of the once-invincible champion.
LaMotta vs. Dauthille: LaMotta, hopelessly behind and fighting a talented contender who had previously beaten him, roars back to score a last-second knockout to save his title. The Bronx Bull plays possum, catching Dauthille and stopping him with only 13 seconds left in this 1950 fight.
Robinson vs. LaMotta: The St. Valentine's Day Massacre. Robinson, 120-1-2 and his only loss against LaMotta, reconfirms his mastery over his old rival in their final fight. A close fight becomes one-sided late, with Robinson brutally pounding a defiant LaMotta into a bloody TKO in round 13.
Walcott vs. Charles III: The 37-year old Walcott, already defeated in two previous title tries by Charles, times the champion with a beautiful left hook, relieving "The Cincinnati Cobra" of his senses and title in an upset.
Turpin vs. Robinson: Robinson, still considered unbeatable, was 128-1-2 at the time of this bout. Turpin, in a major upset, won a 15-round decision in what might be the greatest win of any English fighter in history.
Marciano vs. Louis: Two of the biggest names in heavyweight boxing history, unfortunately only one was near his prime. Louis, at 37, looked more like 47. After a moderately competitive first few rounds, Marciano began to wallop Louis. In the 8th round, Marciano drove a right hand into the jaw of Louis—knocking him onto the ring apron. One of the saddest nights in boxing, as the heroic Louis was unceremoniously shown the exit after a great career.
Marciano vs. Walcott : The cagey and late-blooming Walcott was outboxing Marciano until the 13th round. The right hand corker Marciano hit Walcott with was one of the great shots ever landed and left Jersey Joe in a heap. The beginning of a new era.
Carruthers vs. Toweel: An incredible display of volume punching by the talented Carruthers, who opens the bout whipping punches at Toweel in bunches. In 2 minutes, Carruthers throws about 150 punches, taking Toweel's title via first-round knockout.
Moore vs. Maxim: Finally, Moore receives a title shot and it is no easy assignment. Maxim is a classy and accomplished light heavyweight champ, but is no match for the long-suffering Moore, who won this 1952 bout by lopsided decision.
Marciano vs. Charles II: Another back-from-the-brink win for the Rock. With his nose split in two, Marciano was moments away from a TKO loss, when a furious assault saved his title in the 8th round.
Marciano vs. Moore: The last fight for the Brockton Blockbuster was by no means easy. Archie Moore was aged at 38, but would reign as light heavyweight champion for the next 6 years. Moore managed to drop Marciano in the second, but could not follow up and soon found himself on the wrong end of a beating, which finally ended in the 9th round.
Saddler vs. Elorde: In Saddler's final title fight in 1956, he finds himself in a firefight with a man who had previously vanquished him. In a great battle, Elorde is forced to capitulate in the 13th due to a horrible cut.
Patterson vs. Moore: Patterson, a small heavyweight at only 21 years old, was supposed to struggle with the still-capable Mongoose. It wasn't even close, as Patterson stopped Moore emphatically in the 5th round of this 1956 bout to claim the vacant Heavyweight Title.
Robinson vs. Fullmer II: Robinson, 36 and aging rapidly, was facing an ultra-durable fighter who had previously beaten him. While backing up, he unleashed one of the greatest punches ever thrown—a lighting bolt left hook that completely separated Fullmer from his senses and earned Robinson back his Middleweight crown.
Robinson vs. Basilio II: The Greatest Ever's last wonderful performance. Again, Robinson is facing a younger opponent who had previously beaten him. Robinson manages to call on all of his last reserves to swell up Basilio's face and win a split decision to claim the Middleweight Title for an incredible fifth time.
Moore vs. Durelle: One of the greatest and most breathtaking back-and-forth brawls of all time. Moore, rising from 4 knockdowns, roars back to put Durelle down 4 times before stopping him in the 11th round of their 1958 thriller to retain his light heavyweight title.
Johansson vs. Patterson: Patterson crumbles alarmingly at the right-hand power of the Swede. Johansson is shot out of a cannon, dropping Patterson an incredible 7 times before the referee finally intervened in the third round.
More Boxing History
1940s Boxing ← 1950s → 1960s Boxing