We're back with the latest edition of the boxing rumor mill, and it's a good one. We'll be talking about a few big fights which should be coming our way in early 2013, including Andre Ward vs. Kelly Pavlik, and Zab Judah vs. Danny Garcia. Next, we'll also be touching on some of Ricky Hatton's startling comments and admissions made during a media conference call on Monday afternoon.
Andre Ward vs. Kelly Pavlik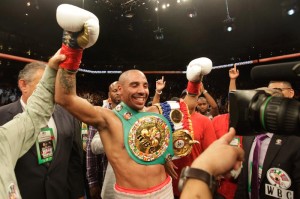 According to BoxingScene.com, Andre Ward is now officially scheduled to face Kelly Pavlik on on January 26th in Los Angeles, in an HBO-televised title fight. The Ward vs. Pavlik clash had been rumored for quite some time, and now looks set.
It's a huge opportunity for Pavlik to reach his old heights, and for Ward, he gets a big name opponent. Realistically, I don't see Pavlik as having a chance in the fight, not the 2012 rendition of the Ghost, any way. If the 2008 Pavlik could be placed into the ring, that would be a very interesting clash, but I don't see Pavlik as being nearly as capable or effective as he was then.
Apparently the co-feature will showcased heavyweights Chris Arreola vs. Bermane Stiverne. The only thing worth mentioning is: why in the world is this fight on HBO?
Danny Garcia vs. Zab Judah
After a few different dates and locales had been mentioned, Garcia vs. Judah is now set for February 9 at the Barclays Center in Brooklyn, in a fight to be televised on Showtime. Garcia will defend both his WBA & WBC titles.
It's an intriguing clash, and with Judah fighting in his backyard of Brooklyn, it should make for a great environment as well. Fellow Brooklynite Peter Quillin is scheduled for the undercard.
Also on the 19th will be the NYC card featuring Gennady Golovkin, televised on HBO.
Meanwhile, Devon Alexander vs. Kell Brook has been set for January 19 on Showtime, the date previously slotted for Garcia vs. Judah. Alexander will defend his newly won IBF welterweight title in a high profile match-up between the unbeaten British contender, and the now two-division American champion.
Alexander vs. Brook is a great fight and should help provide some clarity in the welterweight division.
Ricky Hatton's Comments About Drugs, Alcohol & Depression
The last stop in today's boxing rumor mill are the comments Ricky Hatton made in a media conference call held on Monday afternoon. Hattons talks about having considered suicide, being in a long-term alcohol and drug-fueled binge, his feud with his parents and more. Here's a glimpse:
"I'm sure you're going to ask me why I came back. I was always a very proud fighter. I was always a very hard fighter, always fought with a lot of heart and was able to dictate fights. So you can image when I got destroyed in two rounds by Manny Pacquiao it was very hard for someone who takes so much pride in themselves. Even though it was by someone like Manny Pacquiao. As soon as Manny beat me I went into depression and that lead to problems that were well-documented in the tabloids, with suicide attempts and nervous breakdowns and panic attacks. Not speaking to my parents for two years, and I'm still not speaking to my parents, which has been very, very hard. Losing my longtime trainer Billy Graham, tending to a court case. My life for the past three years has really turned to mush. So I'm now returning to my boxing career not just because I got knocked out in two rounds by Manny Pacquiao, but I think I let a lot of people down in that period of time and I'm here to put a lot of ghosts and demons to rest."
For a full write-up on Hatton, his comeback, and what he has been through over the past few years, read this piece by Kevin Iole on Yahoo!