In a high-stakes welterweight match-up, Robert Guerrero takes on Andre Berto on Saturday at the Citizens Business Bank Arena in Ontario. This fight pits a pair of 29-year-old once beaten ex-champions. This is Guerrero's 2nd fight at 147, after winning the interim WBC belt over tough top contender Selcuk Aydin. His weight jump has been remarkable, having been in the 120's as recently as 2009 and basically leapfrogging 140. Berto, meanwhile, is coming off a 14-month layoff after beating Jan Zaveck in September of 2011.
Berto has a bit of stink on his shoe that is proving hard to remove. A June rematch with Victor Ortiz was cancelled after Berto tested positive for a banned substance. Other than the dominant win over Zaveck, 2011 and 2012 has been bad for Berto, in the ring and in the PR department.
Date: November 24, 2012
Site: Citizens Business Bank Arena, Ontario, California
Title: Interim WBC Welterweight Title: 12 Rounds
Robert Guerrero, 30-1-1 (18 KOs)
Vs.
Andre Berto, 28-1 (22 KOs)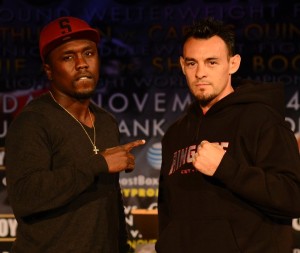 Conversely, it seems like Guerrero is hitting his peak. His trials are well-documented and he now finds himself clear-headed and ready to blaze down whatever path might await him. He is more active and seems placed squarely in his window of success. Berto, while in a position to get back in the mix, seems like he may have perhaps already had his best fights.
Guerrero has some advantages, namely a southpaw style that when executed expertly, has given Berto some issues. I thought he was lucky to skate by Luis Collazo on the cards in a 2009 title fight and Ortiz is a southpaw who beat Berto. Then again, Berto did handle tricky lefty Carlos Quintana rather easily, so Guerrero's southpaw stance isn't necessarily going to be a big factor.
For me, Guerrero's biggest advantage is in the mental area. He fights with strategy, technique, and a vision of the fight that is really impressive. Berto always struck me as a fighter who relies on brawn more than brains. Not that he's a dumb fighter. He just doesn't seem to have a very advanced view of the fight. He is smart enough, however, to know that superior firepower and hard-fighting is a tough combination to beat and it has worked for the most part.
[Also See: Pre-Fight Q&A Interview with Robert Guerrero]
There lies the problem for Guerrero. Berto has more on the ball offensively. When he's fighting hungrily and gets rolling–he can really bring it. His punches have that rare combination of speed and power–both on a pretty extreme level. If you were to see both guys hitting a heavy bag, for instance, you might conclude that Berto is the better fighter. At this level, it doesn't always come down to that.
Ortiz gave Berto hell. Looking at Ortiz' attributes as a fighter, he is almost the antithesis of Guerrero. Ortiz has crunching power, but he's a mental case whose lack of concentration and confidence can cost him at anytime. Guerrero doesn't pack the punch Ortiz has, but you can bank on him being a consummate professional.
Against Berto, however, I'm not sure that I wouldn't rather have fight-changing power than skills and composure. Another ding on Guerrero here is that we're used to seeing him as the taller guy and here he is facing a guy who is a lot more robust physically and also a half-inch taller.
It's important to look at the mindsets of these fighters coming into this fight. Guerrero has been on a sort of staging area for greatness for about 7 years, since he was an elongated featherweight wreaking havoc on his opponents. Life got in the way and you have to figure he's putting everything into this fight mentally. This isn't just another walk in the park for Berto, either. He has a lot to make up for. A loss here would be a devastating setback and you just have to think he will be frantically scratching and clawing to avoid that.
Berto vs. Guerrero Prediction
Both men will fight with an edge and it's difficult to imagine this not being good. It might be over-simplistic to look at this fight along the lines of Berto's physicality vs. Guerrero's skills and ring smarts. I see it being a little bit more of a dogfight than that. It's such a toss-up that one is almost inclined to handicap the judges. This is a Golden Boy show and Guerrero is under their banner, but Berto isn't exactly poorly-connected–with Al Haymon in his corner in an HBO fight.
Berto's offense is a little easier to see. It's a blustery show. Sometimes, it's without rhyme or reason, but it scores points. He can also do damage with a much sharper attack than what Guerrero saw against Aydin. I see it being enough to earn a very narrow decision win.
Prediction: Andre Berto by majority decision.