Team USA Boxing has finally run aground (in the men's division anyway) after narrowly avoiding that catastrophe in the Beijing Games, winning zero medals for the first time in Olympic history. In 2008, American boxing was just barely spared that rock-bottom humiliation when heavyweight Deontay Wilder won a bronze medal.
Wilder has since grown into a 6'7″ 26 year old, weighing about 220 and wielding an 84-inch reach. With a sound amateur pedigree and such physical gifts, Wilder looks like a formidable prospect. It has now been four years since Beijing, however, and since turning pro in August 2008 he has yet to even reach the fringe contender level. As Wilder continues to feast on tomato cans and journeymen, the question "when will Wilder step up?" becomes more and more valid.
Developing a World Champion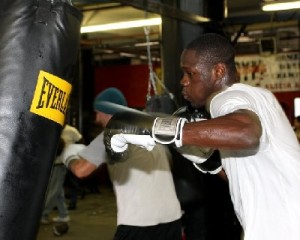 Even gold medal-winning Olympians do not emerge from the Summer Games as fully-formed world champions. They might have a leg-up on other novice fighters in terms of experience, talent and especially media exposure, but the road forward from turning pro is the same for everyone.
New professionals start off tangling with other novices in four rounders, and then move up to a mix of tomato cans and progressively more capable journeymen in six- and eight-round fights. After three to five years, a prospect should be as ready as they ever will be for their first steps into the big time, and to begin tangling with gatekeepers and fringe contenders in eight- and ten-round fights.
Take Andre Ward, the 2004 gold medalist and current top dog in the 168-pound weight class. Ward's first two bouts were with undefeated novices in four- and six-round fights. He stayed at the six-round level for two years, the eight-round level for another year, and started fighting ten-rounders in November 2007.
He did not advance to fighting his first gatekeeper until May 2009, when Ward took on Edison Miranda. Ward's almost five year development timeline is a bit longer than usual, but still within the bounds of normal expectation.
Vitali Klitschko provides another typical example. After turning pro in November 1996, Klitschko did not get to his first fringe contender until June 1999, when he knocked out Herbie Hide. That fight also bagged him the WBO world title, but this was during the Lewis & Holyfield period, so Vitali's standing was akin to that of David Haye's when the Briton was WBA champion.
The interesting thing to note about Klitschko is that he went big after just under three years, and after doing so his record for the next three years was mixed. He lost to Chris Byrd and Lennox Lewis, while winning his fights with fringe contenders like Obed Sullivan, Orlin Norris, Larry Donald and Vaughn Bean. Perhaps some more time in the pot would have suited Klitschko the Elder more?
Where is Deontay Wilder?
Wilder is now 24-0 and four years into his professional career. The reason why the grumbling about him is starting to grow is that after that time, Wilder is still at the journeyman level. Bryant Jennings, with only two years of pro experience and 14 fights, has stolen Wilder's thunder by moving up and striking down gatekeeper Sergei Liakhovic. [Editor's note: Consider that ProBoxing-Fans.com did not bother including Deontay Wilder in the Klitschko Readiness Rating series].
That puts the pressure on Wilder, and yet after five months his camp shows no signs of seeking out Alexander Dimitrenko, Odlanier Solis, Tony Thompson, or any of the other dozen or so "name" boxers occupying the division's fringe contender and gatekeeper strata. Until he does so, people will continue to grumble.
Yet those grumblings are not really fair, at least not yet. No one held it against Andre Ward that he took five years between the Olympics and going after Edison Miranda. Should Deontay Wilder, who won bronze and not gold, be held to a higher standard?
Of course he shouldn't. Boxing is a sometimes strange sport. In the late 1990s and early 2000s, and after a string of embarrassing defeats, only a few experts thought that either Klitschko brother would rebound to become major figures in the heavyweight division, and no one foresaw their dominance of it. No one guessed that after taking the easy (and corrupt) road to a championship belt, Julio Cesar Chavez, Jr. would rise to become the clear #2 middleweight in the world.
The road to title contention is not always straight or predictable. Wilder looks like he is on course, and Jennings is far from ready to challenge for a world title just yet. A little patience and perspective on both men would not go amiss.