While the boxing world is still taking in the aftermath of the Floyd Mayweather vs. Miguel Cotto fight, there has been some big news over the past day across several different fronts. Most notably, it has come out that Lamont Peterson failed a pre-fight drug test several months ago, testing positive for synthetic testosterone, and also that David Haye and Dereck Chisora will fight this summer in London.
Peterson's Failed Drug Test
Peterson and Khan agreed to the VADA Voltunary Anti-Doping Association) drug-testing program, a voluntary, comprehensive screening program developed by Dr. Margaret Goodman. It had actually been Peterson's idea to pursue the VADA testing for the rematch against Khan, and as I've mentioned before, that was likely an effort for the fighters to put themselves in good position to potentially land a fight against Floyd Mayweather, whose recent opponents have all submitted to strict pre-fight drug testing programs.
The failed test for synthetic testosterone was apparently back in March, and is just being made public now. At this time, the circumstances surrounding that failed test are unclear, as are its consequences. We don't know if this could end ups scrapping, or delaying, the Peterson-Khan II fight, which is supposed to be held in less than two weeks on May 19th.
David Haye vs. Dereck Chisora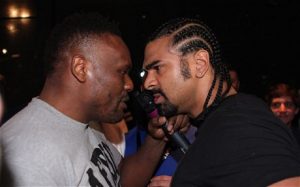 Haye and Chisora are now officially slated to meet in the ring on July 14th, in London, after the two infamously brawled following Chisora's loss to Vitali Klitschko. This is a very intriguing fight for the heavyweight division, and it should also be a fun one for the fans.
A legitimate grudge match with lots at stake, Haye vs. Chisora should produce some fireworks. While I can't trick myself into expecting too much from David Haye, I know Dereck Chisora will be bringing it and forcing the action one way or another.
Haye, of course, had pretended to retire after his loss to Wladimir Klitschko, but it's no surprise that he's returning now. The other issue with the bout is that Chisora was suspended by the BBBoC, and therefore the bout will be sanctioned by a different organization.
Also on the card will be Ricky Burns' WBO lightweight title defense against Kevin Mitchell.
Stay tuned for more boxing news and rumors from ProBoxing-Fans.com, and any updates regarding the Peterson-Khan rematch and whether or not it's still a go.
Comments
comments