We're back with another edition of the rumor mill, as the last week has been busy with buzzing boxing headlines and news. Right here, we'll give you a quick rundown of all of the biggest stories, including a potential mega-fight between Chad Dawson and Andre Ward, and pay-per-view numbers for the recent Floyd Mayweather vs. Miguel Cotto event, and a rumored match at 140 lbs between Juan Manuel Marquez and Zab Judah. Take a look.
Ward vs. Dawson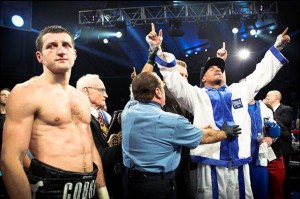 The promoters of Ward and Dawson are trying to hash out the details of a September clash between the undefeated winner of the Super Six Tournament, and the current WBC light heavyweight champion. The Ward vs. Dawson fight would pit two of America's best young – and proven – fighters against one another, and would be at a catchweight of about 170 lbs. That means that Dawson's light heavyweight titles would be at stake for both men.
It's hard to envision Ward vs. Dawson being particularly entertaining – however, it's a fight with a ton of intriguing potential in terms of the sheer merits of the combatants. Another win for Ward would cement his status as one of the pound for pound best fighters in the world, while a win for Dawson would put himself back in the mix of the top 10 best fighters as well.
Mayweather vs. Cotto PPV Buys
The early numbers for the Mayweather vs. Cotto PPV are in, and they are quite impressive. The fight generated $94 million in pay-per-view revenue, and generated over 1.5 million buys. The numbers are expected to increase once everything is reported and tallied up. It's the second highest grossing PPV fight of all-time, behind Mayweather's fight against Oscar De La Hoya.
The crazy $60-$70 prices can be thanked for that. Nevertheless, 1.5 million PPV buys for Mayweather vs. Cotto is a very impressive figure, and further cements Mayweather's place as the "Money" man in the sport.
Marquez vs. Judah
Another rumored bout right now is between Juan Manuel Marquez and Zab Judah, potentially for July 14th. Marquez, now a titleholder of sorts in the junior welterweight division, is looking to fight a top southpaw, just in case a certain Filipino congressman named Manny Pacquiao comes calling for a 4th fight. Marquez would be a clear favorite to undo Judah, however, it's a fun and intriguing clash.
Judah is coming off his strong outing against Vernon Paris, and is always ready to go into action against the best of the best. His combination of speed and power can give anybody a challenge, although Marquez's mental and physical fortitude, and his precision technical skills, should be able to solve that problem without too much of an issue.
Of course, Amir Khan now has room on his summer calendar as well, and he's also eying July to return to action. So it would be interesting to see if Marquez changes course and looks in Khan's direction for his next bout.