March 16th will see the ring return of undefeated and WBO Welterweight champion Timothy Bradley as he faces Russian contender Ruslan Provodnikov at the Home Depot Center in Carson, California.
Despite being ranked number 3 in the rankings by the WBO, Provodnikov is untested at the elite level. While he possesses a rough and tough style, he is unlikely to provide any sort of test for the undefeated Timothy Bradley. It's a surprising match-up for several reasons, including the fact that Bradley could have opted for a rematch against a fighter he has already dominated, Lamont Peterson. After an extended layoff, I don't think anyone would argue that Provodnikov doesn't provide the sort of big name match that Bradley requires at the point in his career.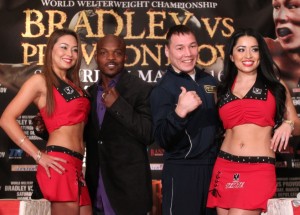 Bradley has been quiet since his controversial points decision over Manny Pacquaio in the summer of 2012. Despite many writers and critics within the sport believing Pacquaio had won the bout, it provided an opportunity for Timothy Bradley to market himself as the first man to beat Pacquaio in 7 years, during which time Pacquaio had established himself as "fighter of the decade" and a pound for opund champion.
One would have expected Bradley to look towards the elite fighters at 147Ibs. A bout with Robert "The Ghost" Guerrero was briefly mentioned, but with the Top Rank and Golden Boy feud still being contested, that bout was never likely to materialize. A bout with veteran Juan Manuel Marquez would have been fascinating and would have made sense for both parties, as they each held a 2012 victory over Pacquiao.
With Marquez commenting in the media that he isn't interested in a 5th bout with Pacqauio, a fight of this magnitude would appeal to a wide range of boxing fans. However, Bradley-Marquez wouldn't generate the sort of finances that a Marquez-Pacqauio bout would, and as such, that's not where Top Rank is placing their priorities.
By the time WBO Welterweight champion Bradley steps foot in the ring against the 22 (15)-1 Prodovnikov, it will have been 9 months since Bradley's win over Manny Pacquaio. Timothy Bradley often struggles to sell out arenas, even near his home, so the victory over "Pac-man" Pacquaio may have provided the opportunity to expose Bradley to a new audience.
Instead, his promoters Top Rank elected to wait a full 9 months. It would have been more beneficial to for Bradley to get back into the ring before the year was out, in which case a fight against Provodnikov would have made sense, and then moving him ahead to bigger things in early 2013.
So why has Top Rank allowed Tim Bradley to go inactive for so long? It's likely they were waiting out the Pacquiao-Marquez IV fight before making a move, and that produced an unexpected result, to say the least. Further, with Bradley's win over Pacquaio being in controversial fashion, Top Rank has seemingly lost faith in their ability to market Timothy Bradley, and rather than spending more time and effort building him up, they have let him languish here a bit.
Bradley needs not only to win in dominant fashion against Provodnikov, he needs to put on a show that makes people interested in seeing him fight, and seeing him square off against the other best names in and around his division. Otherwise, the fight and win over Pacquiao somehow turned into a disaster for the still undefeated Desert Storm.