Rios Talks Moving up to Junior Welterweight, Fighting Victor Ortiz, Facing the Toughest Son of A… Out There, Talking Trash and More:
Brandon "Bam Bam" Rios has had a pretty great 2011 so far. He won the WBA lightweight title by beating Miguel Acosta via 10th round TKO in a thrilling encounter in February, and then he defended his belt with a 3rd round KO win over Urbano Antillon.
Right now, he has been enjoying some time off from training and he and his wife have a new house on the way.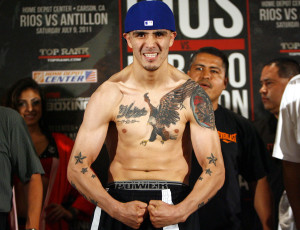 Rios also has big plans for his boxing career, in case you couldn't tell.
Still just 25, with a 28-0-1 record and 21 knockout wins, he looks better and better each time he gets in the ring. He wants to move up to junior welterweight in just a few more fights and face all of the toughest guys that he can. He says he's ready for greatness, and ready to take on the pound for pound best fighters in the world.
We might see him in action as part of the Pacquiao vs. Marquez III PPV undercard, or headlining a show sometime this fall. Whenever he's in the ring again, his opponent better be ready for a tough night. Bam Bam brings the pressure with a ferocious, nonstop, punishing attack, and that's why fans are eager to keep on checking him out.
Here's what Rios had to say in a recent conversation with ProBoxing-Fans.com.
It's been a month since your KO win over Urbano Antillon. How are things and looking back on that fight, how great do you feel about your performance and how it all played out?
BR: Right now, I feel great, I'm taking time off. I go to the gym to see the other guys train and get some motivation, but I'm not really training myself right now. In two more weeks I'll be back in the gym, but, I just showed the world that when I'm prepared and ready for a big fight like that, and everyone was saying it was my biggest, toughest test, I went in there and did what I had to do. I went in there and dominated the fight like I told him I would. Not only that, but I was working with my new strength and conditioning coach. He made me stronger, I felt way stronger than I ever did.
That was a Fight of the Year candidate, as was your title winning effort in February against Miguel Acosta. Is making exciting fights a priority for you, or is it just the result of your attacking style?
BR: That's just me, you know. I don't try to fight the way I'm supposed to… it's just my style. I'm very aggressive, I go in there and give it all and leave everything in the ring. I don't get home and say 'Oh, I should have done this better or that better'… I leave it in the ring. It's just my style and I'm an aggressive fighter.
Your first breakout or showcase win wasn't even a year ago, when you defeated Anthony Peterson in September 2010. It's been quite the ride since then. How has your life changed in that time?
BR: Well, after the Peterson fight, I won that fight and from there I wanted to show the world that I am more mature now, I am ready for greatness, I am ready to fight the best pound for pound out there. I wanted to prove it to myself and not only that, prove it to everyone else because everyone was doubting me. I wanted to prove everybody wrong. Even to this day, I train 100% hard, the hardest guy in the gym. I think I outdo everyone in the gym. When it's time for me to fight, I train hard. I wanted to show that I can be great.
Are you fighting on the Pacquiao-Marquez undercard in November?
BR: Well, those rumors, I'm not for sure yet. I've been trying to talk to my manager about that, but he told me he's trying to do my own show, or maybe be on that card. Right now, it's still up in the air and I don't really know what's going on. When that time comes, I'll be in the gym 100% training again.
Do you know who your next opponent might be?
BR: I heard they're talking about that guy from England, Kevin Mitchell. I'm not sure. Whoever, I'll be ready for whoever they put in the ring.
ProBoxing-Fans.com recently bumped you up to #1 in the lightweight division. Marquez obviously is busy with Pacquiao right now, guys like Robert Guerrero and Humberto Soto and others have moved up too, Juan Diaz is retired… what are your future plans and how long will you be at lightweight? Making weight isn't always easy for you.
BR: We're talking about maybe two, three more title defenses at lightweight before moving to 140. We've been talking about it already, me and my coach, and my manager, and we all agreed two or three more fights at lightweight and then we're moving up to 140.
When you look at 140 lbs or even 147 lbs, who would you like to target?
BR: At 140, I want the toughest son of a bitch at 140. When I fight the toughest son of a bitch, then I can say that I beat the toughest son of a bitch, and I'm ready for whoever they bring in my way. We have Maidana and Guerrero fighting, and I'll be at that fight, shouting. We have them… and we know Maidana is very tough, and Guerrero is a hell of a boxer, whoever they put, I'll be ready and I'll be at that fight that day.
That should be a great one, who do you like?
BR: I'm leaning towards Maidana, a little bit, because with pressure Guerrero doesn't do as well. When he gets cut, to me, it seems like he kinda pulls back, so I'm not sure. I'm going with Maidana for that fight.
Your history and rivalry with Victor Ortiz is fairly well known at this point. How much would you want that fight?
BR: Well, in the future if he does good with Mayweather, then in the future we can make a big money mega fight. If he doesn't do good, then what's the point of sticking around and chasing this other guy and I'll be making him rich? Because, I'm off to greatness, and I know I can succeed very, very well in boxing right now because of my style. Everybody says with my style and my chin it's going to be hard to beat me. I'm too much of an aggressive street fighter and pressure fighter who breaks my opponent down, little by little.
Would you rather see him fall on his face against Floyd Mayweather, or would you rather him win, so you could challenge him for his title?
BR: To tell you the truth, I'd like to see him win, but I doubt that will happen because Mayweather is on a different level. But I'd like to see him win. We have our differences, we have beef. But the reason why I'd rather see him win too is because he's from the same hometown as me. We kinda represent the same town. That's one of the reasons with our differences and everything, but I don't think he has a good chance against Mayweather though. Mayweather is on a different level and he is one of the greats.
You're known to talk a lot of trash before your bouts, and get really fired up. How much of that is real hate or dislike for your opponent, and how much of that is just you doing what you need to do to psych yourself up?
BR: Well, you know what, with me and Antillon I did have hate. It was the fact that, well, he didn't make that comment towards my wife, but he mentioned my wife in the press conference, and it's like, you don't mention my wife's name in the press conference. That don't have nothing to do with boxing, you know that. So I originally went to the gym and really wanted to knock his ass out. I wish I would have had more time, more rounds, because I really wanted to punish him.
But usually with all of my opponents, no I don't have hate. You know what if they are talking shit first, then of course I'm going to talk shit! If they don't sit around talking shit about me, then I won't talk shit. But if you're talking shit to the media, behind my back, stuff like that, to my face… different story. Then I will be talking shit, and I guarantee I'll win that battle.
Well, I think you're the pound for pound trash talking champion right now.
BR: (Laughs) Well, not only that, but I love to talk, I love to talk shit.
In part because of yourself, you're training with one of the best groups out there right now under Robert Garcia. What's it like to be around so many top level fighters in the gym?
BR: It's great, working with Robert… he's a hell of a trainer, he does his job very well. When it's time to study a guy, he studies him to a T, which he did with Antillon. We knew we were going to get him with a right overhand and uppercuts. When he threw his overhands, we knew we'd have to throw them shorter, and we knew we'd catch him before he threw his, so that's why I knocked him out with that overhand. I set it up with the uppercut and then knocked him out with the overhand. Studying the ability of our opponents and fighters, he does it better than anyone. And it also has to do with the fighter, you have to follow the instructions, and I followed those instructions to a T.
Working with and training with Robert is just badass. We have more than a training bond, we have a brother from another mother bond. I respect Robert to the fullest, he respects me to the fullest. He's a brother to me, and all of the people he brings in the gym are great. His brother Mikey is a tremendous fighter and a nice guy. Margarito is just a wonderful guy. Brian Viloria is the same way. We all come to the gym and we all have a natural bond with each other, and it works out very well. It gets us to where we need to be, greatness. Not only that, but it's put Robert on the map and he's getting bigger and bigger with what he's doing.
You mentioned going to the gym to get motivation… which of those guys do you go to for that or get to the gym and want to work with to help improve your own game?
BR: Me, personally, I want to help out a few guys. Like I brought out a guy from Garden City, Kansas, I grew up with. He's over here and he turned pro, he has like 4 fights, and I want to help him out. His name is Herbert Acevedo. Not only him, but Javier Garcia, those two guys I really want them to work out. When I'm in the gym I talk shit to them because I want to encourage them and want them to be great. When I talk shit to them, it's because I like them and I want to motivate them and push them to the next level, hit the bag and get better probably. Those two guys I want to do good and be great.
So what are your immediate goals for the rest of the year moving forward?
BR: Well, me and my wife just a bought a house, and so I'm really happy. Me and her just bought a house, and on September 3rd we're gonna get our house. After that, boxing wise, I just want to defend my title two or three more times. Hopefully we can unify with somebody else or something. After that, move up to 140 by the end of the year and fight one of the big guys up there and show the world that I'm ready for whoever they can bring, even the pound for pound guys I'm ready for them. That's the goal, that's the plan.
Congratulations on the house…
BR: Oh, I'm very happy… Me and my wife, it took us a lot of sacrifice to get here, but we did it. We have a house now. I'm very happy.
Anything you'd like to say to your fans in closing?
BR: To all my fans out there, thank you guys very much for the support, love you guys. Not only that, but to my hometown, Garden City, Kansas, I can't forget my roots. Everybody in Garden City, I love you guys and thanks for the support and always welcoming me home. To my wife, I love you, she's been there for me from day 1 and I have to pay my respect to her.