Pacquiao vs. Marquez Fight Preview
One of the most hotly anticipated fights in boxing has finally been scheduled, as Manny Pacquiao meets Juan Manuel Marquez for the third time on November 12 at the MGM Grand. Excepting Pacquiao vs. Mayweather and just maybe Klitschko vs. Klitschko, this is the fight boxing fans want to see, and have been wanting to see since the 2008 rematch between these two gladiators. That the fight is over the WBO Welterweight Title is completely overshadowed by this latest installment in what is modern boxing's greatest rivalry.
—-> On fight night, check out our live Pacquiao Marquez 3 results & round by round blog!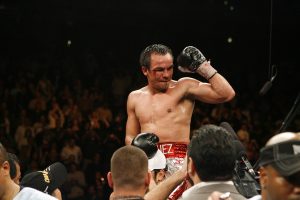 Juan Manuel Marquez (53-5-1, 39 KOs)
5'7″ tall, 67″ reach, 37 years old
Mexican
Former featherweight champion, former super featherweight champion, current WBA/WBO Lightweight Champion
Although he is showing some signs of age and has slowed down a tad, Marquez remains the best 135 lbs fighter in the world for many reasons. He is one of the most skillful counter-punchers in the game today, but also a gritty Mexican warrior with good punching power and a solid chin. Although not as fast as he used to be, Marquez is still very quick. The reigning King of Mexican Boxing is also a wizened veteran sitting atop a mountain of experience, as well as a sagacious ring general.
Manny Pacquiao (52-3-2, 38 KOs)
5'6 1/2″, 67″ reach, southpaw 32 years old
Filipino
Octuple World Champion, including current WBO Welterweight Champion
It's Pacman. What could I write about Manny Pacquiao that has not already been written ad nauseum? 'Nuff said.
Pacquiao vs. Marquez Preview & Fight Analysis
On paper, this fight looks like a slam dunk for Pacquaio. After all, "Dinamita" is the top dog at lightweight and the #7 P4P fighter in the world; Manny Pacquiao is the top dog at welterweight and the #1 P4P in the world. There is more to it than that, however.
First, is Manny Pacquiao a real welterweight? In terms of his body frame, I think he is really a light welterweight at best, because at his absolute heaviest he tips the scales only a few ounces north of 145 lbs. This is not a man who, even in tip-top shape, needs to shed more than a dozen pounds to make weight for a bout at 147 lbs. The catchweight for the fight with Marquez, 144 lbs., points straight to that fact. I think Pacquaio has grown into a bigger man than Marquez, but not so much bigger that he is truly two entire weight divisions bigger. Marquez is a solid, full-sized lightweight; Pacquiao is a solid, full-sized light welterweight. The difference is a matter of five pounds, give or take, so I don't think Pacquiao is going to blow Marquez away simply because he is the bigger man.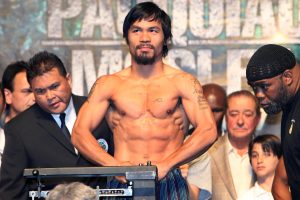 Yet Pacquiao is not the same fighter he was in 2008, let alone 2004. Under the tutelage of Freddie Roach, he has become a much more polished and well-rounded boxer-puncher. While I concur with this point, I think too much is made of it due to Pacquiao's fantastic run of success in recent years. The 2011 version of Pacman is a much better fighter than the 2004 version, but what about the 2008 version? Marquez came within a hair of cleanly beating Pacquiao early on in his Roach-trained years. As with size, this is a factor, but not as big a factor as I think the popular imagination makes it out to be.
I think the most important change between 2008 and 2011 is in speed. Pacquiao was always faster than Marquez, but Marquez has slowed somewhat in recent years. As the gap widens in terms of speed, I don't think Pacquiao will find it any easier to score on Marquez. Instead, I think Marquez will find it harder to counter-punch Pacquiao, as his reduced hand speed and Pacquiao's moderately improved defense come together to close off those opportunities.
Against that, it must be said that Juan Manuel Marquez is hungry for this fight, perhaps hungrier than he has been for any fight in his life. Manny Pacquiao has avoided a rematch for three long years, and the rubber match with Marquez has come about either because Pacman's team think Marquez is ripe for the picking or because they have so few viable PPV-worthy options.
In Pacquiao's mind, he is the best in the world, has already taken Marquez twice, and the real challenge is Floyd Mayweather. Pacquiao is a professional and a warrior, so I don't think he will come into the ring unprepared. However, he won't be focused like a laser beam like Marquez will. For Marquez, this might be his last chance to beat his arch-rival and secure his legacy, and that brings special things out of a fighter. Pacquiao doesn't have that much at stake.
Pacquiao vs. Marquez Prediction
In my mind, this bout has something in common with Muhammad Ali vs. Joe Frazier II, in that like Ali, Pacquiao has hit his stride in a new stage in his career and improved accordingly. Marquez, like Frazier, has declined slightly. Accordingly, I think Pacquiao will finally score a clean win over Juan Manuel Marquez.
Yet this will certainly be the hottest, most competitive bout Pacquiao has seen in years, because unlike almost all of his recent opponents, Marquez won't collapse into a defensive shell and give up trying to win after a few rounds. Even so, I can't see a just-past-his-prime Marquez prevailing over Pacquiao at his peak. The King of Mexican Boxing will win rounds and score wicked blows, and one or two judges might even see the fight as close. Yet viewed as a whole, the bout will see Pacquiao's gale-force momentum carrying him to a decisive victory.
Prediction: Manny Pacquiao UD12, including an early round knockdown of Marquez.