In a fight that promised can't miss action and plenty of fireworks, Brandon Rios was set to defend his lightweight title against challenger Urbano Antillon on Saturday evening from Carson City, Cailfornia. Will Rios be able to maintain his status as one of the most promising young champions in the sport, or will Antillon finally succeed in an effort to win a world title? Check out the full Rios vs. Antillon results below, as well as results for the co-feature bout on Showtime, Kermit Cintron vs. Carlos Molina.
Rios vs. Antillon Results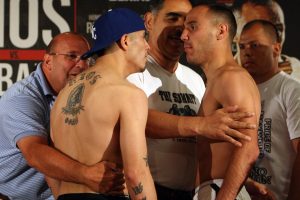 Bam! Bam! Is that the sound of Brandon Rios' gloves hitting his opponents, or the sound of his opponents hitting the canvas? Either way, Rios delivered on all of his pre-fight trash talk (ahem David Haye, maybe you could take a lesson…) with a crushing 3rd round TKO win over Urbano Antillon to retain his lightweight title.
Now this is what a big-time boxing match should be. The two came out from the opening bell and starting going at it in close quarters. Rios was landing vicious uppercuts and Antillon was getting in his own huge shots as well. By the end of the first round, a serious Round of the Year candidate, the pace and tone for the evening was certainly set.
The second was another great three minutes of action with both men giving and taking a great deal. The third was all Rios though. He sent Antillon down to the canvas in the early going of the round, and then pounced on him immediately. After it seemed like Antillon got his feet back, Rios pummeled him down to the canvas once again. Antillon tried to survive but even without being hit again he was stumbling around the ring apron. The referee, kudos to him for jumping in at a great time, stopped the bout before the defenseless fighter could be hit any further by Rios who was running in, ready to unleash some serious fury.
If you weren't sure about Rios before, you should be now. All action. Fan-friendly in the ring and at the press conference. Big power, great style, loves to fight. Look out, lightweight division.
Cintron vs. Molina Results
In an intriguing 10 round junior middleweight contest, Kermit Cintron got back into the ring for the first time in a year, facing the upset-minded Carlos Molina. In an interesting turn of fate, Cintron had the crazy fight against Paul Williams last year and ended up getting the loss, while Molina fought Erislandy Lara to a surprising draw. Williams vs. Lara headlines the competing HBO card from the same night, and the winners from the contest could certainly end up meeting in the near future.
The fight between former sparring partners started off at a slow, sparring sort of pace. Neither man was doing that much in the early going. Molina though began to apply more pressure. He was able to set up a looping overhand right consistently, and worked behind the jab to do it and get inside.
He was also slipping many of Cintron's shots, while Cintron wasn't able to get out of the way of what Molina was throwing, and ended up with a bloody nose midway through the bout. Molina continued to pour it on and had Cintron hurt at times, including the end of the 8th, when he battered him into the ropes and left Cintron reeling. The overhand rights to the head as well as solid body shots and nonstop pressure continued to wear Cintron down throughout the evening.
Molina came into the bout with the mindset that a strong showing and a win by him shouldn't be considered any upset, and that he was ready for bigger fights and to stop being the opponent. He proved he was ready. Cintron came in thinking that a year away from the ring would re-energize him and make him stronger. Instead, he looked rusty.
The bout went to the scorecards, and there was little suspense about who would be the winner. The official cards read 98-92 by all three judges, for the UD by "King" Carlos Molina.
From Romania, Lucian Bute dominated as expected against Jean Paul Mendy. Bute thrilled his hometown fans with a 4th round stoppage win over Mendy, who was only previously undefeated because Sakio Bika was DQ'd on the verge of knocking him out in their meeting. With the Super Six winding down, and Bute locked up with Showtime, it's time to get some big fights for Bute, and starting with a match against Mikkel Kessler could be ideal for both men.
Thanks for checking out over coverage of Rios vs. Antillon & Cintron vs. Molina, and be sure to keep on coming back to ProBoxing-Fans.com for more of the latest breaking boxing news.