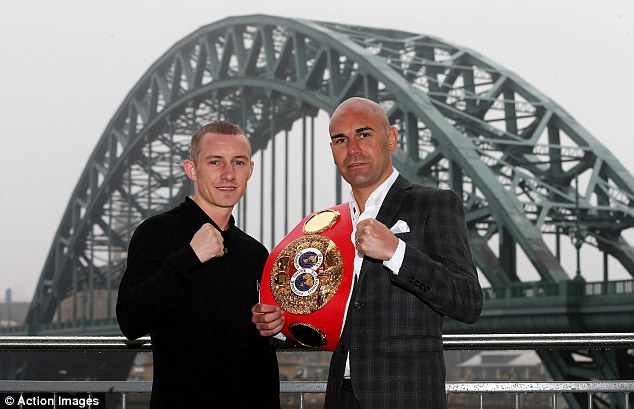 Blair's view from Britain:
After the incessant debate, hype and expectation ahead of the Carl Froch and George Groves rematch, British boxing pundits – myself included, got all flustered and forgot there were other fighters, nay weight classes, outside of the sterling super middleweight duo.
Hence, I was left shaking my head in virulent denial on Saturday night as I was told of an impending world title clash between a 30-something English world title holder and a confident, undefeated yet unproven young English challenger. Had the immense spectacle that was Froch-Groves II caused a tear in the space-time continuum? Was I now lodged in some sort of Froch/Groves-based alternate reality?
Once the fog had cleared it became evident that the fight in question was in fact Stuart Hall's bantamweight world title defense against Paul Butler. Breathing a sigh of relief I watched on as Butler expropriated Hall's title with a mixture of precocious boxing and gutsy fighting. Hall started slowly but built to a grueling crescendo in the later rounds, using his size and strength to force the younger man to trade with him. Butler held firm to win by way of split decision, and there was no argument from this writer.
On the undercard Ovill McKenzie, forever known as "The Upsetter", flattened Jon-Lewis Dickinson with a left hook-right hand combination at the end of the second round, adding the British cruiserweight title to his Commonwealth belt in the process. Why McKenzie is known as "Upsetter" is unclear. For years now, he has been ruthlessly examining the chins of quality fighters such as Tony Bellew and Enzo Maccarinelli. With such obviously concussive power surely something more suggestive such as "Oncoming Truck" would be a more appropriate alias for the friendly slugger.
All this talk of upsets allows me to flagrantly segue into discussing Chris Eubank's performance on the undercard, which genuinely was upsetting. "Chris Eubank is still fighting?" I hear you ask. Well, no, technically he isn't. But he is definitely still performing.
Seamlessly combining a sleeveless something or other with what appeared to be jodhpurs, Eubank senior took center stage as he advised his son between rounds. At times he would simply look at his son from a distance, without speaking. He wasn't the only one that was speechless. Eubank Jr won, by the way.
The past week has also seen the fallout from that rematch. Yes, I'll say it one last time – Carl Froch vs George Groves II. Phew. Froch is targeting Las Vegas, while James DeGale is targeting Froch. It's yet to be seen who Las Vegas is targeting.
This super middleweight hullabaloo won't be tempting Joe Calzaghe out of retirement, however. The Welsh legend was reportedly seen putting on his slippers and cackling on about someone else having to rematch Mikkel Kessler in order to beat him,while he was inducted into the International Boxing Hall of Fame at Canastota.
Elsewhere on Saturday, heavyweight David Price continued his comeback with a ten round decision win over Yaroslav Zavorotnyi in Germany, while "Irish" Andy Lee uncorked a devastating short right hook to knock John Jackson out cold in the fifth round of a fight that included a trip to the canvas for Lee himself.
Fighter of the Week
Paul Butler. For stepping up several levels in class and handling himself well, Butler deserves plenty of praise. Hall may not have been the bona fide champion at bantamweight but he is a top level performer, and a win over him should not be undervalued.
Quote of the Week
"There is no speaking while the exam is in progress" – Chris Eubank Sr. explains his silence in between rounds as he worked his son's corner. Such reasoning would have been understandable had the 'exam' not been so vehemently easy.
Look Ahead
Next Saturday Brian Rose continues his largely un-foreseen ascent as he challenges Demetrius Andrade for his world title belt. Rose is a heavy underdog for the bout, though this is not a new role for him to undertake. Nonetheless, should the Blackpool man upset the odds and bring home a world title it would send small ripples, if not shockwaves, through the light middleweight division. And no, Floyd, don't even think about fighting the winner.