WBO lightweight boss Terry Flanagan – proud owner of the longest unblemished record in British boxing – is confident that 2017 shall be the year he finally gets to prove beyond any contention, that he is the finest 135lb fighting man on this planet.
Here, speaking to Glynn Evans, the Manchester 'Turbo', now a perfect 32-0, casts his critical eye over the charlatans recognised by rival governing bodies, who he intends to crush to confirm his world domination.
Robert Easter Jr (IBF)
This Adrien Broner protégé from Ohio collected the vacant title in a Fight of the Year contender against much avoided Ghanaian bomber Richard Commey last September. In his opening defence last weekend, he showed he could shift a ticket in his native Toledo whilst comprehensively outscoring Puerto Rico's Luis Cruz.
Fresh at 26, and with the confidence of an unbeaten 19 fight slate, the 5ft 11in 'E-Bunny' is one of the few men at 9st 9lbs that Flanagan would be forced to spot height and reach to. With a 74% kayo ratio, Easter might also hold a marginal edge in raw power. However, at this stage, he'd be a long shot to upset someone as experienced, industrious and skilled as the awkward Manc southpaw.
The 'Turbo' says: 'I've only seen the clips of his fight with Cruz but he's meant to have looked very good. I saw all of his title win against Richard Commey last year. That was a very close fight that could've gone either way but Commey is a very dangerous guy, a ridiculous puncher. The result could've gone either way but Easter stood up well to big pressure and he showed a lot of b******s and heart. That fight was pretty hectic so Easter proved his stamina and he must have a great chin cos the African can really whack with his right hand. Everyone else was avoiding him (Commey).
Easter's tall and rangy. His record clearly shows he can punch a bit. He dropped Cruz in each of the last three rounds so clearly he carries his power late and, despite his size, he probably isn't struggling at the weight if he finished that strongly.
That said, I believe he's the weakest of us four current champions -he's certainly the least experienced – and I'd jump at a chance to fight him. I've been calling for unification fights for years and of course I'd travel to the States to secure them.
I'd be very confident against 'Bunny' because my style really doesn't suit these Americans who like to just stand back, pose and admire their work. They line up these tailor-made limited Latin Americans who just steam forward and make them look good for TV. My speed, footwork and fast pace would prove a real struggle for Easter. I'd really put it on him from the opening bell and eventually I'd get him.'
Jorge Linares (WBA)
A modern great, the Tokyo-based Venezuelan is a four time, three-weight world champion who has won eight of the ten global title fights he has contested since 2007.
In addition to the land of his birth, 'El Nino de Oro' (Golden Boy) has triumphed in Japan, Panama, Argentina, South Korea, the US, Mexico and England (scalping both Kevin Mitchell and Anthony Crolla) whilst compiling a formidable 41-3 slate. Twenty-seven casualties succumbed early to his scorching fists.
However, the 5ft 8in Latino is now well into his 32nd year and all his defeats were by emphatic stoppage. On 25th March, he returns to the UK to defend his crown in a rematch with Crolla. Expect Flanagan to be making notes from ringside.
The 'Turbo' says: 'I have to say I was impressed with Linares in his first fight with Crolla and I think he'll probably win the rematch the same way. Crolla had the right tactics but it just wasn't his night.
Before that fight Linares looked pretty thin and fragile and, early doors, it looked as if Anthony was going to run away with it. But then he hurt Crolla in the middle rounds and really kicked on. In the close rounds, Linares was able to really turn it on for 20-30 seconds to nick the session. He's a good tidy boxer who had a bit more class when he let his hands go with speed, sticking ten shot combos together. He's proved a great champion at several weights now and he's delivered away from home, all over the world. You have to give him maximum respect.
But he's 31 now and surely coming to the end of a very hard career. All his defeats were by stoppage so I'll be looking to hurt him from the off. I'm very confident that, again, if I put it right on him, I'll eventually get to him and, when he gets caught, he'll 'go'. I expect to take him out.'
'Mikey' Garcia (WBC)
Even the 'Turbo' has to genuflect to mighty 'Mikey' when it comes to statistics. Formerly an outstanding amateur from a famous fight family, Miguel joined the pros in July 2006 and has been victorious in all 36 gigs since.
Blessed with genuine one shot 'take out' power in either mitt (30 victims extinguished early), the 5ft 6in Californian is on the cusp of pound-for-pound contention after bagging world titles at featherweight, super-feather (both WBO) and lightweight (WBC) and trouncing all seven world champions he has confronted.
Dormant from January 2014 until July 2016, 29 year old 'Mikey' was astonishingly sharp and vicious when bombing out previously undefeated Dejan Zlaticanin inside three rounds to claim his 135lb belt in late January.
Having fought outside the US five times previously, it's not inconceivable that Garcia could be enticed to the UK – according Flanagan crucial home advantage – provided his remuneration has the appropriate number of digits!
The 'Turbo' says: 'He's the best of the other champions, the strongest and most rounded lightweight, other than myself. He looked really good knocking out Dejan (Zlaticanin) but the Montenegrin was made for him. I'd have done something similar.
He was a very dominant super-feather champion and, despite his 30 month break, he's come back better than ever. He's certainly brought his power up -that was a brutal knockout – and I believe he could take it up to light-welter too, if he chooses.
He's got a great jab which tends to go unnoticed because of his power punching and he's also got a good boxing brain. His corner (Dad Eduardo and brother Roberto) is also very strong.
'Mikey' takes them all out but I want to test myself against the best. Let's see how good he is when you're throwing back at him. I'm a good three inches taller and naturally bigger so the general plan would be to keep cool, calm and collected and use my southpaw skills and greater size to outbox him. But you can't be too technical. There'll be times when you'll have to stand toe-to-toe and fight him. I'm confident I can cope with that. We're both undefeated in well over 30 so it's sure to be a hell of a battle.'
Terry Flanagan vs. Petr Petrov tops an unmissable evening of action at the Manchester Arena on April 8.
JAMIE CONLAN: "EXPECT CONTROLLED FIREWORKS!"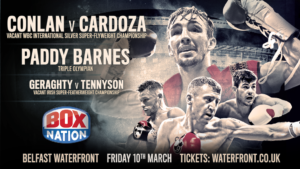 World class Belfast battler Jamie Conlan walks the tightrope when he headlines at the Waterfront Hall in his home city this Friday, writes Glynn Evans.
The thrill monger known as 'The Mexican' – already rated second by the WBO and ninth by the IBF – seeks to crash the WBC rankings when he collides with Nicaragua's former world title challenger Yader Cardoza for the International Silver Super-flyweight strap, live on BoxNation.
And with a long overdue world title challenge beckoning, the 30 year old Ulsterman knows there is no margin for error.
'Hopefully a great performance on Friday will finally lead to a huge fight against a big name at a massive arena,' says the reigning Commonwealth 115lb king who has won all 18 pro gigs with 11 stoppage wins.
Globally, the 8st 3lb division is awash with elite champions, with P4P contenders Roman Gonzalez and Naoya Inoue nestled on the WBC and WBO thrones, 21-0 Birmingham banger Kal Yafai in possession of the WBA strap and formidable Filipino Jerwin Ancajas wearing the IBF belt. Conlan is frothing for an opportunity to get among them.
'I've been world rated for a wee while now so it's a bit frustrating but you just have to keep focussing, set small short-term goals and then tick them off,' says the Danny Vaughan coached bill-topper who has been punching for pay since November 2009..
'I've not seen anything of Ancajas but he's got a very impressive record (one loss in 28) and he beat a good champion (Puerto Rico's previously undefeated McJoe Arroyo) to win the title. There's noise that Naoya Inoue will be moving up to challenge the Jap WBC bantamweight champion (Shinsuke Yamanaka) which could leave an opening for the vacant WBO title.
'But I leave it all to my team. They're biding their time but I've every confidence they'll deliver. I'm a strong believer in letting the fighter fight, the trainer train, the manager manage and the promoter promote. We all have our job to do.'
After 28 months on the road, the Mack the Knife managed star returned to his native city last November with a routine eight round shutout over Hungarian road runner David Koos at the Titanic Exhibition Centre. However, Friday's assignment promises to be altogether more taxing.
'Last time, it was nice to keep busy but the camp was more beneficial than the fight. I've not even watched the tape back,' he says.
'I just kept on the jab and listened to the corner, ticked the boxes Danny (Vaughan) wanted me to tick. Now I've got a proper fight and I have to show improvement.
'I boxed at The Waterfront previously on a (Carl) Frampton undercard and it's a brilliant atmosphere. The crowd's roar echoes back to you, like an opera or orchestra.'
Opponent Cardoza, a 28 year old from the fine fighting nation that has given us Alexis Arguello, Ricardo Mayorga and Roman Gonzalez, is a veteran of 33 starts across an eight year career that peaked with a May 2013 challenge for the WBC light-flyweight title.
'I've watched him on tape and he's relentless; far more Ricardo Mayorga than Arguello or 'Chocolalito',' assesses Conlan.
'His record suggests he's not the biggest puncher but he throws some wicked shots. He's very tough and quite unpredictable; dirty with his head and elbows. I'm expecting an exciting fight but I've got to stick to my game plan.
'But to remain relevant, to keep in the thoughts and words of the fans and media, I have to shine. There's a very strong undercard but mine should still be the fight to stand out. Expect controlled fireworks!'
Taylor confirmed for Crolla Linares bill
Katie Taylor's fourth professional fight will take place on the undercard of Anthony Crolla's World Lightweight title unification rematch with Jorge Linares at the Manchester Arena on Saturday March 25, live on Sky Sports.
Taylor made it three fights unbeaten in the paid ranks on Saturday night at The O2 with her second stoppage win after clinically dispatching Italian fifth round Monica Gentili on the undercard of Tony Bellew's rollercoaster win over David Haye.
The Irish amateur sensation has already boxed in Manchester having gone the distance with Vivienne Obenauf there in December, and Taylor is ready to put on another scintillating display as the 30 year old gets into her groove as a pro.
"The Linares Crolla fight rematch is a brilliant fight and another massive event. It was a great atmosphere at The O2, but every fight is a big one. You can't afford to slip up in the pro game so every fight is like an Olympic final.
"Saturday was the first time as a pro that I had a proper camp, I got great sparring in America with seasoned pros every day so I am learning all the time and I feel more than ever that the pro game is made for me. The body work was good and overall it was a very effective performance and getting a stoppage over a durable girl like that was the icing on the cake.
"It was great to get another stoppage win, it's all gone well so far and the opponents are going to step up now as we kick on this year for a World title."
Taylor's fourth pro fight is part of a huge night of action in Manchester, topped by Linares and Crolla going toe-to-toe for the second time.
There's a crossroads battle of Blackpool as Middleweights Brian Rose and Jack Arnfield lock horns and Martin J. Ward defends his British Super-Featherweight title against Maxi Hughes in their third clash in the paid ranks.
Marcus Morrison defends his WBC International Middleweight strap against Jason Welborn, while his Joe Gallagher gym-mate Hosea Burton looks to bounce back into title contention from his epic battle with Frank Buglioni, while there's also action for Tomi Tatham, Ben Sheedy, Nathan Wheatley and Sean McGoldrick.