The British heavyweights are in the news right now… especially the ones named "David." First, we learned that Mr. David Haye is indeed returning to the ring this June 29, although his expected announcement of an opponent fell flat, as he didn't have one to announce. Second, we learned that Mr. David Price will be fighting shortly thereafter, on July 6, and he'll be heading straight for a rematch against Tony Thompson.
David Haye's return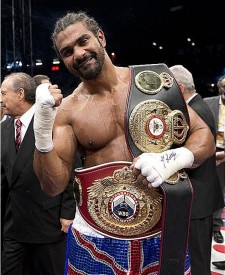 Haye is getting back into the ring and his plan is one we've heard before: get Vitali Klitschko into the ring. Haye hasn't fought since defeating Dereck Chisora, and is opting to try to stay busy, getting himself into mandatory position for a title shot if necessary. Haye's fight will be held in Manchester.
In this case, it seems that "busy" means fighting about once per year. But I guess it's better than nothing — as long as the opponent is a worthwhile one. Personally, I'd like to see Haye take on Alexander Povetkin, and then we'd have a legit number 1 "non-Klitschko" heavyweight in the mix.
There would certainly be enough financial interest to make it worthwhile, one would think.But we'll see if that comes off anytime soon or not.
David Price vs. Tony Thompson II
David Price was shocked and stopped by Tony Thompson in their first meeting. Now, Price gets a chance at revenge. The two are slated to do it again, meeting in the same place, the Echo Arena in Liverpool.
Credit to Price's team for jumping back in there. They clearly feel that the shot was a fluke, and that the best way to move on from it is to settle the scores in the ring and let the rematch do the talking for them.
As for Thompson, he likely took the first fight as much for a pay day as anything else, and he'll make even more money for himself here, knowing he already knocked the guy out the first time. So it's a win-win for him as well.
Of course, the third member of the top-tier British heavyweights, Tyson Fury, fights Steve Cunningham on April 20 in New York. Let's start to see some of these guys facing one another, too.