On May 14th, the Super Six tournament semi-finals move forward when "King" Arthur Abraham travels from Germany and into the den of Andre "Son of God" Ward. Although the exact fight venue has not been selected yet, the bout will take place somewhere in Ward's native California. That makes Abraham's challenge of Ward, the WBA Super Middleweight Champion and the super middleweight division's top fighter, even more of an uphill struggle.
Arthur Abraham (32-2 with 26 KOs)
5'10" tall, 72″ reach, 31 years old
Armenian living in Germany
Former middleweight champion
How the mighty have fallen. Abraham started the Super Six from a distinguished run as IBF middleweight champion and with a stunning knockout of Jermain Taylor, forcing that fighter's retirement. Since then, he was out-boxed by Andre Dirrell and embarrassed himself in a Disqualification loss. That loss was followed by another, as Carl Froch shocked everyone by out-boxing Abraham as well. With a record of 1-2 in the tournament, Abraham stopped a journeyman in a tune up that turned out to be worth even less than I thought it would be. The opponent, Stjepan Bozic, quit after injuring his hand in the 2nd. "King" Arthur is looking very much like the longshot in this fight.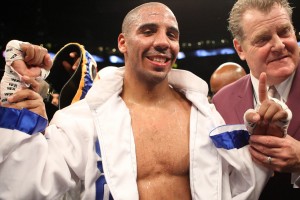 Andre Ward (23-0 with 13 KOs)
6'1″ tall, 73″ reach, 27 years old
American
WBA Super Middleweight Champion
Andre Ward has it all: speed, reflexes, skill and power. The latter might sound like an odd claim for a fighter with a knockout rating hovering at around 50 percent, but one should remember that many of Ward's early opponents avoided getting clobbered by "S.O.G." by either fouling their way into Disqualification or quitting on their stools too early to be counted as stoppages. He is the favorite in this fight and the Number One fighter in the division, and looks more and more like the successor to the great Joe Calzaghe and Roy Jones every day.
Ward vs. Abraham Preview & Analysis
In analyzing this fight, it is important to not understate the King or overstate the S.O.G. Some pundits are crowing that Arthur Abraham has been "exposed." I honestly don't know what planet those pundits are from, or what language they think they speak, since the last time I checked a fighter needed to be protected prior to being "exposed." Abraham has fought some pretty tough characters in Edison Miranda, Howard Eastman and Raul Marquez. What the Super Six has revealed is Abraham's limits. The Armenian is still the most powerful puncher in the Super Six, but his peek-a-boo, methodical style leaves him vulnerable to being out-boxed by fighters who are either fast enough (Dirrell) or strong enough (Froch) to keep him at bay. Another major deficiency of Abraham's approach is that it lets the opponent win round after round while he gets his offense going. Still, he can beat the boxer under the right circumstances, as the Eastman fight showed.
For his part, I think the pundits are making too much of Ward. He has gone from triumph to triumph, but against who? Edison Miranda had already been beaten down by Abraham (twice) and Kelly Pavlik, and didn't even try very hard to win against Ward. Allan Green and Saiko Bika were gimmies against the fast hands and fleet feet of Ward. Green can hit and Bika is tough, but neither is in Abraham's class. The truly impressive win was shutting out Mikkel Kessler. Against that, it must be said that Kessler's record against top tier opponents is 1-2 (Win: Froch; Losses: Calzaghe and Ward). This is not to say that Ward is not a great fighter, but contrary to his moniker, he is not divine. The thing that impresses me most about Ward is ring generalship, and not his physical gifts.
Ward vs. Abraham Prediction
That said, I have a very hard time seeing Andre Ward failing to do what Andre Dirrell did. I think the other Andre is faster than Ward, but of the two Olympians, Ward is by far the more polished and confident fighter. Abraham has a puncher's chance, of course, but that is about it. While I think Ward will be more aggressive than Dirrell, he won't make any mistakes for Abraham to capitalize on, and King Arthur won't be able to find Ward long enough to unload on him. On the other hand, Ward will have a tough time getting past Abraham's point defense – he won't be able to drive those heavily muscled arms apart the way Carl Froch did. We're in for a full night that sees Arthur Abraham catch a lot of leather, lose a lot of rounds, and ultimately depart the Super Six tournament.
Prediction: Andrew Ward UD12