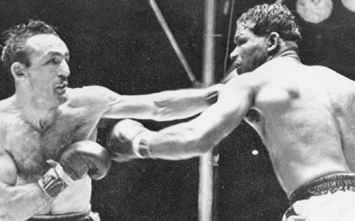 Best Fights of Carmen Basilio
Monday was marked by the funeral of Carmen Basilio, the famed welterweight and middleweight warrior of the 1950s who defined "will to win" for many boxing fans of that generation. Fight fans loved Basilio for his crowd-pleasing style, and for those who have watched the old footage and seen the man fight, it's no wonder why. Basilio, or "The Upstate Onion Farmer" (go figure that one), was one of those guys who was so tough it seemed he was impervious to pain. He would come in crouching and relentlessly swarm his opponent, and was especially noted for his sharp uppercut and vicious body attack.
Basilio's heyday was truly something to behold, as the Onion Farmer was also a participant in five consecutive fights of the year, from 1955 to 1959, the longest run for any boxer in history. Basilio was also the first of 15 world champions that legendary trainer Angelo Dundee would guide to the top.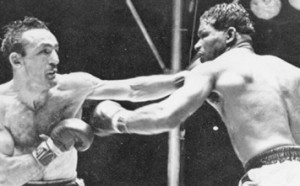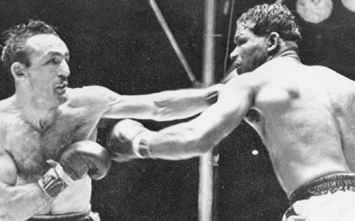 Basilio was more than just a fearsome brawler, and was noted inside boxing circles as a man of character as well. Basilio was one of the fighters who resisted the mob-corrupted business of boxing in the 1950s, and always seemed happy to talk to journalists and writers about his career. I recall frequently seeing him in documentaries and quoted in books. Yet boxing is what we remember Basilio for, and in particular we remember him for these five spectacular fights:
Top 5 Fights of Carmen Basilio
1. Carmen Basilio vs. Sugar Ray Robinson I (1957): This is the fight Basilio is best known for. Despite his status as the World Welterweight Champion, Basilio was a 4-1 underdog when he stepped through the ropes at Yankee Stadium to challenge Sugar Ray Robinson for the middleweight crown. Basilio matched his unyielding aggression against Robinson's measured punching, and came out on top in a grueling 15-Round fight by a razor-thin margin. In addition to winning the World Middleweight Title, Basilio had helped produce one of the classic fights of the 1950s.
2. Carmen Basilio vs. Tony DeMarco I (1955): Some point to the DeMarco rematch as being the better of the two fights, but I prefer the first engagement, which saw Basilio win the welterweight crown for the first time. He mauled DeMarco, beating him from pillar to post, ultimately grinding him down to a TKO12. I think of DeMarco as much more game in the first encounter, and better able to absorb Basilio's punishment. The fight would later become a favorite of ESPN Classic.
3. Carmen Basilio vs. Johnny Saxton II (1957): After defeating DeMarco for a second time, Basilio fought Saxton and was robbed by the judges. Many speculate that the fight was fixed by the mob, and Basilio himself likened the outcome to a mugging. The second time around, Basilio was determined to not leave his victory in the suspect hands of the judges. He threw everything but the stool at Saxton, utterly dominating him en route to a TKO9.
4. Kid Gavilan vs. Carmen Basilio (1954): Basilio's first shot at the welterweight title was a loss, but a valuable learning experience. Basilio's raw attack put the veteran champion Gavilan down in the 2nd, and virtually swept the first third of the fight on the scorecards. Yet as time went on, Gavlian figured Basilio out, and boxed himself back in the game. Gavlian squeaked out a Split Decision win, and it was a great showing for Basilio's part.
5. Gene Fullmer vs. Carmen Basilio I (1959): After winning their rematch, Robinson refused a third encounter with Basilio, leaving him to wait for Robinson to be stripped of his belt for inactivity before he could gain another shot at the middleweight crown. This time, it would be against Gene "The Cyclone" Fullmer. A worse match for Basilio would be hard to imagine, as Fullmer was essentially a younger, stronger, tougher version of the Onion Farmer. The result would have been predictable, had it not been for Basilio's gritty determination. These two slugged it out at full bore, and Basilio made a valiant effort, never giving up on trying to win. Ultimately, he succumbed to the younger, bigger man's prowess and was stopped in the 14th.