Arreola not worried about his weight, and confident of victory over Vitali Klitschko
Chris Arreola is slated to face WBC heavyweight champion Vitali Klitschko on September 26, 2009. An undefeated Mexican-American fighter, Arreola is looking to make history by becoming the first fighter of Mexican descent to become the sport's heavyweight champion.
Arreola isn't shy about his aspirations, or about the lofty plans he has for himself. On a media conference call on Thursday, September 10, Arreola said that he firmly believes that come fight night he will end up as the first Mexican American to win the heavyweight title and that when he does, "I'm up there with Jack Johnson," referencing the legendary fighter who became the first black man to win the heavyweight crown.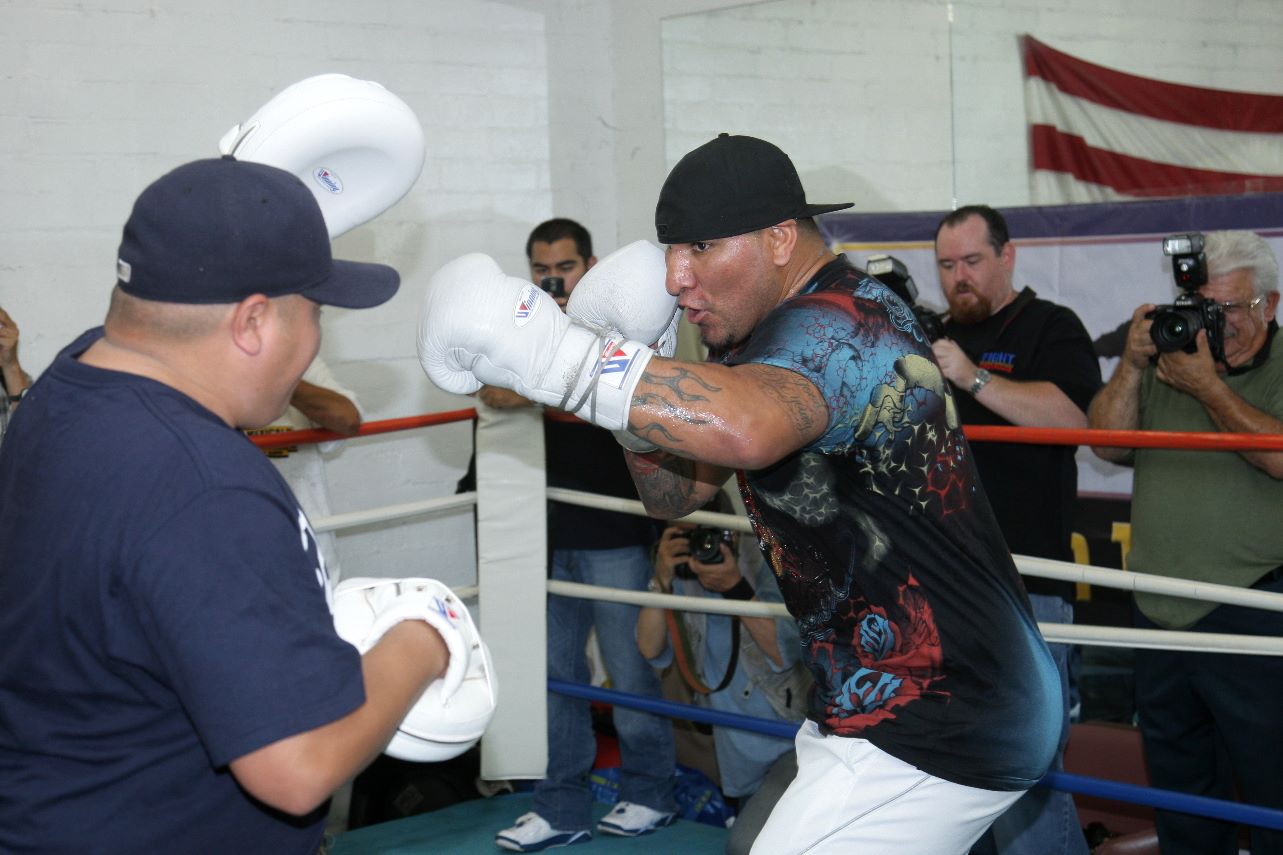 "Jack Johnson is dead and they are still making documentaries about him… I can't wait till they make my documentaries," Arreola commented. While Arreola's achievement certainly would not match Johnson's, who faced a maelstrom of racial prejudice both in and out of the ring, his point remains that he wants to make a lasting impact in the sport, and he wants to be remembered for years to come.
He doesn't have an easy task ahead of him however. Klitschko has only lost twice in his career, once when he stopped due to a shoulder injury and more famously when he was leading Lennox Lewis on the scorecards but had such a ghastly cut on his face that the bout had to be called off. In his 37 victories, Klitschko has 36 wins by way of knockout.
Arreola of course has never lost, and he feels that his KO record should be equally noteworthy. "If you look at my record, only one fight has gone to decision, only one of 'em. The other two are disqualified… So I should be 27-0 with 26 knockouts and as far as power and strength goes, we're all going to find out on September 26."
Nobody really doubts Arreola's power- the criticism that he faces stem from his physique, and his weight. He's weighed in at as much as 258.5 lbs for a fight before, however he has also weighed as low as 233. So where does he expect to be for the biggest fight of his life?
Arreola is currently weighing 259 lbs, and his trainer Henry Ramirez feels he will easily drop 10 to 12 lbs before fight night. The duo have brought in strength and conditioning coach Daryl Hudson to get Arreola into top condition and also to monitor his lifestyle out of the ring.
Ramirez said that Arreola never had a problem working hard in the ring, but rather his problem was what he did in his off time and what he did while not at the gym. Hudson has Arreola eating healthy and working out twice a week, adding a grueling cardiovascular and strength workout in with his boxing routine.
Arreola though stays true to form that his weight is not an issue. He said that, "I'm not worried about my weight. I feel in really good shape and… the main thing is coming in shape and being prepared to go a full 12 rounds." While he expects there to be a knockout in the fight, with two huge punchers squaring off – and knowing he has never been past the 8th round before – he also is putting in the time to be sure he can go the distance if he has to.
Still, how exactly does Arreola plan to succeed in the fight, as a 6-1 underdog, and against a man that many others have failed against?  Arreola feels that his style and aggression will win him the day, "The difference is that I'm a natural pressure fighter. I know no other way to fight." He plans to get inside and to always be throwing punches, even if he knows he can only hit Klitschko's arms and shoulders. The plan is to keep Klitschko from feeling comfortable, and to keep him from having time to set up his big shots.
Will the plan work and will Arreola be hailed as the first fighter from Mexican descent to win the heavyweight championship of the world? We'll all have to wait until September 26. Arreola is an underdog for a reason, but with his power and aggression, anything can happen in a fight.
More Chris Arreola Quotes
On David Haye pulling out of two title shots: "I couldn't do that. That's where I'm different [from] David Haye. My business is to fight. That's it, that's my job. My job is to fight. You get title shots, you don't turn them down. I'm in the boxing business to be a champion not to sit around and wait for the money and stuff like that. I'm willing to fight anybody"
On learning from the Klitschko vs. Sam Peter bout: "The main thing you learn from that fight is not to be on the outside and not to be pot-shotted for eight rounds or whatever the case may be. Another thing is never quit. You never quit a championship fight, doesn't matter what's going on, you don't quit."
On learning from the Travis Walker fight: "Not to fall into a trap of the other fighter's fight. The reason I ended up on the canvas is because I ended up fighting Travis Walker's fight. I'm never going to do that again… that was my downfall in that fight. Another thing I learned is that I can get back up and handle my business."
On Sparring: "I like sparring and I like [my sparring partners] wanting to take my head off. I want them to keep bringing it. Or else what's the point to keep sparring? If I wanted a punching bag I wouldn't even hire these guys I'd just hit a punching bag. I don't need punching bags. I need people who will bring the fight to me and make me fight."
Photo Credit: Jan Sanders/Goossen Tutor Promotions