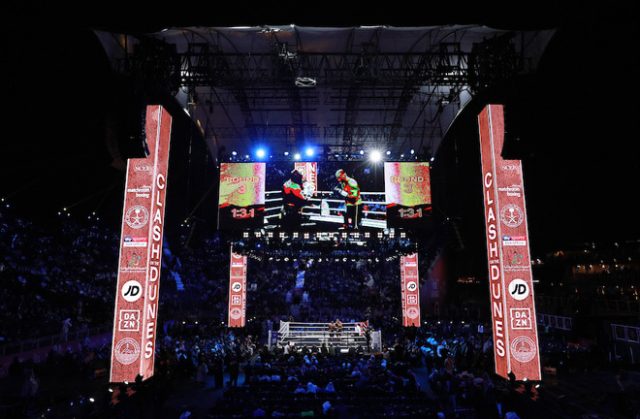 It was a packed night of heavyweight boxing on the Ruiz-Joshua 2 undercard in Saudi Arabia on Saturday night. Here's our re-cap of the exciting preliminaries.
Povetkin and Hunter fight to Draw
The night's co-feature pitted two very evenly-matched fighters in Alexander Povetkin (35-2-1, 24 KOs) and Michael Hunter (18-1-1, 12 KOs) in a bit of a crossroads match. The actual fight went about as well as one could expect with the heavyweights fighting to a split draw.
Judges had the fight 115-113 for Povetkin, 115-113 for Hunter and the third was scored 114-114. Both men were hurt and they each had their moments without either one gaining any real advantage over the other so the scores seemed entirely fair in a sport riddled by bad decisions.
This was also a world title elimination bout to help determine the mandatory challenger for the eventual main event winner – Anthony Joshua. Unfortunately, neither man can stake his claim after such a highly competitive bout so we could be looking at a rematch and the fighters seem open to that idea.
"I think I did enough, but obviously the judges didn't think so," Hunter said. "We're gonna go back to the drawing board, and hopefully I get a chance to fight him again."
I think it was a 50-50 fight. I want to thank him for a good fight," Povetkin said. "I respect Michael very much, he's a good guy."
Hunter started off very fast apparently going for a knockout against the 40-year-old Russian Olympic gold medalist. He rocked Povetkin with a huge right hand in the first round and continued to go after him in the second.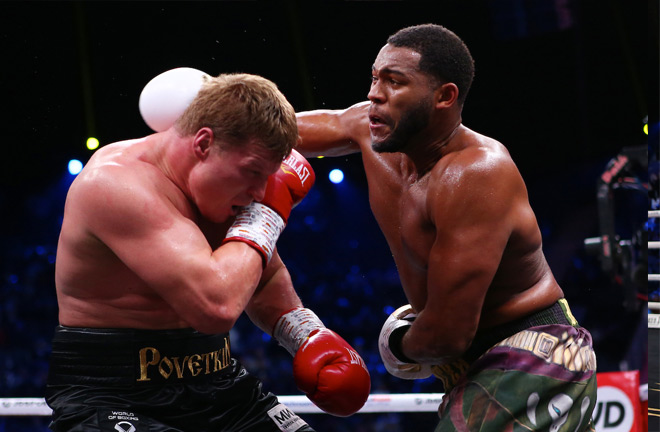 The tide began to change as Povetkin was able to time his faster opponent and began to score with right hand counters. Povetkin had Hunter in big trouble in the fifth after a series of left hooks left him on shaky legs and leaning heavily on the ropes. Referee Steve Gray should have ruled it a knockdown but instead determined that Hunter was only off balance.
Povetkin started to become the aggressor by coming forward and throwing the right hand with knockout intentions. In response, Hunter got on his bicycle and began boxing off the back foot and using the jab to keep Povetkin at a distance.
Hunter kept his wits and managed to clinch when the pair were in close quarters but he was starting to be pummeled by the naturally bigger and more powerful Povetkin. Hunter was finally able to get his offence going again in the eighth by jabbing to the body as the elder fighter began to slow down.
Povetkin got a second wind and found a home for the right hand once again in round ten. It didn't carry the same effect as was the case earlier in the bout, although effective enough to slow down Hunter's momentum.
Hunter stunned Povetkin in round eleven with a flurry that began with a body shot. The two clashed heads which left the Russian briefly dazed boxer dazed and Hunter took advantage afterwards with a right uppercut that snapped his opponent's head back. The twelfth and final round saw Povetkin attempting to connect with wide shots but Hunter was too fatigued to capitalize preferring to stay out of range.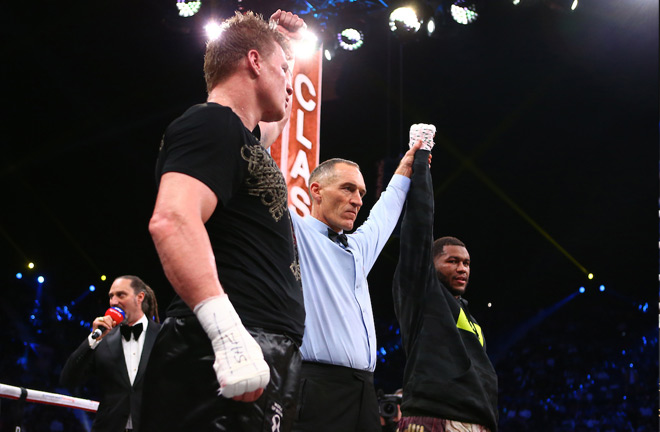 Neither fighter seemed bothered by the split draw verdict and we may soon see them occupying the same ring together soon. Povetkin appears to have plenty left in the tank and the 31-year old Hunter passes his first major test against a legit heavyweight contender.
Whyte Decisions Wach
Whyte (27-1, 18 KOs) was a late addition to the card and appeared seriously out of shape at Friday's weigh-in, tipping the scales at a career high 271.1 pounds for his scheduled 10-round bout against Mariusz Wach (35-6, 19 KOs). Wach, a former world title challenger came in at 270 pounds, which is his optimum weight.
However, the pair put on a real show as they both fought hard and delivered some good shots throughout their hotly contested fight. In the end, the judges sided with Whyte by awarding him the unanimous decision by scores of 97-93 (twice) and 98-93.
Wach attempted to impose his size upon Whyte in the opening round by utilizing his height and reach advantages. That strategy was short-lived as 'The Body Snatcher' eventually worked his way on the inside where he found success by landing vicious hooks to the head and body.
The 31-year-old Whyte ran into trouble in the fourth round when he got a thumb in the eye and was seen dabbing at the right side of his face. The eye would eventually swell and the incident threatened to impair his vision.
The Brit responded admirably by working through the pain to regain control of the fight in the sixth and seventh rounds although both fighters started to slow down at this point. Whyte continued to land the more telling shots although Wach was able to connect on a couple of right hands which he took well.
Whyte began to counter Wach in the eighth round with stinging right hands but was briefly wobbled by a big left hook after an exchange in the closing seconds of the round. A brief time out would be called in the ninth when Whyte threw a left hook that appeared too low.
They continued to punish each other with Whyte working downstairs and Wach occasionally scoring with crushing shots of his own upstairs. Their entertaining battle came to a thrilling end just as Whyte put together another rally forcing Wach to cover up and hold on until the end.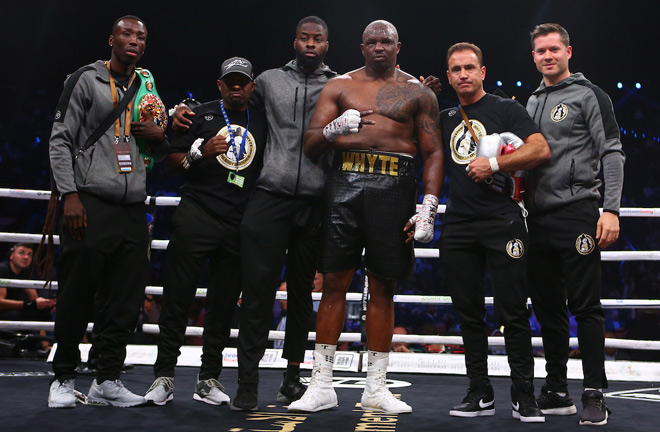 With the victory, Dillian can now look forward to a promising 2020, especially having been cleared of wrongdoing by United Kingdom Anti-Doping a day before a fight that he had less than three weeks to prepare.
Hrgovic blasts Molina out in Three
Top heavyweight prospect Filip Hrgovic (10-0, 8 KOs) made short work of veteran Eric Molina (27-6, 19 KOs), knocking him out in the third round to remain unbeaten and put the division on notice.
The hulking Croatian fighter was the aggressor from the opening bell with a punishing body attack and big right hands. It was disappointing that Molina offered such little resistance beyond complaining about fouls and occasionally firing a right hand in return.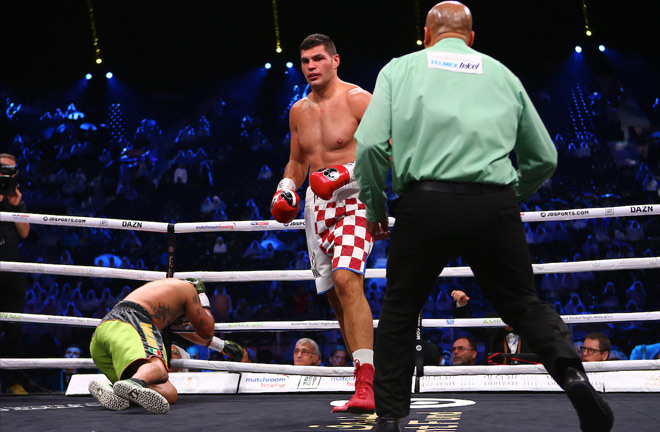 There were two earlier knockdowns that were overruled in rounds one and two because Molina complained that he was being hit behind the head. In reality, Molina had been dropping his head low which left him open to chopping right hands from Hrgovic.
Unfazed, Hrgovic continued to apply the pressure and land right hands upstairs to force Molina to cover up. The bout's first official knockdown was later recorded when Hrgovic connected on a body shot that dropped Molina. Molina appeared to buy himself some extra time by spitting out his mouthpiece.
Moments later in round three, Hrgovic sealed the win with another chopping right behind the head as Molina lowered his head yet again. This time, the blow landed behind the ear dropping him to the canvas where he remained for the full count, holding the back of his head as if the pursued the official that he had been fouled.
Hrgovic was just too much for Molina 💪#RuizJoshua2 pic.twitter.com/ee0Ez1ylHT

— DAZN USA (@DAZN_USA) December 7, 2019
The referee made the right call by counting the American journeyman out at 2:03 of the third round. Molina has now lost three of his last five fights which include previous stoppages to Deontay Wilder and Anthony Joshua.
Hrgovic notches his third knockout in as many fights in 2019 since signing a co-promotional deal with Matchroom Boxing. The 6'6" heavyweight must be considered a serious prospect at this point. Hrgovic has a good amateur background, solid fundamentals and the power to trouble any heavyweight in the division if he lands cleanly.
Other Results
Three-time World Amateur Championships gold medalist and 2012 Olympic bronze medalist Magomedrasul Majidov stopped Tom Little in the second round of the night's opener. Majidov (2-0, 2 KOs) simply had too much for Little (10-8, 3 KOs) dropping him and then later finishing him off standing prompting the referee to step in. Majidov, 33, is perhaps one to watch considering his lofty amateur accomplishments and advanced age. Matchroom will likely try to move him quickly and possibly into world title fight within the next year if he continues to win impressively.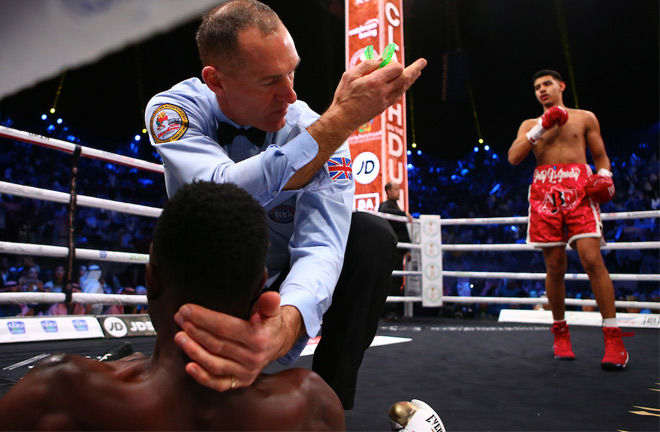 18-year-old super middleweight Diego Pacheco scored an emphatic 1st round knockout of Tanzania's Selemani Saidi (20-16-5, 15 KOs) in their swing bout Saturday evening at Diriyah Arena in Diriyah, Saudi Arabia. Pacheco, a 6'4″ prospect from Los Angeles was able to showcase his skills against a 40-fight veteran and his most experienced opponent to date. Pacheco fought with knockout intentions right from the outset and it finally came in the form of a long right hand which put Saidi down and out. Referee Steve Gray immediately waved off the contest without issuing a count. The official time was 1:38 of round one.
READ: Joshua Dominates Ruiz Jr to regain titles in Saudi Arabia