When the Garcia vs. Morales rematch was announced, more than a few fight fans groaned. Garcia is riding high now after his TKO4 of Amir Khan, holding both the WBC and WBA belts, and ranked second only to Juan Manuel Marquez in his division (and some place him in the #1 slot). After all, Garcia had already been there and done that with Morales in a fight we scored 116-111 for Garcia. Most would probably prefer that "Swift" Garcia take on the division's formidable, hard luck contender Lucas Matthysse (currently ranked #4 by the WBC).
Count me in the group that wants to see Garcia vs. Matthysse, but that doesn't mean Morales hasn't got a prayer. "El Terrible" claims his performance was hindered by his recovery from gall bladder surgery, an excuse that rings true for once. Morales was flabby and noticeably lethargic that night, and his surgery is a matter of public record. More to the point, the story of that fight suggests that if Morales really can come back and improve on his performance, he might have a much better night of it.
Erik Morales (52-8, 36 KOs)
5'8″ tall, 72″ reach, 36 years old
Mexican
Former super bantamweight, featherweight, super featherweight and (fake) junior lightweight champion
At this stage of his career, Erik Morales is reminiscent of the 175-pound and 190-pound version of Tommy Hearns. His opponents are too big to be phased by El Terrible's power now, so the Mexican gladiator must instead fall back on his considerable skill and talent as a boxer. Morales also remains as durable at 140 lbs as he was at 126 lbs, as evidenced by his fight with Marcos Maidana.
The main problem for Morales is that he has yet to win a big fight at light welterweight. Garcia defeated him, his much-lauded fight with Maidana was a loss, and he captured his current crown over the body of a tomato can only after it had been stripped away from Timothy Bradley, on the flimsiest of pretenses.
Danny Garcia (24-0, 15 KOs)
5'9″ tall, 69″ reach, 24 years old
American
Current WBA-WBC Junior Lightweight Champion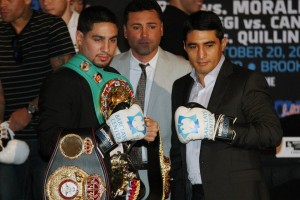 Garcia has transformed from the man to watch and into the man of the hour. A Philadelphia fighter with a solid amateur background, Garcia has 120 amateur fights and a 2006 US national amateur championship under his belt. He is quick, as the moniker "Swift" implies, has good fundamentals, and good durability. Unlike a lot of young fighters today, Garcia is comfortable fighting on his back heel. Against that, it must be said he tends to wing his shots, making them wider than is really necessary.
Morales vs. Garcia II Preview
In the first fight, I thought Morales' boxing skill, experience and rangy style (he has three inches of reach on Garcia), combined with his more illustrious name, would prove enough to weather the challenge from the much younger, faster Garcia. To the extent that I was correct, I called the reasons accurately enough. The rounds that Morales won or were close went the way they did because of effective jabbing and shorter punching. That combined with Garcia's curious lack of interest in forcing the pace or the action for long stretches of time go a long way to explaining why the equally lethargic Morales wasn't buried in a landslide.
If Morales isn't just making excuses (and El Terrible was never much for excuses), then he ought to appear fitter and busier in October. If that happens and Garcia plays half-on, half-off like he did in the last go-around, Morales could score a big upset. On the other hand, if Garcia comes in energized from his own upset win over Amir Khan, and Morales is in the same indifferent shape, a knockout might follow swiftly.
Morales vs. Garcia II Analysis and Prediction
I think both things are likely: Garcia's enhanced confidence will make him more willing to take risks and stay busier, while Morales will show up in better physical condition. Garcia also showed some good body punching last time, and if he keeps that up, Morales will wind up spent in the closing rounds regardless of how fit he is going in.
However, there is only so far that Garcia can carry that against a skilled boxer like Morales, what with his wide punching style. Even if Garcia gets off first, his punches must travel farther relative to the products of Morales' superior punching technique.
Frankly, the first Morales vs. Garcia encounter was boring. I think the return engagement will be an improvement, with both fighters showing up prepared to be more active. Even so, I have a hard time seeing Morales gaining and sustaining traction against a faster, younger, naturally bigger opponent who now has a heart full of confidence.
Prediction: Danny Garcia UD12
Comments
comments