Well, a night of boxing almost never goes off without any controversy. So it is that before we get to the Erik Morales vs. Danny Garcia results, we've already had to swallow the ridiculous, awful ending to the James Kirkland vs. Carlos Molina fight. Now we head to a main event, where the titlist didn't make weight, and forfeits his belt.
Oh yea, and he got the "championship" because his buddy Jose Sulaiman stripped the rightful champion, and set him up to grab a vacant title in a meaningless fight against an unproven fighter. This, my friends, is the Sweet Science in today's era.
But I digress, onto the action itself and the Morales vs. Garcia results. We'll be covering the fight live right here, so stay tuned…
| | | | | | | | | | | | | | |
| --- | --- | --- | --- | --- | --- | --- | --- | --- | --- | --- | --- | --- | --- |
| Round | 1 | 2 | 3 | 4 | 5 | 6 | 7 | 8 | 9 | 10 | 11 | 12 | Total |
| Erik Morales | 9 | 10 | 9 | 9 | 10 | 9 | 9 | 10 | 9 | 10 | 8 | 9 | 111 |
| Danny Garcia | 10 | 9 | 10 | 10 | 9 | 10 | 10 | 9 | 10 | 9 | 10 | 10 | 116 |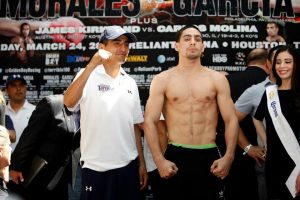 Rd 1: "Swift" looks absolutely blazing fast compared to Morales, who is pudgy and slow. Garcia looks a bit overanxious in there, while Morales of course is as calm as can be – he's been in about 473 bigger/worse/crazier situations than this. Round goes to Garcia based on work rate and dictating the action.
Rd 2: Morales deploying a solid jab. He's getting off first here more. Garcia is laying off a bit – either showing him too much respect or getting lost in the stage. He has the physical tools and background, but he's letting slow-as-molasses Morales control things right now. Terrible's round.
Rd 3: If you're nickname is "Swift", why are you letting Morales get off first? Why aren't you getting off first? After a slow first 90 seconds, Garcia wakes up and turns things on. Is he somehow reading my round by round? After working behind his jab, he lands a few big shots on Morales, pushing him back into the ropes. A straight right is the best shot of the night thus far. Morales looks fazed and tired, if not badly hurt. Round to Swift.
Rd 4: Garcia winging a big right hand over and over as a counter, looking to tag Morales. The guys exchange jabs. Morales begins coming forward – uh oh – is Garcia awakening vintage El Terrible? Some good exchanges here. Morales using his timing, guile and grit to land some clean shots. The harder connects are for Garcia though. Pretty even round.
Rd 5: Morales having a nice start to the round as Garcia sits back and waits. Garcia's nose is bloodied, and he looks a bit winded. – We're informed that the official judges have it 39-37, 39-37 for Garcia, and 38-38 after 4 rounds, with the open scoring. That's unofficial though. Garcia looks to have lost some steam, and may be having trouble breathing. Wonder if that nose is broken? Good Morales round.
Rd 6: Pace and pattern continuing here. Garcia lands a few big shots though and Morales ends up along the ropes, and lies back there. The Morales rope a dope here a bit. Garcia picking his shots and going to the body effectively, though. Morales tries to fire back a few quick shots, Garcia backs off, then Morales walks forward and tags him. Morales has been awoken here, let's see what Garcia has. He takes it, gets back to his movement, but Morales gets him to the ropes and applies some more pressure. Another tough round to score.
Rd 7: Garcia digging to the body. Lands a quick jab to the face. Looking in control for the first half of the round. Morales fires, lands, Garcia counters. Morales opens up a bit, sticks a few jabs. Garcia to the body. Again, another close round here.
Rd 8: Garcia is fighting the perfect fight for Morales, who is old, overweight and beyond his best weight class, he's keeping a slow pace and letting Morales dictate. Hard to make sense out of this. When he opens up, he generally looks good and connects with harder shots. Morales though is standing his ground, and connecting. Garcia comes on in the last 15 seconds, but it's a Morales round.
Rd 9: Garcia misses with a shot, then Morales does some showboating. Garcia fires back. If Garcia loses this fight, he'll have some soul searching to do, because the opportunities are there and it seems like he isn't pouncing on them. Last 30 seconds of the round, Garcia lands a few clean shots upstairs, and a good body shot or two. Could be enough to take the round.
Rd 10: Jose Morales tells Erik that he's losing badly on all the scorecards right now. Garcia comes out looking strong in round 10. Morales looks tired. Morales lands a solid shot with about 30 seconds left. This fight has basically gone into a consistent, kind of boring rhythm here, and not much happens. Garcia's nose ends up nice and bloody by the end of this stanza, though.
Rd 11: Fight seems to be up for grabs here in the last two rounds. Morales coming on strong right now, lands a series of 1-2s in quick succession. Garcia is badly bleeding now – if his nose wasn't broken it might be now. Then suddenly, boom, Garcia drops Morales, who stumbles forward to the canvas. Morales takes his time getting up. Garcia warned for hitting on a break. Morales looks dead tired in there. Garcia applying some big pressure now to close out the session.
Rd 12: Morales up on his feet but doesn't seem to have much else left in him right now. Garcia picking him apart a bit here, landing big left hooks, sticking his jab, going to the body. Morales still game, coming forward and throwing. But he's just so gassed. The fight ends, Garcia tries to say hello to Morales, Morales walks away to his corner.
ProBoxing-Fans.com has it 116-111 for Danny Garcia.
Official judges scorecards: 117-110, 116-112, and 118-109, Danny Garcia
So, Danny Garcia takes home the vacant WBC 140 lbs title. It was a solid, workmanlike effort for him, although not spectacular. It seemed as if he could have put on a much better performance, but Morales had something to say about that, of course.
Meanwhile, for El Terrible, here's a guy who's about 56 years old at this point, four weight classes past his best, he's been through everything in the ring and then some a dozen times or more, and he's pushing this big, young, athletic and technically trained kid to the brink.
That tells you a little something about the class of Morales in terms of being an all-time, legendary fighter. For what it's worth – I rank Morales ahead of Barrera when concocting best-of lists for their eras, or best-of lists of Mexican fighters.
—-
Thanks for checking our our live Morales vs. Garcia results. Tonight proved yet again, it's hard to be a boxing fan sometimes, isn't it? Stay tuned later in the weekend for more post-fight coverage, boxing news and all the aftermath for every fight on this weekend's busy schedule.