Light Flyweight Yosbany Veitia Soto of Cuba looked very smooth today at the 2013 AIBA World Boxing Championships Almaty against solid opposition in Mark Barriga of the Philippines, while number one seeded Bantamweight Robeisy Carrazana took a comfortable win. Yohandi Ortega also looked composed against Cornelius Sheehan from Ireland.
Beguerni of Algeria made his debut, and what a debut it was. A quick combination left the former World Series of Boxing (WSB) star out on his feet and the arena stunned.
Elsewhere we had our usual thrills and spills as Light Flyweights (49kg), Bantamweights (56kg) and Super Heavyweights (91+kg) took to the ring.
Bouts of the session
Birzhan Zhakypov of Kazakhstan took on Belik Galanov from Russia at Light Flyweight in the first bout of the day. It was a match-up that was highly anticipated by the local crowd, who began chanting some ten minutes before the boxers had even appeared, while the ring still lay vacant and technical staff made their final checks. Once the bout began, it was easy to understand why the fans were so excited.
The fight was conducted at absolutely frenetic pace with both boxers clearly determined to win not just a victory, but an overwhelming one. Heavy punches and frequent tie ups ensued with the work rate remaining as intense as the drumming in the crowd for the full three rounds. The number one seeded Light Flyweight boxer from Kazakhstan really came on in the last round and began to overawe his fading Russian opponent to ensure the win 3:0.
With plenty of high drama and big names on display, this one might have easily slipped under the radar. However, Light Flyweights Patrick Lourenco of Brazil and Tanes Ongjunta of Thailand put on a good show for the crowd. The Thai athlete was extremely aggressive in pushing forward while the Brazilian would switch between standing and trading blows with his opponent, and attempting to use his foot work to outmanoeuvre him. For a while though it seemed that Ongjunta was getting the better of the exchanges, but the Brazilian hung in there to just about outpoint his opponent for a very tight win.
More Results
Aram Avagyan from Armenia was at his best again today. Having taken out former British Lionheart Gamal Yafai in the last round, he continued to be the scourge of WSB boxers by defeating Jahyn Parrinello of the Dolce & Gabbana Italia Thunder. He shocked the Italian with a massive right hand in the first round which saw the Italian fall forward onto his knees dazed, and take a standing eight count. He continued to look impressive for the remainder and took an important win.
"It was very hard in there", said the Armenian. "He was a very strong boxer". When we pointed out that he has had quite a tough draw, exclusively featuring WSB boxers, he simply responded: "This is the World Championships, whatever draw you get is difficult".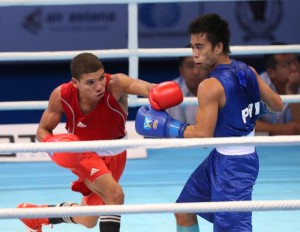 Light Flyweight Yosbany Veitia Soto who featured for the Domadores de Cuba in their debut performance against Mexico Guerreros this summer, took on APB boxer Mark Barriga from the Philippines for the day's other opening bout. While the crowd were busy screaming on their local hero Zhakypov, one of the most technically interesting bouts of the World Championships so far was taking place in the other ring.
The two southpaws felt each other out initially but were quickly landing good combinations and using very dynamic foot work. Soto seemed to be getting the better of the exchanges but was caught off balance in the third round and given a standing eight count. The bout now very much hung in the balance with only a minute and a half to go.
Soto charged forward but Barriga did well to stuff a lot of his efforts. Later on, Soto caught the Filipino with a cross that left him looking wobbly. His overall performance was enough to see him take the win 3:0 in a bout that was tighter than its sounds on paper.
Welsh boxer Ashely Williams got caught with a huge blow to the right side of his face and eye by Road to Almaty boxer Malith Muthukarage of Sri Lanka in the first round. The lad from Swansea required a standing eight count.
He was extremely tenacious however, to the extent that one US coach observing on the TV monitors was overheard saying: "wow he's still coming forward. That's one tough kid". "He caught me off guard in the first round with a good shot, fair play to him", declared Williams. "He punched very well but my hard work in training paid off and Wales pushed me all the way. My heart was my edge in there, so well done to the Sri Lankan for giving me a good fight, let's just hope this eye holds out for the rest of the tournament. I'd like to thank Sports Wales and all our sponsors for their support".
Vladimir Nikitin from Russia met Road to Almaty Juan Donis from Guatemala who was responsible for our upset of the session on Thursday evening. The Guatemalan started strongly again, totally un-phased by the calibre of the man in front of him. Both boxers adopted a tactic of covering up and exploding from a tight guard. By halfway through the second round, this approach seemed to be favouring the Russian. Nikitin landed more blows with notably more power than Donis. In round three, the Guatemalan made something of a comeback and found his grove again. Nonetheless, the experience of Nikitin shone through and he took the win over an opponent who has proved himself capable of dethroning the stars.
Mohamed Flissi of the Algeria Desert Hawks squared off to Joselito Velazquez of the Mexico Guerreros at Light Flyweight. The two have never fought each other in the WSB so this was an interesting match-up. Flissi landed a really hard blow in round one but the Guerrero came back with a shot of his own that was even harder, leaving Flissi with a standing eight count. In general, Velazquez was taking the centre of the ring, looking to land hooks while Flissi boxed at distance when he could, trying to circle his opponent.
Flissi's tactics worked well and he managed to out point and frustrate the Guerreros boxer from that point on. It was enough to see him take the win. "It was a difficult fight of course", said Flissi. "But my preparation was good and I found a way to win the bout thank heavens. He has a lot of experience but fortunately it was ok in the end".
Phub Sigyel of Bhutan was back at work today against the number 7 seed Veaceslav Gojan of Moldova. The Bantamweight bravely took to the centre of the ring again and tried to bring the fight to his opponent. Despite the Moldovan's seeding, Sigyel did not look out of place in the ring with him. Extremely focused and always operating from a high guard, the southpaw looked very good in the first round, and though he slowed slightly in the second, in round three he put his foot back on the gas.
Gojan was very effective at picking him off with his left hook though. Sigyel had a scrappy but strong final thirty seconds but it was not enough to take the win today.
Ones to watch
Though certainly not an outside chance, current number one seed Bantamweight Robeisy Carrazana of Cuba looked sublime against Jiawei Zhang of China. By the second break, the Chinese boxer was wincing on his way back to the corner as soon as he was out of eye shot of the Cuban. Carrazana by contrast came out into the third with a grin. Zhang was working very hard and was throwing perhaps five punches for every one of the Cuban's, yet was still landing less of them.
If it's possible to look comfortable in a World Championships, then the Cuban was. He looked about as fired up as most people are when they go to make their breakfast in the morning. He is definitely a favourite.
Brian Gonzales of Mexico looked fantastic against Stefan Ivanov of Bulgaria. The young Bantamweight, who made his WSB debut in this summer's exhibition match between the Mexico Guerreros and the Cuba Domadores, looked very fit indeed and was able to pursue his man at supersonic pace for all three rounds. Like all Guerreros he was out looking for a scrap, and with his excellent aerobic capacity, he was able to force the issue to ensure he dominated to take another good win.
"It's great to be moving forward again", said Gonzales. "Although I'll say again that there are no easy fights, it's getting harder for sure. But we are prepared for any situation that arises".
Quotes of the session
The following was overheard in the mixed-zone between Jason Quigley following his fight with Vijender from India and former Irish boxer turned journalist Kenny Egan.
Quigely: "He was an Olympic medallist so to not have a great fight against a lad of that calibre and still go through to the next round is a really good result for me. He's still extremely good but Beijing is a long way back…"
Egan: "Tell me about it… I'm getting grey hairs." (Egan was silver medallist at the 2008 Olympics)
"The training we did in Mexico was really hard. We did a lot of resistance training, and since we are preparing for a league with five rounds [the WSB] we are ready to fight for three at the World Championships. This is how you get results. You have to be able to continually pressurise your opponent until the final bell" – Brian Gonzales (Mexico)
Fact/Stat of the day
Ross Weaver of Australia was in an incredibly heated and prolonged exchange with Artem Chebotarev of Russian with both fighters landing very heavy blows. Having seen their fighter take one too many, the Australian coaches threw in the towel… at the exact moment when their man dropped his opponent. It was clear that the Russian wasn't sure what was going on when he was returned to his corner since he was still dazed. The Russian coach had to explain to his athlete what had happened. Meanwhile the Australian coaches had some explaining to do as well…
Italian Super Heavyweight icon Roberto Cammarelle took to the ring today with the young pretender, Youth Olympic Gold medallist Tony Yoka of France. Camarelle of course is a two time World Champion (2007/2009) and he also took a bronze in 2005. He claimed all three Olympic medals at different times from Athens 2004 through to London 2012 where he won the silver. Boxing fans were delighted to see him back and he looked good as he unanimously won the bout.
Surprise of the session
Super Heavyweight Hamza Beguerni of Algeria in his first ever World Championships totally nailed former British Lionhearts star Joseph Joyce of England. With a right hook that would have knocked the planet off its axis, the unknown Algerian stopped Joyce with 1:37 still remaining in the first round to send the Brit home early. "I prepared hard for this. It's my first World Championships and he is a good boxer so I am happy about that".