Alvarado vs. Provodnikov Results:
Ruslan Provodnikov shocked the enthusiastic, jam-packed hometown crowd in Denver, Colorado on Saturday night, earning a hard-fought victory over Mike Alvarado when the fight was called off after the 10th Round. Alvarado vs. Provodnikov was heavily hyped as a potential Fight of the Year, and it didn't disappoint.
Officially, referee Tony Weeks halted the contest after the 10th. However, before that happened it appeared imminent that Alvarado's corner was going to stop the bout as well.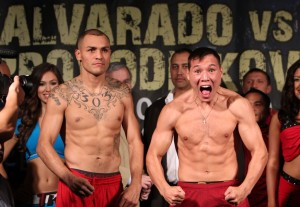 Alvarado was sent down to the canvas twice in the 8th Round, marking the first two times he has ever been down as either an amateur as a pro. Remember that against Brandon Rios, he got stopped on his feet, and never was actually sent down.
Provodnikov had a relentless attack that Alvarado simply couldn't weather. Mile High began the bout boxing well, using footwork and movement, incorporating a southpaw stance, and staying behind his jab. But Provodnikov wouldn't be denied.
He worked consistently to the body, mixed it up to the head, and maintained a high work rate. The thudding shots continued to pile up, and it all culminated in the 8th, as Alvarado was sent down on two occasions.
Still, after both knockdowns, he came thundering back, looking to rally and turn the tides. However, his right eye became a swollen mess, and he ran out of gas thanks largely to those brutal body shots.
While he was gamely looking to continue, both his corner and the third man in the ring, Weeks, had seen enough. After the fight, Alvarado agreed with that decision to call the fight off, while Provodnikov seemed to be a real-life incarnation of Rocky IV villain Ivan Drago, repeatedly talking about how he needed to break Alvarado.
Provodnikov improves to 23-2 (16 KOs) and takes home the WBO junior welterweight strap for his efforts, while Alvarado falls to 34-2 (23 KOs).
It's a huge breakout win and performance for Provodnikov, and a disappointing loss for Alvarado. Clearly though, we'll be seeing much more of both of these guys. And on a night when Legendary Nights: Gatti vs. Ward was set to premiere on HBO, there couldn't have been a more fitting battle than the one we saw between these two.