The fight might be getting little press in America, but in Russia, May 17th's bout between Guillermo Jones vs. Denis Lebedev for the WBA Cruiserweight Title is big news. The explanation for why is not just that Lebedev is Russian, but that Don King has been doing his royal best to hype the fight with the Russian media. Seeing King on RT should remind everyone that although he is elderly, King can still talk with the best of them.
Even so, when Bernard Hopkins took Tavoris Cloud's IBF light heavyweight belt, Guillermo Jones became the last world champion in King's much-diminished stable. In the clearest indicator of King's weakened place in boxing politics, his staple tactic of forcing opposing fighters to sign with Don King Promotions (DKP) in exchange for a shot at a King fighter hasn't been employed in years. If Lebedev takes Jones's belt, it raises the question if King should not, at long last, call it a day.
Jones vs. Lebedev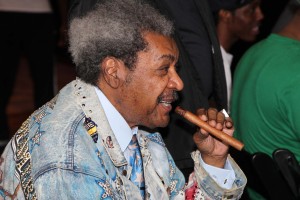 If you've never heard of Guillermo Jones, it's hard to find fault with that. The guy started his career as a freakish 6'4″ tall junior middleweight champion, then jumped almost straight up to 190 lbs. He captured the WBA Cruiserweight Title in a clash with Firat Aslan back in 2008, but even so he has only defended the belt twice. The WBA, in typical fashion, preferred crowning a second champion to stripping Jones.
They did that by staging the clash between Denis Lebedev and James Toney for the interim (fake) title back in 2011. While Lebedev is the guy who has actually done something with his version of the belt, lineage says that it is Lebedev who is the fake WBA champion, and Jones who is the genuine article. For whatever that might be worth.
This fight might be the last hurrah not just for Don King, but also for Guillermo Jones. The Panamanian fought not at all in 2012, once in 2011, once in 2010, and then not at all again in 2009. Including his win over Arslan, he has fought three times in the past six years.
[Also See: What Ever Happened to Don King?]
He will be 41 at the time of the fight, and it's hard to see such an inactive fighter getting another title shot at that age. If Jones loses, he might as well hang it up, and I think it is highly probable he will lose.
Jones has height, reach, and decent boxing ability, but against that he is rusty, aging, and up against Lebedev, who is an aggressive, go-forward, all-action southpaw. More to the point, Jones's record shows him losing or drawing to every world class fighter he has ever faced. Lebedev's sole loss was getting out-fought and out-pounded by Marco Huck. Frankly, I find it hard to see Guillermo Jones succeeding where James Toney failed. (Interestingly enough, King also won a recent purse bid for Huck's cruiserweight rubbermatch with Ola Afolabi, but then failed to put the fight together, allowing Sauerland Events to resume control of the affair.)
Call It Quits Boys
I see a dual end out there for both Guillermo Jones and Don King. If Jones loses, and it's hard to see him beating Lebedev, he snuffs the last candle in King's castle. It's not really a question of whether it's the end of DKP and Jones, but whether both have the wits and class to see it, and to bow out with dignity.
Comments
comments