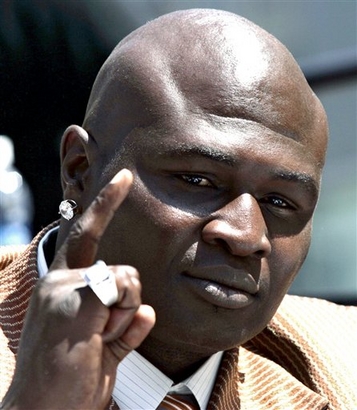 November 4th sees cruiserweight action in Moscow in an up-or-out fight between comebacking James Toney and contender Denis Lebedev. Toney is returning to boxing after seeing his career stall and his flirtation with MMA turn out badly, so a win might put him back into the cruiserweight or even heavyweight picture. Lebedev, on the other hand, is coming back from his own razor-thin loss to Marco Huck. The winner of this fight will get a career boost, while the loser, particularly if it's Toney, goes straight into the wilderness or even retirement.
Denis Lebedev (22-1, 17 KOs)
5'11" tall, 32 years old, southpaw
Five-fight weight average: 198.5 lbs
Russian
Denis Lebedev is a southpaw puncher. He likes to come forward, his preferred operating mode is walking down his opponents, and his bread and butter punch is his straight left. The Russian has made it to near the top of the cruiserweight division despite the fact that his best wins were an early KO of a faded Enzo Maccarinelli and a 10th Round KO of Roy Jones Jr. earlier this year, and this is the Roy Jones that people started wishing would have retired six or seven years ago.
That might scream "paper contender" at you, but Lebedev is a serious cruiserweight contender who hasn't had that much exposure. In 2010, he beat 2005 World Amateur Champion Alexander Alexeev, a well-schooled Russian boxer and prospect at the time. His 2011 title challenge against Marco Huck was a hard-fought affair that some thought Lebedev won. Even so, Lebedev has only limited boxing skills, a fact best demonstrated by the plain fact that the much-faded Jones was ahead on one scorecard and even on a second when he went down.
James Toney (73-6-3, 44 KOs)
5'10" tall, 72″ reach, 43 years old
Five-fight weight average: 232 lbs
American
Former middleweight, super middleweight and cruiserweight world champion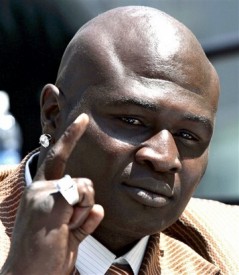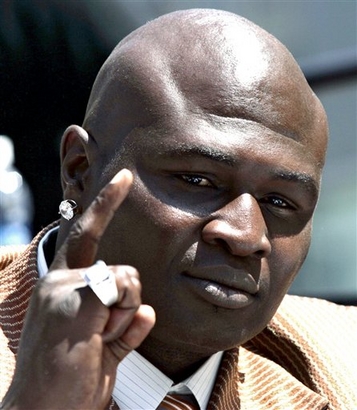 James "Lights Out" Toney has one of the most storied resumes in boxing. After rising to pound for pound status as a middleweight and super middleweight, he had a bad night and was whipped by Roy Jones in 1994. Toney moved up to light heavyweight, but his performance deteriorated, leading to a lengthy period in obscurity. Toney's love of cheeseburgers and pizzas led him to move up in weight again, and many observers started calling him "Lets Eat" instead of "Lights Out." However, he eventually grew into a real cruiserweight and had a career renaissance.
Taking advantage of the weakness of the heavyweight division following the retirment of Lennox Lewis, Toney also enjoyed some success as a fringe heavyweight contender. He remains one of the most skilled fighters in the business, with a tool kit that would make even Bernard Hopkins and Floyd Mayweather envious.
However, at the same time, he is an old 43 years of age. Toney likes the gym, but he also likes eating junk food, and in his last fight he weighed in at a hefty 257 lbs. That fight was his first bout in two years, and in the interim Toney flirted with MMA. Toney is not a well-preserved middle-aged man, and he is at least a little rusty.
Lebedev vs. Toney Prediction
For James Toney, this fight is short-sighted matchmaking. On paper, Toney ought to easily win a huge points victory or even a late-round stoppage. Lebedev has only limited skills and can't fight backing up. Furthermore, Lebedev's power should not faze a man who has been in the ring with guys like Sam Peter. A reasonably fit and well-prepared Toney should easily time a guy like Lebedev, who has only one real punching arm, and then counter-punch the daylights out of him from relative safety.
The problem is that Toney won't show up that night reasonably fit or well-prepared. Toney has fought two tomato cans in the last two years, and his last real opponent was Fres Oquendo in 2008. Worse, he is coming down not to 230 lbs, but to 200 lbs, and from a weight of almost 260 lbs as recently as May! His camp is putting a good face on the weight loss, but there is no way a man in his early 40s can drop substantial weight inside of a year and not leave a big chunk of himself in the gym. Toney might look solid on fight night, but inside he will be hollow. Lebedev, on the other hand, will be ready to fight 12 hard rounds.
Even a rusty James Toney should have the technique to fluster a one-dimensional puncher like Lebedev, but I don't think he will have the stamina to keep it up all night. Toney will become sloppier as he tires, Lebedev will land more leather, and so starts the vicious cycle. I see Denis Lebedev coming on in the second half of the fight, and might even dominate the championship rounds. I don't see him knocking Toney down or out (no one ever has), but the Russian will push his way past Toney to a win.
If there is any doubt about that, remember that Lebedev is Russian and the fight is taking place in Moscow. Should Toney have enough stuff left to make this bout a close on, the judges will push Lebedev over the edge. Frankly, I don't think he will need them.
Prediction: Denis Lebedev UD12