Big Weekends for 2 Possible Future Title Threats
This past weekend, Bermane Stiverne and Deontay Wilder scored good wins. Stiverne is the one who made the biggest move up the leader-board, with a unanimous decision over legitimate contender Chris Arreola. Wilder, meanwhile, beat Audley Harrison in one round, something that has now happened twice to Harrison in the past 6 months. Though Stiverne scored by far the better win, each man showed dominance against a class of fighter that was many levels above anyone they had ever tangled with before.
With the Klitschko era presumably winding down, each guy gave their name a little extra heat as possible predecessors. With heavyweight hopefuls like David Price, Seth Mitchell, and others having been recently exploited, the diverse pair of Stiverne and Wilder, for all we know, may be among the best of the non-Klitschko bunch.
Deontay Wilder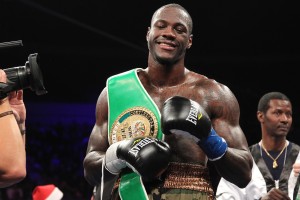 First thing's first–beating Audley Harrison alone does not make you a threat. It's still hard to not like the 6'7" 2008 bronze medalist. He has a big right hand and has knocked out all of his 28 opponents.
Harrison, believe it or not, was a massive jump up in class. Until then, Wilder had been fighting dogcatchers and guys who work at Orange Julius. If anything, Wilder showed he can beat a guy who actually has some talent.
His ultra-slow development is understandable. He had a scant amateur career and still managed to bag a medal at the 2008 games. We're almost 5 years removed from those Olympics, a time when most medalists would already at least have dipped their big toe into world-class waters. With Wilder, we're still waiting, but the win over Harrison was a decent first step.
He should keep the good momentum going and start increasing the level of opposition. Slow and thoughtful development is one thing, but taking a good prospect like Wilder and letting him stagnate for years is not a good course of action.
Let's hope Wilder uses 2013 to beef up his credentials and position himself as a legitimate contender. We're starving stateside for a legit threat, so it would be disappointment to see Wilder return to the southeast to post more meaningless stoppage wins over low-grade opposition. No one is saying he has to take on beasts every time out, but he needs to fight guys who can teach him something.
Bermane Stiverne
Prior to last Saturday, Stiverne was a Don King Special–a guy who landed a top WBC ranking despite a resume of beating stiffs. It was believed that he had a good right hand and that's about it. Against longtime contender Arreola, he showed some dimensions that had failed to land on anyone's radar. Sure, he can afford to drop a few pounds and he isn't terribly fast or confident. By beating Arreola, however, he showed a lot of wrinkles.
First of all, he can hit. During exchanges with the hard-hitting Californian, his punches stood out brightly. Arreola's shots were hard, but when Stiverne landed right, it was clear who the real puncher was in the fight. His punches have real authority behind them and only Arreola's durability and fierce pride allowed him to hear the final bell.
Unlike Wilder, Stiverne will have to go with what he has, as the number-one contender and mandatory for a shot at WBC titleholder Vitali Klitschko. He won't be afforded time for much more development, nor should he at 34 years of age. As it stands now, Stiverne is a more complete package than anyone would have thought before the Arreola fight.
The Haitian-born Floridian has decent punch variety, a relaxed disposition, and a good vision of the fight. While he wavered a few times against the hard-hitting Arreola at times, he stood firm and was able to soldier his way through a few tough moments. Will his work translate as well against a Klitschko? Perhaps not, but with his power, he has at least emerged as an interesting X-factor.