The Klitschko brothers are not famous for their ability to generate hype and interest. Indeed, they are usually criticized for robotic in-ring performances that leave crowds snoozing. Yet, even by Klitschko standards, the last year has been painfully dull, and the foreseeable future looks set to serve up more of the same boredom.
Vitali, Retire Already!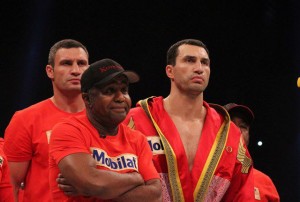 Klitschko the Elder's last fight was in September 2012 against an unheralded-but-undefeated Manuel Charr, and the result was a mercifully short bout ending in a TKO4. Since then, Dr. Ironfist has limited his boxing career to teasing observers about whether he will retire from boxing to pursue Ukrainian politics full-time, and ruling out a fight with the division's biggest mouth, David Haye.
Klitschko's return from retirement in 2008 set a good standard for heavyweight excitement, at least by modern standards. His clashes with Chris Arreola, Tomasz Adamek, and Dereck Chisora were as good as anything the big league has done in recent memory. Klitschko either needs to get with the program and continue in that fashion, or retire.
Fighting paper contender like Charr and toying with retirement produces little iron-fistedness, while at the same time blocking the huge succession war that should break out among the WBC's heavyweight contenders once Vitali departs the scene. Not that anybody is particularly excited to see the winner of Arreola vs. Bermane Stiverne crowned WBC titleholder.
Wladimir: Spinning His Wheels
Looking back on Klitschko the Younger's record since fighting David Haye, I must ask "what was he thinking?" An ancient Jean Marc Mormeck? A Tony Thompson that hadn't beaten David Price yet? Mariusz Wach? Dr. Steelhammer hasn't produced a good fight in two and a half years!
And this is in a division with a crop of rising young lions to boot. Fairness demands I point out that some of those young lions are of the cowardly variety and avoiding a clash with Wlad, but not all of them. Why is he making us watch him fight Francesco Pianeta, another unheralded undefeated, when he could be taking on the likes of Kubrat Pulev, Robert Helenius, or Tyson Fury, or even someone like Tomasz Adamek?
Surely someone of merit has wanted to make a fight against Klitschko in all that time. Wlad needs to stop coasting with the fake, manufactured contenders and get with the program. If he keeps on like he has been, he ought to join his brother in retirement, and make room for some guys who want to fight.
The Klitschko brothers are undoubtedly at the pinnacle of the heavyweight division. It would be nice to see them both do a bit more with that positioning.