How the jolly green-belted giant stacks up against the rest of top five heavyweights in the world:
First off–man, does it feel good to be back. I took some time away from covering the sport I love for ProBoxing-Fans.com to finish up my masters degree in health law and, as brutal as the legal world can be, it's no substitute for the seedy, familiar underbelly that is boxing. It's like a warm, safe hug from an old friend that is looking to steal from you the moment you turn your head. Feels like … home. So, I very much appreciate the opportunity to cover it once again, and be told just how little I know about boxing from our adoring base of readers.
Now, while I may not have been covering the sport over the past two years, I've certainly been following it as devotedly as ever. Of course, it doesn't hurt that we're less than two weeks removed from the plodding, hype-filled night of fights that ended with hulking Alabaman Deontay Wilder becoming the first American fighter to own a piece–and please allow me to stress just that— a single, small piece of the heavyweight championship. For the purposes of this examination–and because I have eyes and a brain–the true heavyweight champion of the world is recognized as Wladimir Klitschko. Sorry, America. I love you, but we're not quite there just yet.
With that acknowledgement out of the way, I mean in no manner to reduce Wilder's achievement at all. The guy is a titleholder who became such by out matching a game, yet outclassed, Bermaine Stiverne. Still, any efforts to designate Wilder as the center of the heavyweight universe should be considered grossly premature if not altogether, well, wrong.
Here's a look at how the current WBC heavyweight titleholder stacks up against the top half of our heavyweight contenders:
The winner, and still …
5. Kubrat Pulev: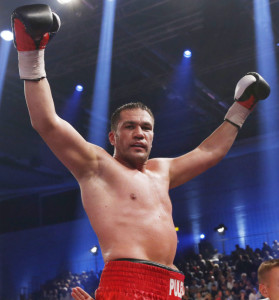 I wish I could say, with a straight face, that Pulev's one-sided loss–the first of his professional career–to Wladimir Klitschko last November should be discounted as the outlier in the spectrum of his career. Simply looking on paper, that argument holds up as "The Cobra" had won his first 20 professional fights (11 KOs) and seemed like a viable option in a heavyweight field pining for just that. However, so dominating was Klitschsko's five-round performance, and so exposed was Pulev in that fight, that you have to wonder if the book is out on the deceptively quick Bulgarian.
Delivering power, like any heavyweight, isn't a problem for Pulev, yet giving up height and strength and being forced to the outside appears to give him fits. Which, for those of us keeping score at home, is exactly how Wilder defeated Stiverne. Wilder would be well advised to mirror Klitschko to the extent possible in a matchup with Pulev. Keeping his opponent on the outside with a steady diet of jabs and hard crosses would neutralize Pulev and keep Wilder belted for another six months.
4. Bryant Jennings: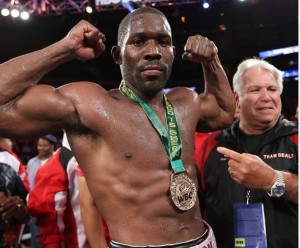 An all-American fight with Philadelphia's best heavyweight Jennings becomes increasingly unlikely with a "By-By" loss to all-everything Wladimir Klitschko on April 25 in Madison Square Garden (how Jennings got that date is fodder for a whole different discussion). Jennings is a good fighter with a sparkling record that he compiled while taking out a long list of secondary and tertiary skilled heavyweights, with his most notable victories being the first professional losses for Mike Perez and Arthur Szpilka.
The edge in a fight between Jennings and Wilder would go with the quicker fighter which, by any measure, would be Wilder. His hands and footwork are superior to Jennings, and if his jab is operating anything near where it was in the Stiverne fight he may end up being darn near untouchable in a bout with Jennings.
Ladies and gentlemen, we have a split decision …
3.  Alexander Potevkin: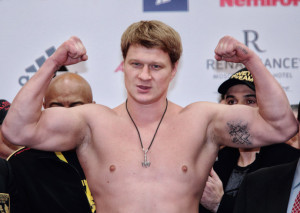 Here's where things start to get a bit dicey for "The Bronze Bomber." Let's just get it out of the way up-front: Here's another guy that was absolutely schooled in the way of heavyweight boxing by Wlad Klitschko. No point in trying to dissect that loss because Potevkin looked absolutely pedestrian compared to the champ.
Against Wilder, though, you're looking at a much better matchup despite the statistical differences. Potevkin is older and shorter than Wilder, with the physical resemblance of a softer Nation Fillion, but his power could be the difference. Potevkin's style is a bit tighter than Wilder's, with the Russian being more prone toward covering and clutching. Fighting methodically such as that is a benefit when your opponent is apt to making mistakes or leaving himself open with a frenetic pace which, if the Stiverne fight is any indicator, Wilder can be one to do.
This could be the most difficult fight to predict for Wilder. As a first title defense, I'm inclined to give the edge to Potevkin. A seasoned Wilder–with a couple of defenses under his belt–probably defeats Potevkin on the cards.
2. Tyson Fury: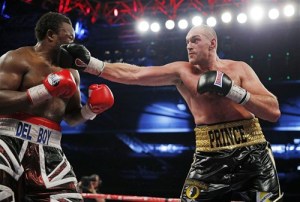 Tyson Fury may be the fighter you hear the most buzz about but know the least about substantively, which is actually part of his appeal. Plus, I just like saying the name: Tyson Fury. Great boxing name, decent heavyweight fighter, and easily the most intriguing match-up for Deontay Wilder on this list. What makes the man a mystery is that it's not quite certain which Tyson Fury will show up against Wilder, his best pure competition outside of Dererck Chisora and Steve Cunningham.
Factor in that he hasn't fought on much of a regular schedule the past two calendar years, and the gargantuan Englishman is suddenly riding the wave of hype that first thrust his name on to the scene in the last decade. Fury is younger, bigger, and has gone through a psychological and professional rejuvenation with the reintroduction of his father–former heavyweight "Gypsy" John Fury–into his life following an 11-year prison sentence.
It's too soon to tell whether the newly recommitted Fury will be able to maintain his status as the world's best known unknown heavyweight commodity, but his February 28 bout against Christian Hammer–another awesome boxing name–should give us a glimpse. For the moment, I'm going to go with the quantity I know and pick Wilder in a very close decision, but this one could truly go either way.
And then, there's "Dr. Steelhammer"…
1. Wladimir Klitschko: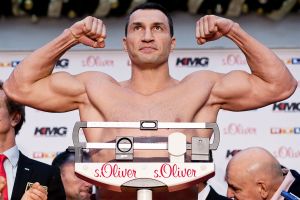 No, thank you. Not in 2015. Fine, if I have to spell it out, let's go this route: It could be a better fight than just about everyone anticipates, but Klitschsko is a different class of competitor. Any fan of the sport can tell you that, perhaps more in boxing than other areas of athletic competition, comparable size and build very rarely neutralize a disparity in season and skill.
Wilder is younger, taller, has a reach advantage… and would lose this fight, at this moment, fairly handily. Klitschko is simply that good. Each would utilize punishing jabs to keep the other at bay while looking to set their opponent up for something big. The big difference is that Wlad would accomplish what he's attempting by dictating the flow of the fights and commanding the ring. He's poised in a way that Wilder may never be. It's not so much the physicality of the fight that disqualifies Wilder from discussions of victory over Klitschko, it's the skill.