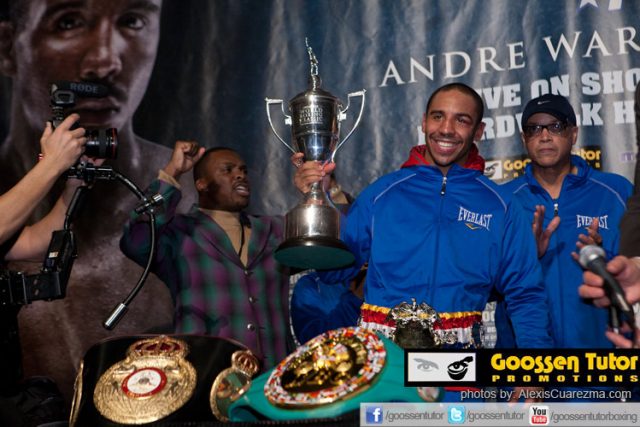 It has been a tremendously successful 2011 for Andre Ward (25-0, 13 KOs), who after a twenty-six month journey is now the Super Six World Boxing Classic champion; the WBA champion; the WBC champion; the Ring magazine champion and the No. 1 Super Middleweight in the world.
Right there with him, is Ward's crafty veteran trainer and godfather of 18 years, Virgil Hunter, who like Ward is soft spoken, but filled with wisdom.  Hunter recognized the talent and drive in Andre from the moment he walked into his gym.  Virgil began training the 9-year old Ward and guided him to a gold medal in the 2004 Olympics.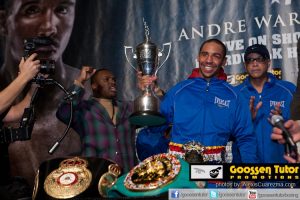 Andre always believed that Virgil was the man who was going to elevate his game to the highest of levels and we've all been witnesses to just that. This past Saturday, December 17, as Ward was presented with three championship belts and the Super Six Cup, those beliefs were confirmed more-so.
Ward decimated the gritty British fighter with a unanimous decision at Boardwalk Hall in Atlantic City, N.J.
Already named Sports Illustrated's Fighter of the Year, Oakland, California's Ward had one word for his impressive evening and undefeated run through the two-plus year tournament: "Supernatural."
"These are all great fighters. That's why you don't hear me talking badly about them before the fight. I know what I'm getting into. I just want to be a little bit better on the night of the fight."
Earlier this year in May, Ward put on another destructive performance against former middleweight titleist and one of the hard-hitting favorites to win the tournament in Arthur Abraham.  Ward scored a near perfect shutout against the former champion in a lopsided victory that would send him to the final.
Hunter's work alongside Ward has earned him to be named "Trainer of the Year" with Andre's one-sided run and the culmination of his last two bouts in a tournament filled with high-profile, top-level competition, all directed by his trainer.  The man currently stands above everyone else since Andre's upset of Mikkel Kessler and has had Andre prepared to finish his opponents with sheer dominance on his way to obtaining the WBA, WBC, Ring championship belts, along with the Super Six World Boxing Classic title.  These are tremendous accomplishments by both fighter and trainer, especially when you throw in the fact that Hunter started with Ward when he was a nine year-old and has built him into an elite world-class fighter from scratch, taking him from US Olympic Gold to a decorated world champion as a professional.
Roger Mayweather deserves credit for Floyd Mayweather, but Floyd fought only once in 2011.  Freddie Roach, the winner the past two years, has recently struggled with Manny Paquiao against Juan Manuel Marquez in his last bout and most recently Amir Khan.
There are other trainers that could deserve this recognition also, but for utter dominance of their fighters, Virgil Hunter stands alone in 2011.
Hunter, also trains Brandon Gonzales, Karim Mayfield, Michael Dallas, Marlow Moore and Heather Hartman.