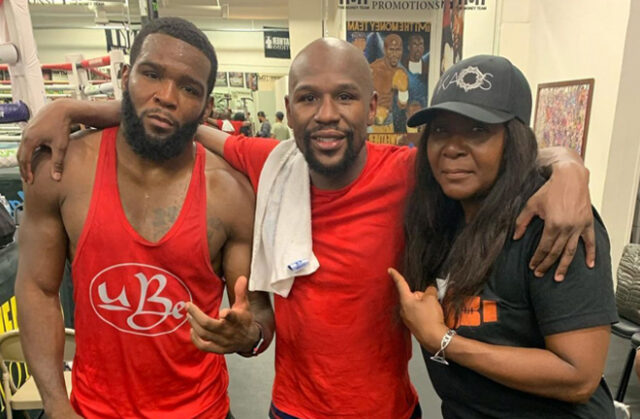 Denis Douglin believes he will prove a step too far for Austin 'Ammo' Williams when the pair clash in Dallas on Saturday night.
Douglin (22-7, 14 KOs) replaced original opponent Aaron Coley, who was forced to pull out through injury and the American has now been given the opportunity to face unbeaten Middleweight prospect, Williams (7-0, 6 KOs) on the undercard of the rematch between Super Flyweight champions, Juan Estrada and Roman 'Chocolatito' Gonzalez live on DAZN.
The 32-year-old, who has faced the likes of George Groves, Jermell Charlo and David Benavidez, albeit in defeat believes he will have too much experience for the 24-year-old, who is fighting for just the eighth time as a professional.
"Two weeks ago I sparred Aaron Coley who was getting ready to fight him and it was great work," Douglin told proboxing-fans.com.
"But, I think I hit him with a body shot that hurt him and I'm thinking, I'm not sure, but I'm hearing now that he got hurt in sparring, so I think it was through me and he had to pull out the fight unfortunately.
"But, the fight landed on my lap so I guess I created my own fight, man so that was kind of crazy. They offered me the fight, I said yes straight away and here we are.
"I think he's a good fighter, he's undefeated, I heard he was a good amateur. I think he has a lot of good things going for him.
"I just think I'm a little bit too much for him right now I think, so I'm going to show that there's levels to this. He's not ready for me yet, maybe next year he would have been ready, he's not ready this year.
"So, I'm going to show that he's bitten off a little bit more than he can chew, but like I said he's a beast, I feel like he'll bounce right back, that first loss is the hardest loss, but he'll get over it."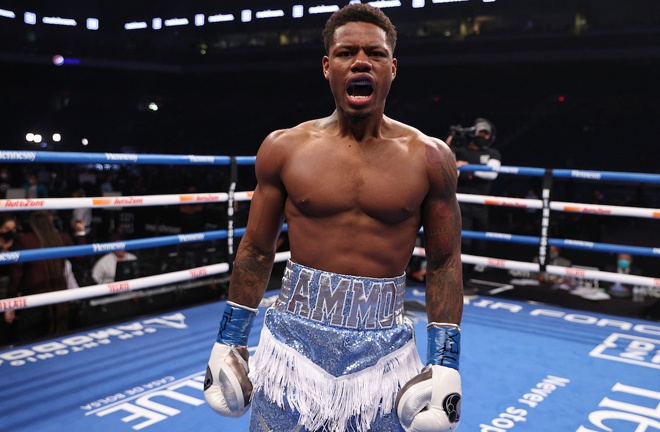 'Momma's Boy' fights for the first time since a split decision loss to Mike Guy in November 2019 and has been given a two-pound leeway at Friday's weigh-in, after taking the bout at just a week's notice, with the clash arranged for 160lbs.
The Brooklynite who plans to compete at Middleweight after this fight, having campaigned at Super Middleweight throughout his 12-year professional career hopes a victory over 'Ammo' will set him up with a rematch with Charlo, as well as an outing with former sparring partner Chris Eubank Jr.
"I want to go out there [to the UK] and fight Chris [Eubank Jr], so hopefully after this fight I can talk reckless and get Chris to fight me at the O2 Arena," Douglin added.
"When I was in camp with Chris for the James DeGale fight we went to war, it was some great sparring, we had a lot of fun, shoutout to Chris he's a great fighter.
"I want to fight the best, with no animosity, with no type of beef if you're good, why not fight somebody good?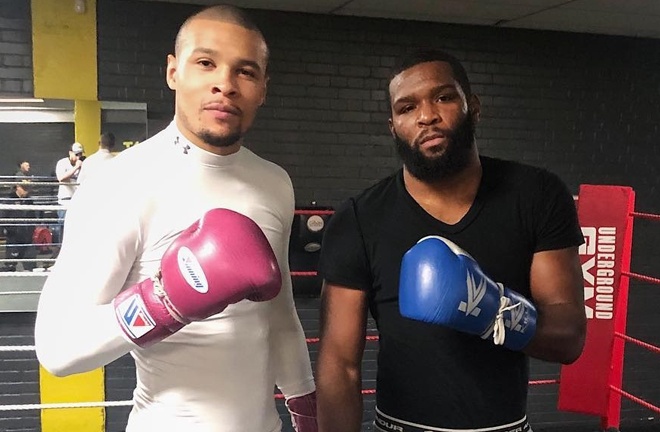 "I think Chris is good, I want to fight Chris he's at 160 and then as I work my way up to the ranks I want to fight the best, I want to fight one of the Charlos.
"I fought Jermell back in the days when I was living reckless, so I want to fight Jermall, beat him then fight Jerrell, beat him."
Douglin, who owns his own gym in Las Vegas and shared a late night sparring session with Floyd Mayweather Jr last year, is adamant on inspiring the next generation of talent and showing that despite having seven losses on his record he refuses to be deterred from his ambitions.
"I want to be known as one of the best, one of the people that fell down multiple times, but got back up, kept going and really believed in himself, really believed in his team and made it happen.
"So that's what I'm excited about, this is the opportunity to show that hard work and dedication and persistence.
View this post on Instagram
"This is deeper than a world title or record to me, this is about being inspirational to a lot of people, a lot of people hit me up everyday, I get text messages everyday, people that say, 'you're page is inspirational,' whatever it is, 'you made me go back to dancing, you made me pick up a basketball again.'
"That's what I want to do, man I want to inspire people, so I feel like the best way for me to inspire is for me to live it not just speak it.
"So, I'm proof that if you don't give up and you keep going you can make a way for yourself, so I'm excited for the opportunity to show that."
Williams vs Douglin is live on Saturday night on DAZN
Watch the full interview with Denis Douglin below: