Chilean boxing history is a mix of non-existence and tragedy. The South American nation has never had a World Champion, well, except for a few days!
The rough and ready Benedicto Villablanca was very briefly crowned the WBA Super-Featherweight World Champion one June evening in 1982 after Puerto Rican, Samuel Serrano was in no shape to continue from a cut to the head in the 11th. 
20 full days had gone by as Chile celebrated its first ever World Champion, however Serrano's team had appealed the TKO loss, demanding an investigation into the use of head-butt. The history books show a technical decision win for Serrano.
Preceding Villablanca's unfathomable story, only mere droplets of Chilean boxing success can be found in the chronicles of the sport. 
Heavyweight Arturo Godoy gave the great Joe Louis a run for his money for the World title in 1940 losing via a split decision. 
Chile's biggest success story is widely regarded as four-time Flyweight World Title challenger, Martin Vargas. Competing professionally between 1974 and 1998, accumulating a record of 91-15-3.
Sadly, the same examples of isolated boxing and the nations fighters falling at the final hurdle continues into Chile's amateur history. 
Three medals, two bronze and one silver coming at the 1956 Melbourne Olympic Games is all to be seen from the South American country. Chile's last boxing representative at an Olympic event goes all the way back to 1996.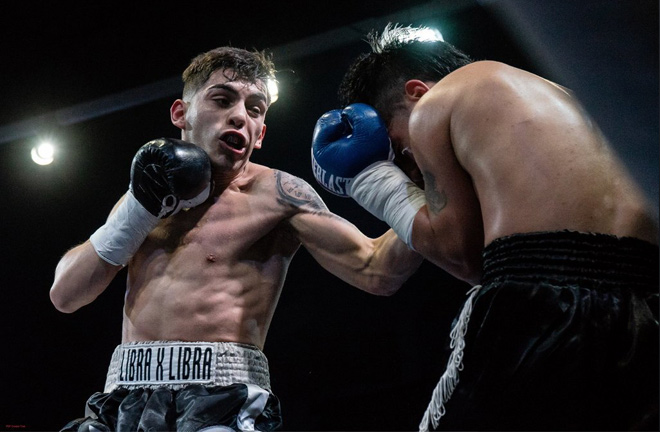 Tucked away in Santiago's exploding small-hall scene you can find four-figure seated venues packed and passionate, singing 'Ole, Ole, Ole, Andres, Andres.' 
The hope of a nation; Flyweight, Andres 'The Crocodile' Campos (9-0, 2 KO), the latest to step forward in Chile's quest for greatness.
"I'm working hard to change Chilean boxing and I'm hoping to be a World Champion soon! I'm looking to change history and become the country's first champion.
The 23-year-old Flyweight gleefully explained exclusively for proboxing-fans.com 
Campos continued with some detail on his introduction to the sport.
"I wasn't a very good boy actually! I lived in a kind of shanty town, so my childhood wasn't very privileged. One way of channeling my aggressions as a child was through boxing. 
"I first walked through the doors of the gym when I was 14, and we got to work quite quickly. My first amateur championship win came when I was 16.
"Boxing became a very positive influence in my life and continues to be. It's allowed me to get organised and focused in my life, even outside of boxing. Ultimately boxing had matured me very early."
Despite the bleak and barren examples of his compatriots in years past, the tone continued to be positive from Campos in regards to boxing in Chile.
"Right now in Chile we are in a boxing boom right now! We have a lot of private boxing schools at the moment and a lot of people trying to put Chile in the boxing history books."
Campos has recently acquired the services of Australian promoter and manager, Tony Tolj, best known for his work with decade long champion, Chris John and in more recent times, Andrew and Jason Moloney. A move proving to be rather fruitful.
"It's been a very positive experience, I've been working with one of the best teams in the World. Andrew Moloney came to Chile last year for a fight and I got the chance to have some sparring sessions with him. From there Tony [Tolj] asked me to come and work with them. 
"I went over to Australia to fight on one of Tony's shows which was such a great experience and recently I have even been in Las Vegas! It was undoubtedly an outstanding experience once again. 
"We had both Andrew and Jason Moloney getting ready for massive fights and I was providing sparring for both brothers. Working at the Top Rank facilities was incredible, it all just proves to me that I am on the right track."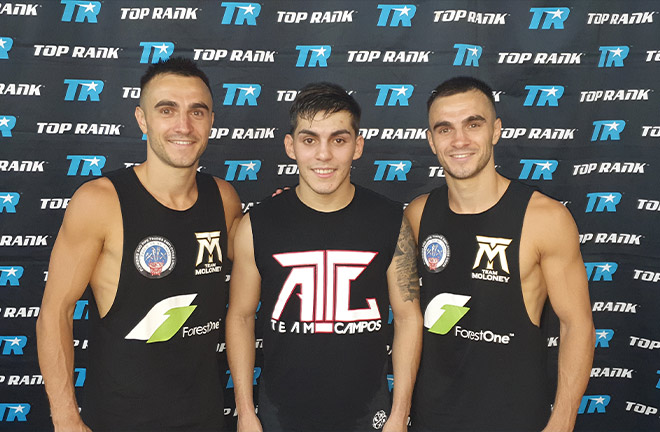 Creeping into the top ten of the WBO rankings will start to create the discussion of 'can he go all the way?' In Andres' case it didn't appear to hinder the young man.
"I can't get too excited just yet. I do have to take things step-by-step to reach the top, I have to respect the sport. 
"We are climbing the rankings and the logical move will probably be to have an International Title fight soon. The World Title will come when it's ready, I just have to stay focused. 
"I have always wanted to fight in America, so I will always be thinking about it. It's my dream to fight in America for a World Title.
"My manager does have some plans to fight in Chile. I have signed a fight to rematch Ramon Velasquez for a national title, but it's easy work to be honest. But due to the COVID we can't get foreign fighters here at the moment."
World championship belts are clearly a distant thought at this early stage of Campos' career so far. As we enter the midst of his journey between prospect and contender, this tale promises to give the people of Chile some real drama and excitement.
"I love speed and pressure! I like to set the pace in my fights. I love Manny Pacquiao, the history of him inspires me. Even at his age he's still doing great things.
"I also like Oscar De La Hoya because he always used to take the centre of the ring, which I also like to do. Manny and De La Hoya are two fighters I have to admit, I do try to mirror."
Days are early and many prospects fall short of the hopes and dreams they all possess. The early signs are encouraging though, giving Andres 'The Crocodile' Campos much more than just a chance to make history for Chile.
By Adam Noble-Forcey with translator Nicolas Martinez
Follow Adam on twitter @Adam4cSports