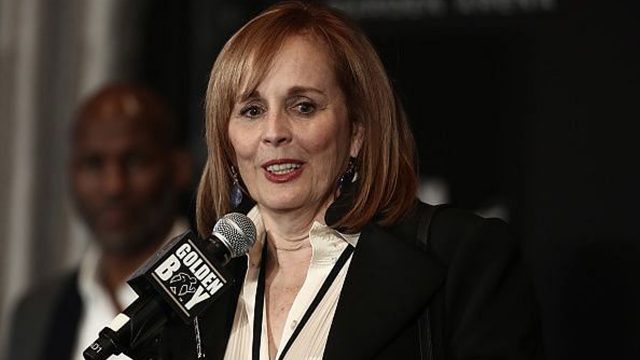 "It seems like everything is working against us and we're never going to find a way and then somehow we do, I'm sitting here in June, like I am every year saying 'that's it we're done.'"
It's been a rollercoaster journey for Kathy Duva and her Main Events' promotional company.
Extraordinary highs, exceptional lows, pay-per-view stars and everything in between.
However, almost 50 years on from hosting her first major show in the 1971, the unforgettable first clash between Sugar Ray Leonard and Thomas Hearns, the flame continues to burn brightly, despite a world of uncertainty.
Having met future husband Danny Duva at 19-years-old, son of boxing manager at the time, Lou, Kathy was soon a part of Danny's new business venture and after initially staging regional fights, Main Events were soon thrust into the limelight with the aforementioned Leonard-Hearns unified world Welterweight title clash.
This marked the first occasion Duva was having to operate the demands of a pay-per-view event, albeit in the early model, which predominantly ran through closed circuit television at the time.
"We got the opportunity through a business associate, Shelly Finkel who Dan met and Lou," Duva told proboxing-fans.com.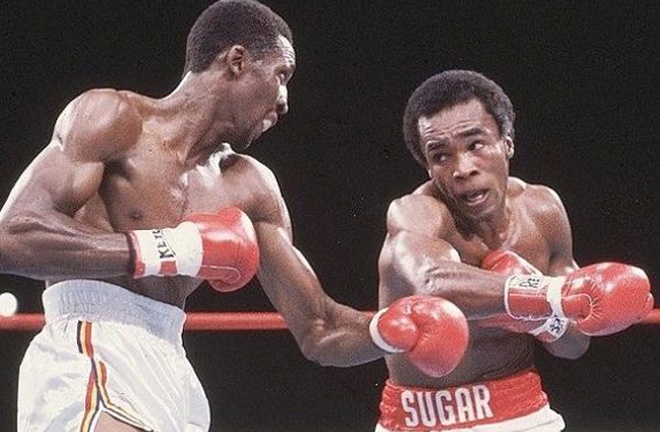 "He made contact with Ray Leonard's management and Thomas Hearns' management and we managed to put together the fight between Leonard and Hearns and that kind of launched us into the big time all at once.
"At that point both of us quit our day jobs and started running the boxing company.
"I'm very blessed to have had amazing opportunities in my life and things to remember.
"I think we had 3000 fans to putting on the biggest show then of all-time, so it was a crash course in every aspect of the sport, marketing and promotion.
"Then on top of that pay-per-view distribution at the time, you literally had to make contracts with 3000 different entities, because the various Cable stations in the United States at that time.
"I mean we didn't even have PPV at that time, that fight was mostly closed circuit.
"It was the first fight where you did any PPV at all. You were doing contracts with cable providers, you were doing contracts with these early PPV providers."
The Main Events roster continued to rise in prominence and the acquisitions of the decorated 1984 USA Olympic team, which included Evander Holyfield, Pernell Whitaker, Mark Breland and Meldrick Taylor, all future greats who thrived under the promotional company and Lou Duva's stewardship as trainer.
Guiding Holyfield to unprecedented status as undisputed champion in both the Cruiserweight and Heavyweight divisions, Duva picks out the rematch with Riddick Bowe, as a standout moment during her lengthy career.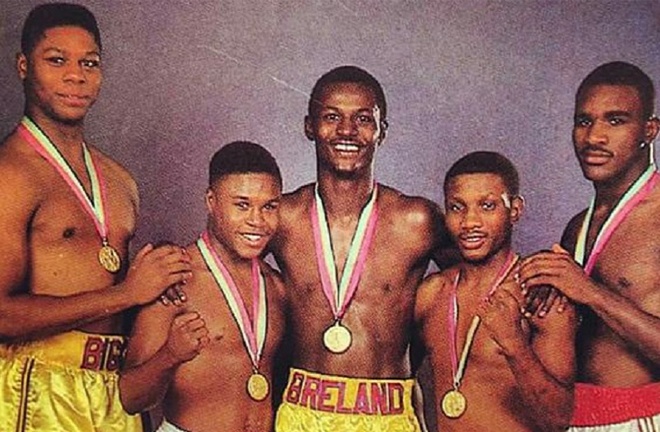 The fact that 'The Real Deal' became two-time Heavyweight world champion having lost his undisputed crown to Bowe almost a year prior, is somewhat blurred in the midst of discussion.
Rather the astonishing actions of a certain fan man, who launched his way to ringside at the open air cauldron of Caesars Palace, Las Vegas, became the main focal point, a moment Duva recalls vividly.
"If i have to pick one moment I remember most is probably when the fan man blew into the ring with Holyfield and Bowe.
"That was the most surreal moment I've ever experienced in my career.
"Next to my husband sitting at ringside and the guy was coming towards us, it's outside at Caesars Palace and my husband was so intent on the fight and I'm poking him in the shoulder going 'there's a guy flying into the ring' and Danny's going 'what are you talking about? Stop it I'm watching the fight, don't talk.'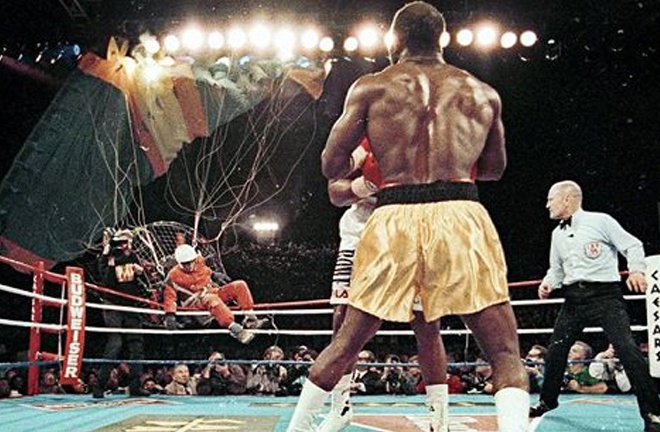 "I'm like 'no, no, no, there's a guy, he's coming towards the ring, I think he's going to land here.'
"He couldn't comprehend what I was saying because he wouldn't take his eye off the action.
"Finally I had to almost knock him over, 'look' I was pointing, 'oh my god.'
"He jumps out of his seat and runs around the little barricade that was in the way, just trying to jump in the ring.
"It was nuts, sitting there watching this whole thing unfold, people panic, running, chaos and then when the fight was over everyone formed a Congo line around the ring.
"It was a wild, crazy night."
There are very few sports like boxing. Without a set number of events and in many cases having to negotiate with your fiercest rivals to finalise fights, which Duva described as her most difficult task, in organising Lennox Lewis's showdown with Mike Tyson in 2002, the wave of uncertainty and concern is exemplified.
Asked what the most difficult part of being involved in the sport, Duva explained: "The uncertainty.
"Any other major league sport there's a schedule, there's a season, you know years ahead when the events are going to take place and where they're going to be, literally.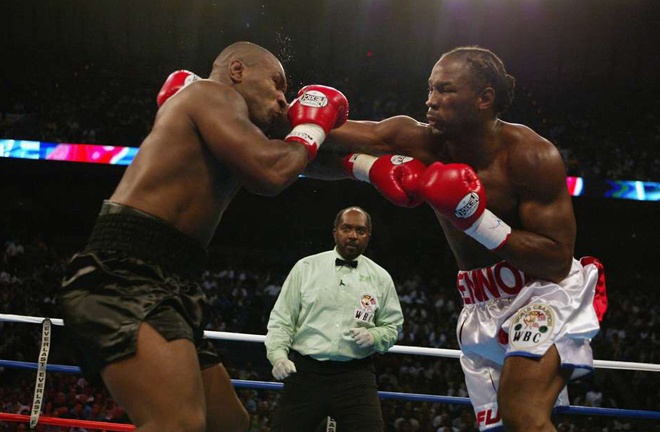 "With boxing, everything is on the fly all the time and every event that happens, has to happen through your initiative to make it happen, it doesn't just fall into place, that's the hardest part.
"It's finding the television support that you need for the events and having to go out and get it every single time, for every single fight, for every fighter you have.
"That's the challenge, once we get the event together with the exception of that one fight [Lewis vs Tyson] where again all these desperate parties were trying to work together.
"I mean people who literally hated each other's guts trying to work together.
"Throughout the course of the event we ended up having so much conflict that relationships like Shelly Finkel, who once worked very closely with my husband deteriorated to the point, I don't think they were ever the same.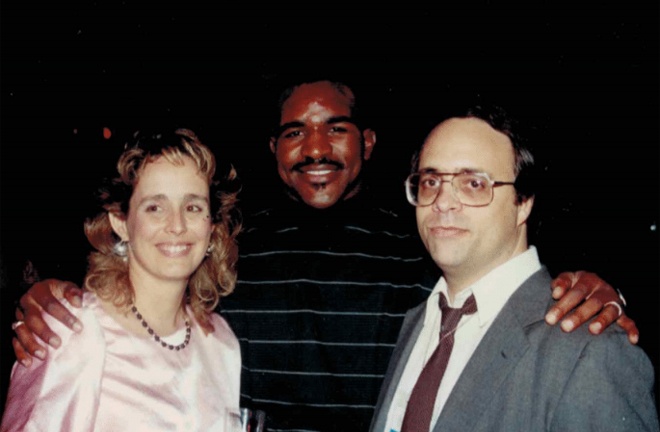 "With the exception of that one event, once we have everything in place, once we know where the TV is going to be, finding a place to put the event, getting the event, putting it together, doing all the logistics that go with it, that's what my company does really well, that's not hard usually."
Duva did stress that generally promoters are able to place egos aside to deliver the biggest fights.
Yet, with the stakes at such a premium, the consequences of falling short in the fight itself cannot be underestimated, with the immediate success of the business often dependent on fight night itself.
"Most of the time promoters work together rather well considering, but the fact is it's one of the few businesses where you have to negotiate with somebody to get an event together, you have to negotiate hard.
"It's a zero sum game, both sides are trying to get as much as they can out of whatever pot exists and you have to come together to cooperate to promote the fight, work together hand in hand for months.
"Then when the bell rings you're on opposite sides of the ring and you're life and death over whose going to win, because once the fight's over whoever wins may very well determine what your next quarter or year's going to be like.
"There's a lot of stress and a lot of pressure and it has more to do with the existential threat of losing a fight and having to work hand in hand with your most fierce competitors, I don't know if there's another business where that happens."
In Duva's case, much of the air of uncertainty stems from lacking a contracted TV broadcaster.
The landscape has altered significantly in the USA over recent years with FOX, ESPN, DAZN and Showtime the leading networks, whilst former principal broadcaster HBO, ceased business in 2018 after 45 years in the sport.
Main Events worked closely with both HBO, broadcasting their breakthrough Leonard vs Hearns bout, as well as Holyfield's rise to the pinnacle, whilst Duva also cooperated with Showtime.
However, unlike Eddie Hearn's Matchroom Boxing who have a TV deal with DAZN or Bob Arum's Top Rank who are exclusive with ESPN, Duva lacks that luxury and instead approaches the different networks to showcase her roster, which includes former WBO Light-Heavyweight champion Sergey Kovalev, who was beaten by Canelo Alvarez last November on DAZN.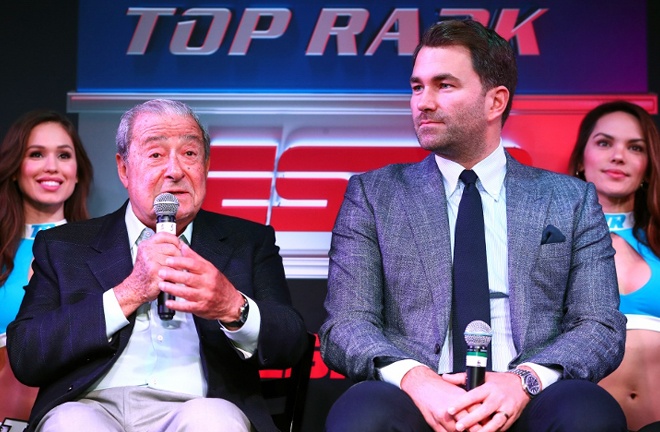 When questioned on the difficulty of not having a mainstay broadcaster at her disposal, Duva added: "It's an enormous challenge, it's something we have lived with throughout most of our existence.
"Back when Holyfield, in those days, because we were working with those fighters and because we were able to make that deal to sign those guys after the '84 Olympics, which was of the fact we were the promoter of the Leonard-Hearns fight and that got us the familiarity we needed.
"My husband and Shelly Finkel were able to work together to convince these fighters to sign with us and it didn't cost the kind of money to get big time fighters to sign with you that it does today.
"Back then we had a great working relationship with Showtime and then HBO after that and getting dates wasn't hard.
"At that time there were still fights on network television in the afternoon, there were weekends when we would be doing two shows, one on Saturday in one city and on Sunday in another, it was amazing.
"We also had weekends where we had shows in Atlantic City, Saturday and Sunday, down the boardwalk, one hotel or the other and so it wasn't hard to get dates then.
"As time went on, network tv went out of boxing then it was just HBO and Showtime for a long time and PPV.
"But, my husband always said we needed a series.
"In around 2000, Showtime started the Showbox series and that was with us exclusively and we did really well with it, but once this Tyson-Lewis fight happened and the guy that was working for me got fired, Showtime walked away from working with us."
Duva has had to adapt to the changing landscape, but despite her annual concerns of what the future might hold, the veteran promoter admits she deals with one year at a time and is satisfied to see her stable of fighters continue to receive dates.
"From that time on, my life has just been trying to get a series, trying to get a series, because that's really how you can thrive," Duva continued.
"Most recently from 2012-2013, I had a series on NBC that was doing really well and then Al Haymon came along and paid NBC to be their exclusive promoter and get rid of me.
"Since the beginning of 2015, trying to go out there and get dates whenever we can. We're still doing that, we're still trying and we kind of seem to make it work.
"This business since the time my husband was running it, every year we sit around June and we look at next year and say 'oh that's it we're done.'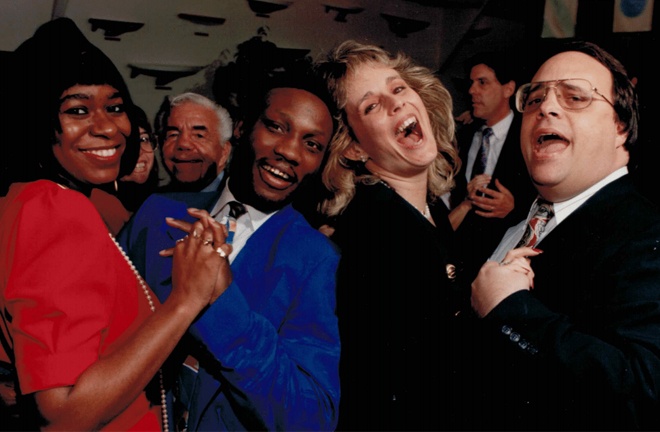 "It seems like everything is working against us and we're never going to find a way and then somehow we do.
"But, I have great faith, because for 42 odd years now we've managed to get to the next June, that that's what we're going to do again."
Like with almost every successful promotional outfit, Duva's success is and has been largely dependent on the career of one established name.
By her own admission, Duva highlights Holyfield as the flag-bearer, before Arturo Gatti catapulted himself into prominence.
Currently, Kovalev is Duva's money-spinner having been the most recognisable Light-Heavyweight of the last decade, reigning on three occasions during a decorated career.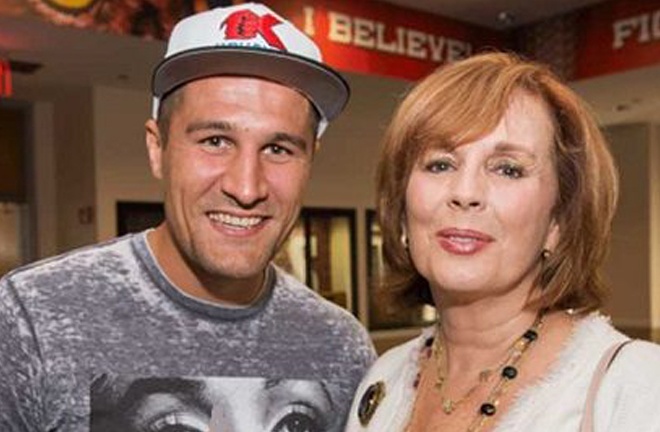 Asked how detrimental Kovalev's success is, Duva replied: "Key and if you look at the existence of any boxing promoter frankly, there's one or two fighters that are the key to your success.
"Manny Pacquiao carried Top Rank for I don't know how many years. At this point, Anthony Joshua is carrying Eddie Hearn.
"We all have one guy who becomes 'that guy' and once he does, he's carrying you and his success becomes the success of your business.
"When it was Holyfield, back then it was him and [Pernell] Whitaker did well in that world where HBO was willing to pay for the best.
"For a while Arturo Gatti was carrying us and once Arturo was gone, Fernando Vargas and Gatti left at the same time, then we kind of limped along for a while."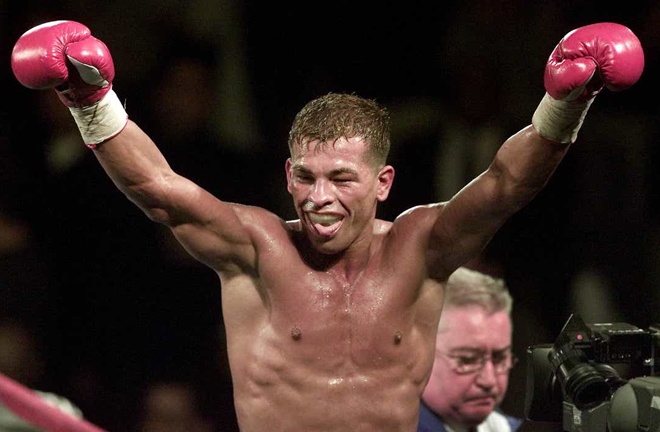 Duva recalls first meeting Kovalev through an associate who professed that he was destined to become a future titlist.
In fact, the Russian had an aura which Duva describes as strikingly similar to the great Sugar Ray Leonard.
"I'm looking at this skinny guy, he really couldn't talk I didn't know what to think when I met him," Duva recalls.
"I remember sitting at the corner, and I was interestingly sitting in the same place I was sitting the night of the Leonard-Hearns fight, same angle, same spot.
"He comes in the corner and I look at his eyes and I swear to you I saw Ray Leonard's eyes.
"They don't look at all the same, I just saw his eyes, this focus, this laser-focus that was so noticeable, so characteristic of Ray Leonard that I can't tell you I've ever really had that thought again in all these years."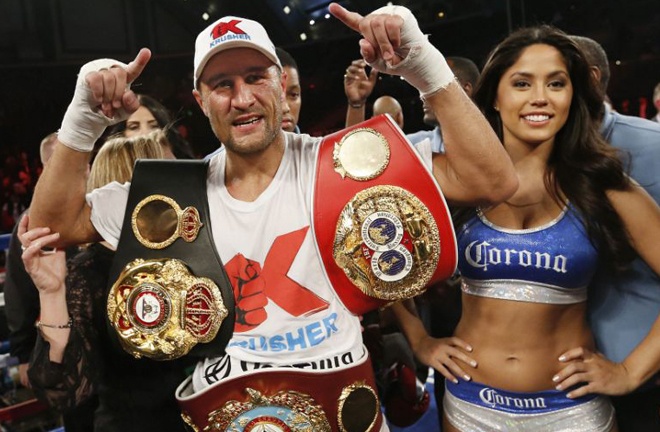 The American promoter was soon convinced, however the welcoming party at HBO was hostile to her proposition and weren't sold on her confidence that she held the key to the next star, doubtful that a Russian Light-Heavyweight could succeed in the way he was portrayed.
"When we started that series in January 2012, no one including myself had ever heard of Sergey Kovalev," Duva admitted.
"He came to us from a manager who approached us and said, 'please give him a chance, I know he can be champ of the world.'
"I remember having a meeting with an executive at HBO the time and I said, 'I found this Light-Heavyweight from Russia who's going to be the champion and he is going to be one of the top fighters in the world.'
"He looked at me and said, 'well that's too bad because he's Russian and he's a Light-Heavyweight, he'll never amount to anything, because nobody cares about Light-Heavyweights and nobody cares about Russians.'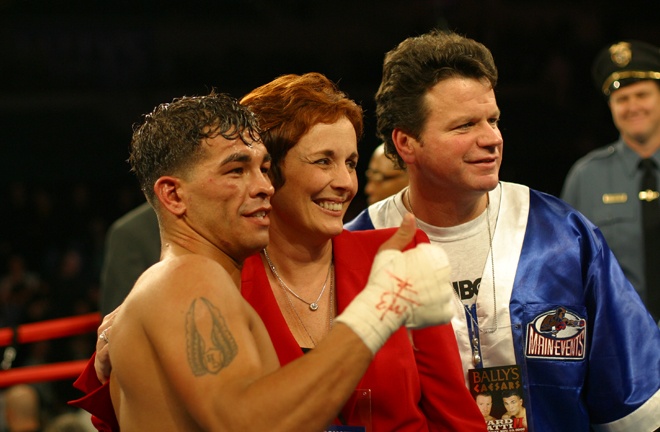 "I said, 'well first of all if you told me that a Filipino Flyweight was going to be the biggest star of boxing back in the 80's, I would have laughed at you.'
"I don't think ethnicity is the barrier if he's marketed properly and he's exciting enough.
"He said, 'well there's no good Light-Heavyweights' and I said, 'no it's going to be him, he's the one, you need that guy' and in the end he did.
"We found him, we moved him, we made him, we marketed him and he went from being a guy who had no big amateur career and absolutely no presence in the US boxing scene or the Russian one for that matter and turned him into what he became.
"So we know what we're good at and if I get the talent I can do it, my staff and I can do it and so while I know everybody looks at us now and says 'oh well your whole business is dependent on Sergey Kovalev,' absolutely and there's someone else and I may not know him yet.
"Or maybe I do, maybe we already have him, who's going to be the next Sergey Kovalev for us."
That next gem maybe, as Duva hopes, already in her possession.
After a stellar amateur career, Evan Holyfield, son of Hall of Famer, Evander followed his father's hymn sheet in signing a promotional contract with Main Events.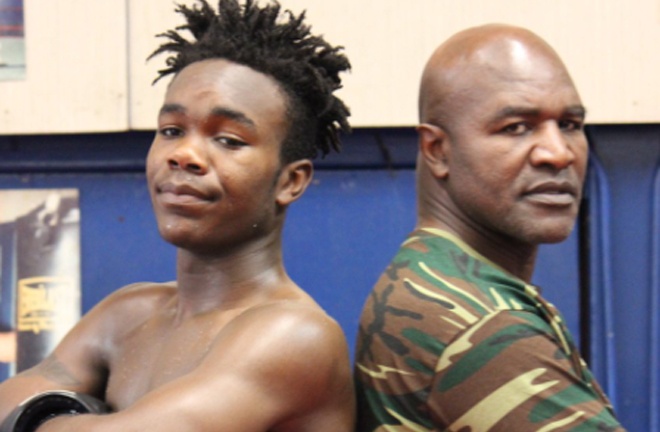 The unbeaten 22-year-old Super-Welterweight has caught the eye in his four contests thus far, his debut coming at the MGM Grand, Las Vegas on the Canelo-Kovalev undercard, with Evander watching on, just over 12 years on from his infamous rematch with Mike Tyson in the same venue.
It remains far too premature to make any early comparisons between father and son, but Duva believes Evan has displayed significant early promise and clearly holds a distinct selling point with his famous surname.
"When a kid is at this stage of his career you can't tell I don't care who it is.
"He's got tremendous athleticism he has the moves, incredible footwork and that's something you rarely see.
"You start putting that all together and what you see is a tone of potential, particularly when you come to the last name and the fact that he's his father's son which adds to his marketing appeal.
"He didn't have a big amateur career, he had amateur fights but not at that high level of competition.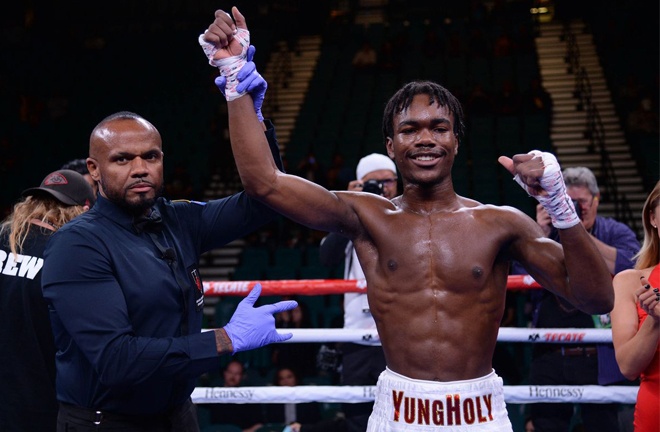 "He's not going to get rushed into anything, he's got to have a lot of fights.
"The ultimate is can he take a punch? You don't find that out ideally for a while and if he can and he puts together all of the skills he has when he's in a high pressure situation then we've got something. But certainly all the raw materials are there."
Kathy Duva has operated in full control of Main Events since 1996 following the untimely passing of her late husband, Danny and despite the struggles and continued uncertainty she remains one of the longest-serving and most respected figures in boxing.
Kovalev has been her prized possession in recent years and whilst his career is reaching its finale, a new challenge and opportunity is on the horizon, finding that next star, a puzzle Duva has always solved.