"My brother was an amateur with the Army and the RAF, I was like a fucking punch bag for him, basically. I thought I'd go down the gym and pick some basics up so I could actually punch him back and all the coaches were really encouraging me to stick with it."
Central Area Cruiserweight champion Damian Chambers cuts a menacing figure in the ring associated with a hyena-esque spring in his step.
Although starting in the unpaid code at the late age of 21 boxing was always there for 'Chambo' as he grew up with the sibling rivalry.
As an amateur the Preston man found himself settling in relatively easily with plenty of promise shown. Having his kids, Renae [6] and Myles [5], saw boxing, understandably, put on the back burner but it was a move to Dukinfield that reignited his early passion.
"It was when the coaches said they were getting my medical sorted and I was gonna have a real amateur fight that I started to take things a bit more seriously.
"I only had eight amateur fights and there were good boxers at the club [Larches and Savick ABC], with Scott Fitzgerald and Mick Hall, so it was a great place to learn the ropes. My final two fights were up in Manchester when I was 27 and that's when Matt [Hatton] and I first crossed paths."
Former European Welterweight champion, and WBC title challenger, Matthew Hatton has been an influential figure in Chambers' career since long before he turned professional.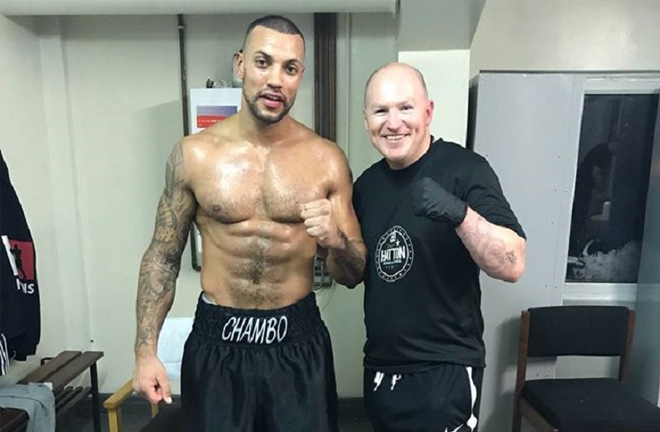 Despite Damian's initial desires to become ABA champion before becoming a professional, the Lancashire fighter explained how Hatton persuaded him to turn over:
"He was really crucial in my decision to turn pro because he gave me the confidence to learn on the job and make the jump. I'd asked him for some sparring one day and afterwards we went for a coffee. He laid out his plans, offered to train me for free until the big fights, and I just wanted to go for it after that.
"There had been a really big part of me that wanted more amateur fights but he sat me down and said he felt I'd be able to develop quicker if I got stuck in as a professional. To have someone of his experience and calibre to show me that faith reassured me I was doing something right."
Having navigated his way to 7-0 with little trouble – four knockouts and three shut-out decisions – the phone rang with Ultimate Boxxer dropping a tantalising offer. Three fights on one night for £16,000 and a decadent Golden Robe was all Chambers needed to hear before saying yes. The reality of the opportunity didn't entirely sink in until the day of the press conference, Chambers confessed.
"It was a massive opportunity and I didn't realise that until I got there and you had all the media lined up, the big lights and the big names of boxing. I could have performed better but I'd busted my shoulder in sparring four weeks before the night and then it popped again in the Rhasian Earlington fight.
"I was gutted because I'd felt it go and then Rhasian came at me with the kitchen sink. I think he or his coaches must have noticed but I managed to see that out. I'd got back to the changing room, though, and I just remember feeling battered and knackered. My heart wasn't fully in it at that point because I knew I was fighting with one arm."
Having beaten both Matt Sen and Rhasian Earlington it was Mikael Lawal who awaited Chambers in the final. Lawal, seven years the younger man, showed his speed and explosivity to produce a knockout that went viral.
Reflecting on that final fight there was an incredible amount of honesty from Chambers who didn't seek to make excuses but accepted he just wasn't up to the job on the night. It is a rematch he is hankering over, though.
 "Mikael caught me with a belting shot but he'd wobbled me with a hook earlier, but I was just exhausted and unable to stand up to it. We've worked on the stamina in the months since and it's a fight I'd love to revisit when we're both on fresh legs and have had a full camp behind us. I think it will happen, too, we're both going to need an opponent and it will be entertaining for the fans."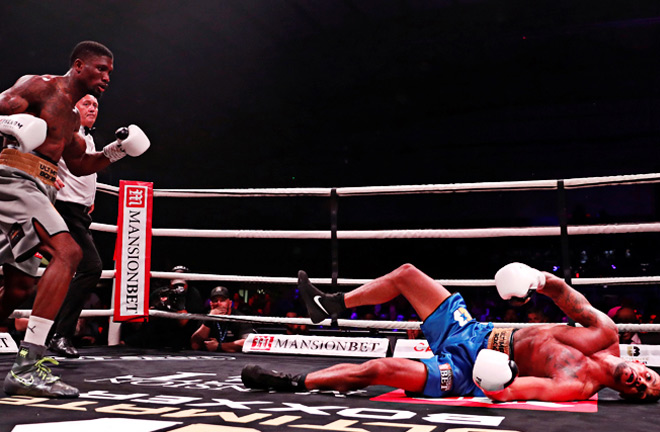 The defining fight of Chambers' career, to date, is his most recent affair. A Central Area scrap against James Farrell in one of the last shows before lockdown. A bombastic five minutes saw both men knocked down and Farrell, ultimately, knocked out. Chambers outlined how the fight came about:
"You often see these area fights where it's a good prospect against a fella with a few losses but this was a real 50-50 which is good for the fans and good for the fighters involved, too.
"He had been calling me out for a little bit [on Twitter] and I think I'd said to Matthew Hatton in the past, a little while back, about sparring him. Then I'd seen he'd called me out and I would have taken it but then they put the title on the line so there was no question about it."
In winning his first pro belt he joined Johnny Nelson and Matty Askin in a, all too brief, list of Central Area cruiserweight champions. Illustrious company to be in to provide early pride for ever-humble father of two.
Going into the contest there was fervent excitement from the outside at the proposition of two prospects going toe-to-toe. Chambers confessed it wasn't always the gameplan to have a shoot-out but when the bombs start landing it's hard to resist.
"We knew he had the power and liked to have a bit of a scrap but we backed ourselves to out-box him, especially, if it went into the later rounds. That was the plan, to be honest, because we suspected he'd come out fast in the opening rounds – and he did.
"He caught me with a couple of good shots but I was really trying to establish a jab in the first round. Second round he caught me with a great shot that I never saw coming but I felt fine after the count and he made the mistake of looking to finish it off there and then."
Upon the sports return there is a simple mantra for the 31-year-old – "no stepping back".
"There's a lot of talented cruiserweights that are all going to be looking for a 50-50 fight when boxing returns and I'll get involved with any of them. You look at the top 20 and there's so much depth.
"It's an exciting division with a lot of up-and-coming fighters that are wanting to test themselves. I'll be putting my name forward for whatever fights are available. I've got my own belt and I've just had a good victory so let's push on and see where we can go."