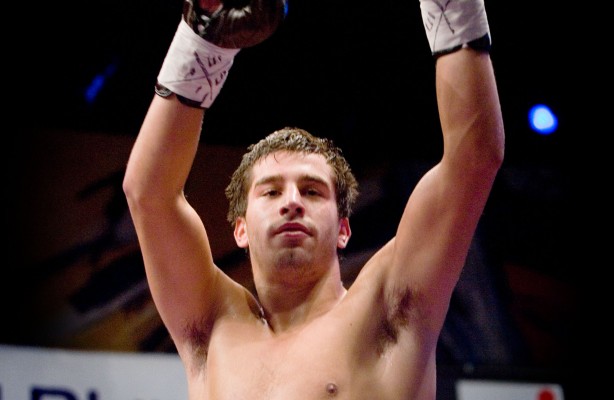 On April 8th, undefeated Canadian middleweight David Lemieux, 25-0 with 24 KOs, will meet veteran contender Marco Antonio Rubio, 49-5-1 with 42 KOs, in a WBC title elimination bout from the Bell Centre in Montreal. It's an exciting contest featuring two huge punchers, and the winner will be in line to face the winner of the June 4th Sebastian Zbik vs. Julio Cesar Chavez Jr. title fight. (Although the WBC title still rightfully belongs to Sergio Martinez… but that's a twisted, confusing story for another day).
Lemieux is one of boxing's hottest and most dynamic prospects. He has nine 1st-Round knockouts and 12 2nd-Round knockouts to his credit. Thanks to that explosiveness, he has only been as far as the 5th Round two times in his professional career thus far. He is already ranked as the #4 fighter in the middleweight division, showing not only his immense talent and potential, but also the complete dearth of experienced, top-flight contenders at 160 lbs.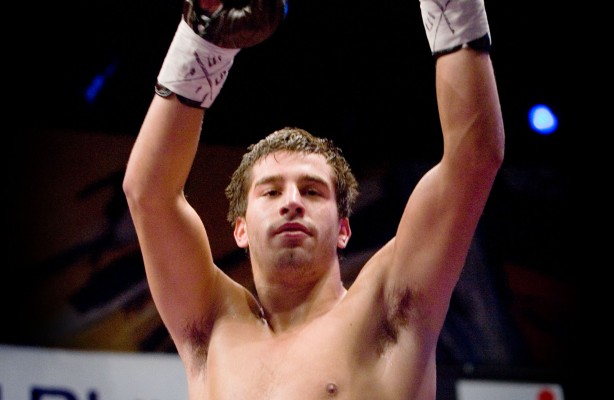 ProBoxing-Fans.com caught up with Lemieux to see how his training was going for the Rubio bout, his thoughts on some of the other young fighters in the middleweight division, and his goals for the rest of the year. Take a look to see what he had to say. Lemieux can also be followed here on Twitter, @lemieuxboxing.
You're just a few weeks out from your title eliminator bout against Marco Antonio Rubio. How is your training going and how do you feel right now?
DL: Training is super. I'm in the best shape, my weight is very good. My training has been the best ever. I'm having good sparring and good work, and everything is good to go for April 8th. I'm in tremendous shape, and everything is good.
You've only be 10 rounds once, and only as far as the fifth round twice, thanks to your nine 1st-round KOs and 12 2nd-round KOs. Do you feel that getting so few rounds is any problem for you, and how do you think your stamina and conditioning are if you'd need to go a full 12?
DL: No, absolutely not. I prepare every fight to go the full distance, hopefully it finishes early, but I'm ready to go 12 rounds. It's no matter if it goes 1 round or 2 rounds or longer, I'm ready to go all the rounds if needed.
Rubio represents a step up in competition for you. What do you think about him, where he is in his career, and his style?
DL: He's a very good fighter. He's a big puncher also with 49 wins and 42 knockouts, so he's a strong fighter, too. He's a veteran and my preparation has been getting ready for him and a tough fight.
Are you doing anything different to prepare for him?
DL: We're training while examining Rubio's style. The sparring has been very intense and we brought in a big puncher who resembles Rubio's style. So yea, we're putting all of that together, and the important things are being accomplished. It should be no problem for April 8th.
Rubio is a good measuring stick for you – he lasted 9 rounds with Pavlik, and since that loss he has now won 6 straight, including a 6th round TKO over Jose Luis Zertuche. What do you expect from the bout?
DL: I don't underestimate Rubio, he's a dangerous fighter and he has good abilities. With my style and the way I fight, I believe I'm faster than him, I'm stronger than him, and I have all I need to win the fight the way I want to win it.
So will you be looking to score an early stoppage or just take it if it happens, or how do you expect the fight to play out?
DL: I can't really predict that until the first round and I hit him with my punches and see how he takes them and how it goes. I can determine it after the first round, but right now I can't tell you because I don't even know how he's going to come in the ring. Maybe he's going to go running, maybe he's going to come at me, so I can't determine that now. I know if I land some solid shots it will slow him down.
If you get past him are you ready for anyone in the division?
DL: Of course! I'm ready for whoever they give me! I'm ready for Martinez, all of the top names, I'm ready to go. I have the experience, the ability, and you know, I might not be in my prime, but I'm strong enough to beat them.
For you, is Sergio Martinez the clear man at 160 lbs? Would you like to fight him soon?
DL: Martinez, wow! A very good fighter, and he impresses me more and more every fight. But yea, I would love to fight him. I believe I have the ability and strength to out-power him and to fight him, and win. But he's a great fighter even though he started late. So he's older and he's still doing some incredible things. I gotta give credit to Martinez, but if I had to fight him, I'd be more than happy to.
On June 4th the WBC title is on the line when Sebastian Zbik faces Julio Cesar Chavez Jr. With your bout being a WBC eliminator, do you plan on fighting the winner of that bout next? And what do you think of those two?
DL: I know Chavez has turned me down a few times. With Zbik, I don't know much, but either one I would be more than happy to fight them anytime. Those guys I have no problem with, and whoever they dig up for me I'll fight. I'll fight whoever wants to fight me.
What do you think about Chavez Jr. and some of the other young or rising fighters in the division like Dmitry Pirog, James Kirkland, Daniel Geale, Andy Lee etc?
DL: Pirog is not that young… but he's a good fighter, a very good fighter. He has a lot of amateur fights, a very awkward style. Kirkland is a power-puncher type and has that style. He goes out wild and swinging like a brawler… a good boxer would stop him in his tracks. Chavez is good but he needs to step up and face a different level of fighter. Andy Lee, he's a good fighter, tall, southpaw… so yea, some good guys coming up.
But I'm sure you think you are the best of the bunch…
DL: Well I think I can beat them all, you know. I'm very confident in my abilities and when I train hard I have the heart of a champion, and I fight like one. So I have everything I need to win.
Do you consider yourself purely a puncher, or a boxer with a really good punch, or what's your style?
DL: I believe my style is more of a puncher, but I'm also a good boxer, I just haven't had the chance to prove that much in the ring. But I train in the gym with the best guys and I'm always getting better in every fight. Every fight I get better and better. Hopefully against Rubio you guys will see that a bit and my boxing. Of course, I'm a very naturally gifted puncher, I consider myself in the top of the world with my raw power. But yea, my boxing can always be improved but we're improving it tremendously from every fight. Against Rubio it will even be much better. Stronger and better.
Has any opponent challenged you yet? Have there been any tough tests?
DL: Well my last few fights had all been supposedly big tests. I have passed my tests with ease and haven't had much problems with that. The last fight was supposed to be my biggest test, and when I fought Camacho that was supposed to be tougher, so whatever. I'm ready. My toughest fight I guess was the one that went 10 rounds, but I was dominating the whole fight. It went the full 10 rounds and I was strong from the 1st to the 10th, and I give credit to Jason Naugler, he was a very tough guy to be in there with me for 10 rounds. He just kept coming, so that was my longest and I guess toughest fight since it went 10 rounds. It was fun being in the ring.
Right, so you enjoyed actually getting some rounds in as opposed to being out of there in two minutes…
DL: Yup.
What are the rest of your goals for 2011?
DL: I want to fight for the title, whenever it's wise and whenever it's worth it. I don't want to jump into something too fast with a low budget thing, it's gotta be smart and well placed. I want people to know me in the world, so that when the fight happens against a big name people won't say 'who's this guy?' I gotta get some exposure and when the fight gets made it'll be prepared and well done and everybody knows, and hopefully they all watch.
Thanks for the time and good luck in your upcoming bout.
Comments
comments