With the Garcia vs. Remillard results out of the way, Yuriorkis Gamboa had no problem outshining his upstart potential-future-foe in the featherweight division. Gamboa absolutely dominated Jorge Solis, sending him down to the canvas five times before the fight was called off in the fourth round. Solis simply had no answer for the blazing speed and power of the Cuban phenom.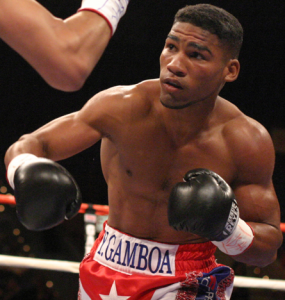 Gamboa was patiently feeling out Solis in the first round, but you could almost sense that he was just biding his time to let loose in the rounds to come. After all, Solis had fought Manny Pacquiao four years ago, give or take a few weeks, and he had made it to the 8th round of that contest. Gamboa must have wanted to do best that.
So after casually waltzing through the first round, he opened up in the second, and before the round was over he had sent Solis to the canvas twice. At the end of the third round, he launched a sneaky left hook, that was so short it was almost a jab, and it removed Solis from his senses right before the bell rang. Solis made it to his feet wearily and began wandering around the ring, either in confusion or anger, or both.
In the fourth, Solis got crushed by a Gamboa right hand, and then shouted as if to say, "Well how in the hell do I get out of the way of that!" He pumped his fist and told his corner to cool it, as if to say he was alright and just overwhelmed. Perhaps he felt he had a Juan Manuel Marquez moment coming his way… if he could just survive the knockdowns he could come back and teach the phenom a thing or two about boxing when you're in the ring with a tough Mexican warrior.
But it wasn't to be. Gamboa jumped right on him and overwhelmed him, throwing dozens of punches in rapid-fire succession before Solis crumbled to his knees and the referee waved off the contest. That's five knockdowns in four rounds… and Gamboa seemed to take the first one off!
"What's it like fighting Gamboa?" Max Kellerman posed the question to Solis in the ring after the defeat. The response: "It's terrible." Solis also said, for what it's worth, that Gamboa hits harder than Pacquiao does.
Cool your jets for a bit Mikey Garcia… Gamboa, and his ringside spectator Juan Manuel Lopez, still have their own business to settle before your name gets seriously tossed about in the super-competitive featherweight division. JuanMa came to the ring after the bout and both men seem eager to meet one another should their mutual promoter allow it to happen.