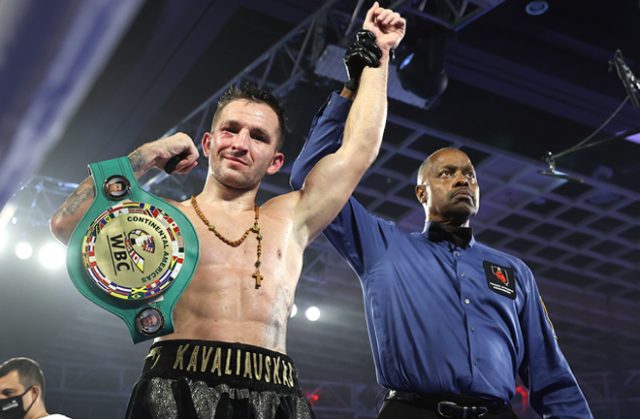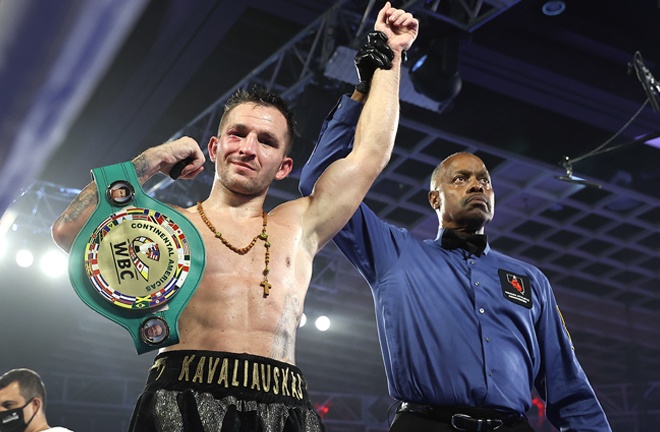 The Baltic nation of Lithuania currently shows 22 male and just 3 female active professional fighters on Boxrec, 6 of these fighters are yet to pick up a win.
Sitting at the top of the tree and embezzled in arguably boxing's most competitive weight class of 147 pounds; 'The Mean Machine' Egidijus Kavaliauskas, fresh off his explosive victory against the undefeated Mikael Zewski speaks exclusively to proboxing-fans.com.
"It was pretty awesome, how I felt after the fight," Kavaliauskas said.
"I wanted to knock the guy out and I did it, everything went almost completely to the plan. I'm very happy with the performance.
"I needed to get back to winning, keep knocking guys out. I don't want easy fights or easy opponents, I want to get right back into the big fights. 
After the loss [to Terence Crawford] I wanted to get straight back to the gym within a couple of weeks.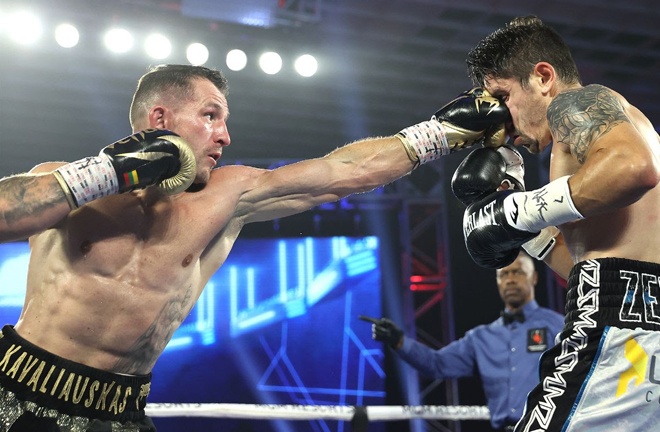 "I just want to be in the gym and keep busting my ass so I can get one hundred percent out of my capabilities."
'The Bubble' in Las Vegas has provided fight fans with some high quality contests during the reprieve of nearly all other boxing after the COVID-19 pandemic struck. 
Kavaliauskas, having been a longtime Top Rank combatant, graced the Bubble himself last week.
"Yeah it was different! I got in the ring and started to look around, it was very strange there was nobody there. 
"The fans give you that extra energy, it makes the adrenaline pump through your blood. But now, it's just you and the other guy, nobody else."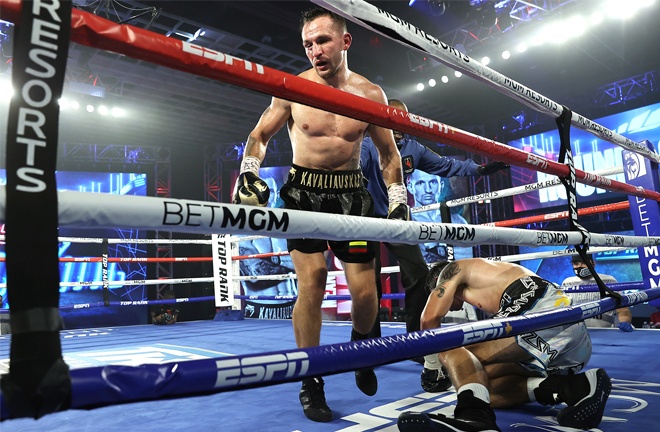 'Mean Machine' continued to discuss the effect of coronavirus outside of the ring.
"When everything started in March or April things were a little bit crazy. 
"All the gyms were closed so we had no real place to work out. 
"I have set up something in my garage and I was searching for parks with no people.
"So, I was doing my running and fitness in the parks with no people around. 
"It was kind of difficult times, but I kept training and kept working.
"But, I am very happy with Top Rank. They are the first promotion to bring boxing back.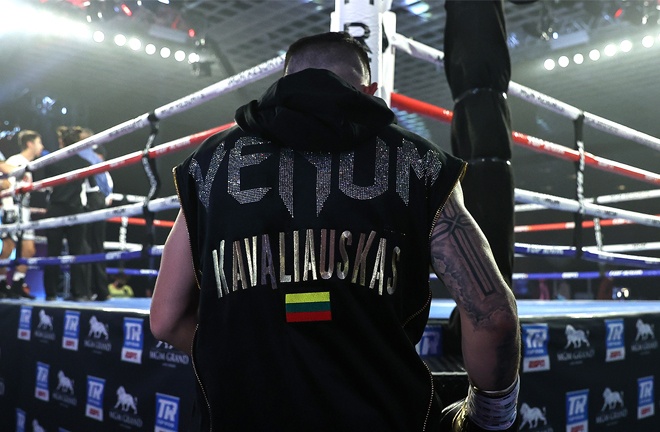 "They have done a great job organising everything, keeping us safe and healthy in the MGM hotels, everybody was tested and everyone was keeping the distance to stay safe."
The one defeat on the Lithuanian's record comes from pound-for-pound supremo, Crawford via a 9th round stoppage. A record he wants to set straight, albeit with some realism.
"I have no news yet obviously as we only just had a fight. 
"I would love to get a rematch with Terence Crawford, so hopefully my team and his team can sit together and discuss this possibility, as we both have the same promoter.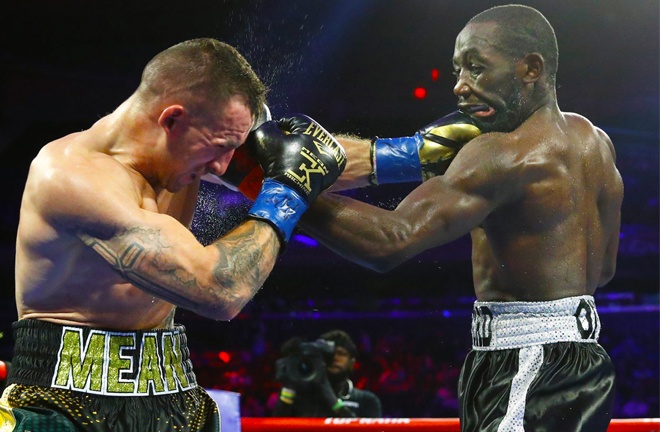 "It will probably not be the next fight, I see and hear Kell Brook could be fighting him next. 
"I want to get back to fighting [though], I want to get up the rankings and get my mandatory position to fight for the title to get that rematch."
Fighting the very best in Boxing's well renowned 'Mecca' of Las Vegas, signed to promotional outfit Top Rank and managed by the sport's most renowned manager; Egis Klimas, who happens to be a fellow Lithuanian. 
A far cry from the city of Kaunas, where Kavaliauskas would cut his teeth in the amateur ranks.
"I met my manager, Egis Klimas in I think, 2011 in Kaunas. 
"Egis would come back to Lithuania on holiday when he started dealing with boxing in the United States.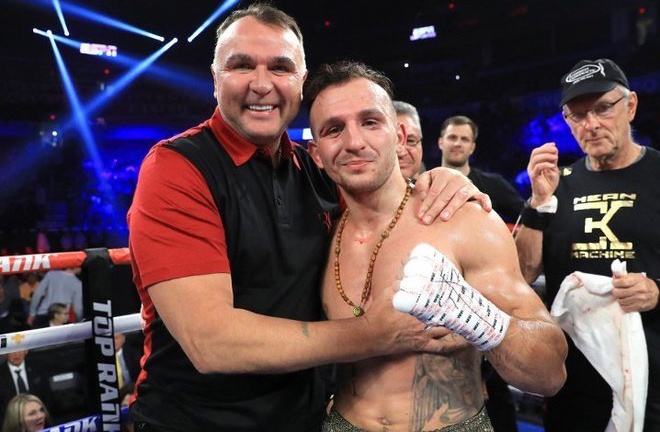 "He did already have a couple of guys, then he just offered me the chance to go to America. At the time I was preparing for the London Olympic Games. 
"He just offered it to me! He said, 'After you have finished the Olympic Games, do you want to come to America to turn professional?' Now this has been my dream since I was 13 years old. 
"I didn't hesitate, I said yeah! That was it, straight after London I went to America. 
"I went to the gym in Oxnard nearly eight years ago and I have been there ever since. 
"Same gym, trainer, everything. At the time I had no wife or anything, it was just me."
I had previously spoken to the Lithuanian lead over a year ago, where we discussed the state of boxing and his own reputation back in Lithuania.
There was not much to talk on regarding this matter in our previous conversation, however both areas had seen vast improvements when discussed this time around.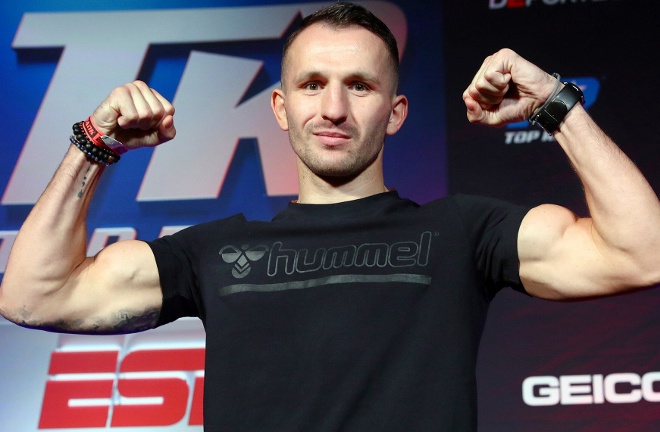 "Oh it's changed since we last spoke. In Lithuania they know me very well now, they know boxing now too, It's getting really popular in Lithuania. 
"Every time I go back I get more and more attention in Lithuania, so I'm very about that. 
"People are training in boxing more, boxing is becoming more popular. I love it!
"I would love to fight in Lithuania, but I'm not sure about the crowds. But we will see in the future, maybe this will happen." 
From the Baltic to the Bubble – Kaunas to California, Egis Kavaliauskas teeters on the edge of glory, eagerly anticipating the sport's biggest obstacles in a time full of just that.
Written by Adam Noble-Forcey
Follow Adam on Twitter @Adam4cSports