"No prisoners at war – that is my motto, my slogan. I don't want to just win the fight. I want to destroy my opponent"
Sometimes in this sport, words are hollow. Statements are made and not always followed up. The words above are from Shohjahon Ergashev, the undefeated super lightweight who currently stands at 18-0(16KO).
In his case, his actions are speaking just as loud as his words. His latest opponent, Adrian Estrella, was taken out in less than two minutes in January and summed up his experience in a chilling manner. 
"I was paralysed on the canvas. I couldn't hear anything and I couldn't move"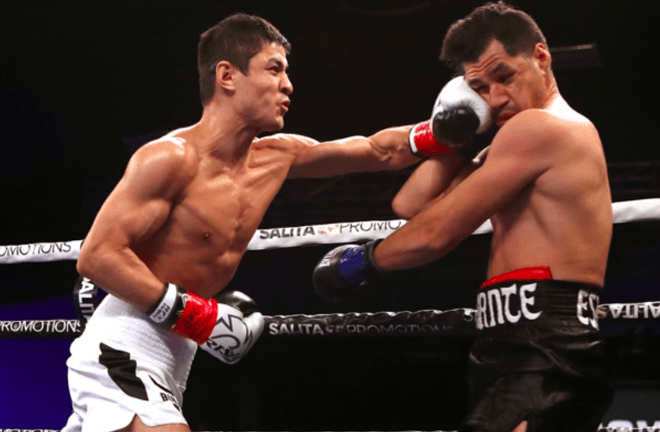 The finish came after an exquisite left hand to the body from Ergashev. Estrella collapsed into the ropes and clutched his midriff in complete agony. Shohjahon walked away and allowed himself to humbly celebrate for a second. A small tribute to the most perfect of shots. Unsurprisingly, the clip of the finish quickly reverberated around social media and the hard-hitting southpaw had truly announced himself as a real player in the 140lb division. 
Introduced to boxing by his father as a child, Ergashev hails from humble beginnings in his native Uzbekistan. However, since before he can remember, boxing has been his sole focus. Whilst other children may have been preoccupied with other things, the now undefeated Uzbek identified his calling in life, at an early age. 
"My village was very small. When my father introduced me to boxing it took over. School and [the] boxing gym. That is how I describe my childhood"
Clearly boxing was never going to be just a hobby. Ergashev (and his father) treated the sport incredibly seriously from the very start. As he grew into his teenage years, the initial enthusiasm for the sport, began to develop into a real career option and it wasn't long before he was representing his beloved homeland as a standout amateur boxer.  
"I competed over 200 times as an amateur and spent six years on the Uzbekistan national team. It was a great time but I did not have the chance to go to the world championships or the Olympic games in Rio. I was winning the fights but the opportunity to go to the biggest tournaments never came. I regret that."
To overcome the disappointment of not being selected for the Olympic games, Ergashev moved to Moscow, in search of some inspiration and a break in a sport he had dedicated his entire life to. Whilst there, he met his now long-term manager, Oleg Bogdanov and on the 23rd December 2015, he entered the boxing ring as a professional, for the first time.
For the next two years, Ergashev travelled around Russia learning his trade. But, it hasn't always been big platforms and live television shows. The early stages of his career were spent on cards staged in various night clubs and restaurants all across Russia, from Moscow to St Petersburg. The man we see today under the bright lights was moulded in the deepest, darkest corners of the sport.
After two years in Russia, Ergashev had built up a record of 9-0 and when the opportunity to appear on the undercard of a Daniel Jacobs card on DAZN in America presented itself, it was one he grabbed with both hands. Since then, he has permanently relocated to the USA, teamed up with promoter, Dmitriy Salita and is now plying his trade in one of the most famous gyms on the planet.
"It has been an incredible journey and I like where I am now, in the USA. Dmitriy (Salita) is doing his best and I can see that he is trying to make the best fights for me. I live and train in Detroit with my trainer Sugar Hill Steward. There are not many trainers in the world that can develop a fighter the way Sugar can"
His trainer Sugar Hill Steward is the nephew of perhaps the greatest trainer of all, Emmanuel Steward. He now carries the torch after his uncle passed away in 2012 and has recently hit the headlines after being announced as the trainer of heavyweight sensation, Tyson Fury.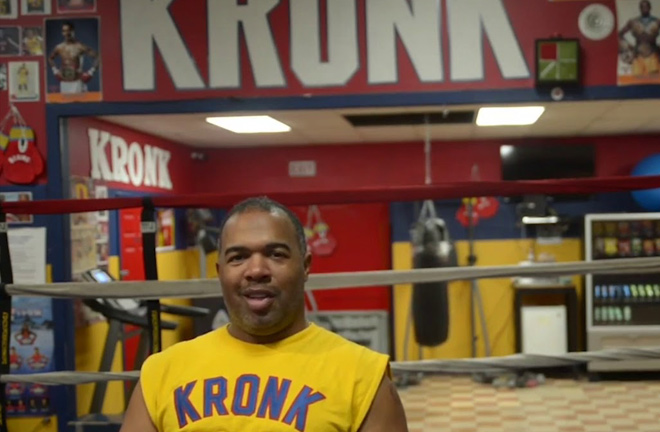 Ergashev appreciates his place at the Kronk gym and is reaping the benefits of training in such illustrious company.
"The development under Sugar Hill has been apparent in the last year. I am changing a lot of things to make a better fighter. I have always had 'the punch' but now I have balance also. I am learning to 'hide' my punches and improving my defence, I am developing into a more complete fighter."
Just like his dedication to the sport of boxing, the Uzbek star also takes his heritage seriously and he carries the alias, 'The Descendant of Tamerlane' which pays homage to the famous conqueror who heralded from Uzbekistan.
"Tamerlane conquered many countries; I plan to do the same in boxing. Along with this, I carry the motto of no prisoners at war. I don't want to just beat my opposition; I plan to destroy them"
An almost intimidatingly serious individual, the intentions of Shohjohan Ergashev are clear. He is not here to make up the numbers, he has his eyes firmly set on those fighters at the top of the division and plans are in motion to take them fights sooner rather than later. After eighteen fights, he believes he has served his apprenticeship and it is now time for him to take over at super lightweight.
The division is one of the most competitive on the planet and is currently under the control of Josh Taylor (IBF & WBA Champion) and Jose Ramirez (WBC & WBO Champion). There is no denying these fighters are fantastic talents, but for Ergashev, they are simply standing in the way of what he believes is his destiny.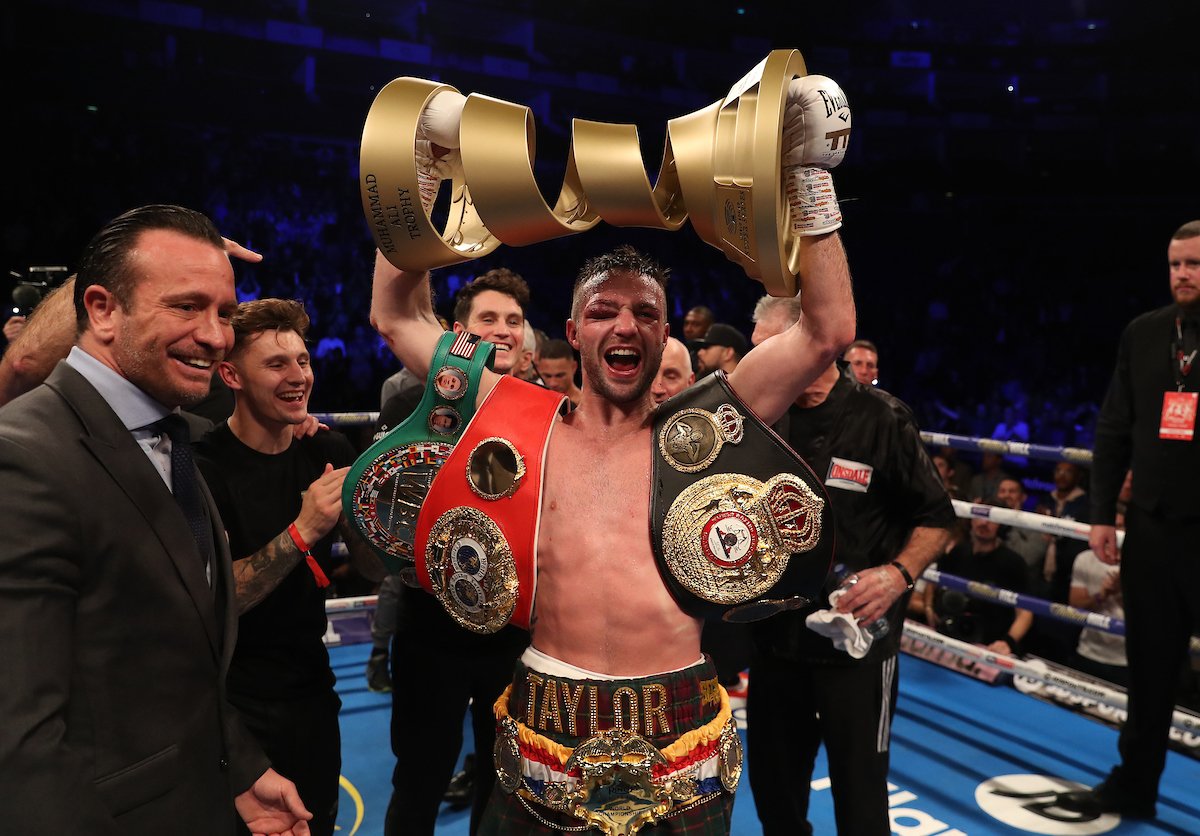 "In truth, I feel like my career is too slow at this point. I am sick and tired of undercard slots; I know I am ready to be the main event. I am ready for all the champions, even in my next fight. My main aim is to make my father proud but of course, I want to be world champion"
"I don't think much of either of them, they are just the same. I am different. I will take Taylor in my next fight and I will travel to his country. He will not come to my country so I will defeat him in his. I have a message for both of them, they need to change their weight class because I am coming. Light welterweight titles belong to me and only me…."
Serious words from a serious man. When Ergashev enters a boxing ring, he is emotionless. Almost as if this sport that is designed to produce fear and nervous energy makes no impression on him at all. At 28, he is entering his prime as a man and as an athlete. An incredible belief in himself combined with frightening punching power, he is not a man to be taken lightly. He knows that and he wants fans around the world to understand it, also.
"Spectators, be ready. You will not be disappointed by me or my performances and remember…….no prisoners at war"