Ortiz vs. Berto Results Affects Future for Pacquiao and Mayweather:
This past Saturday saw a sure candidate for Fight of the Year, Round of the Year and just maybe Upset of the Year as well when "Vicious" Victor Ortiz not only defeated the undefeated Andre Berto and took his WBC Welterweight Title, but also proved his many critics and naysayers wrong in the bargain. The bout was an exciting, all-action brawl that saw both men fall, with Round 6 in particular becoming a gut-check classic as Ortiz rose from the canvas to recover and knock Berto down in turn. Many questioned Ortiz's heart or thought Berto was simply too fast for the heavy-handed Californian, factors which left staff writers at Proboxing-fans.com divided in picking a winner and made Ortiz a 4-1 underdog.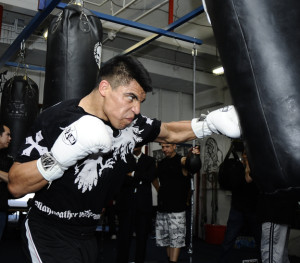 In fact, so many thought Victor Ortiz would come up short in this fight that the results have shaken the welterweight rankings down to the foundation. Just about the only things that have remained the same in the wake of this fight are that Manny Pacquiao remains the top dog at 147 lbs, and that Floyd Mayweather remains inactive and mired in problems of his own making. With such a big shake-up, one has to wonder what comes next for these two?
The one thing I do not expect is an immediate rematch. This fight was a rare instance in modern boxing of the champion not getting a rematch clause, so Berto has no legal right to a return bout. Also, since the results were not controversial (and Berto isn't Don King, Oscar de la Hoya or a Klitschko brother), I do not see the WBC ordering a rematch either. Of course, a rematch has the potential to be a big earner, but since the new WBC champion has bigger fish to fry, I see Ortiz vs. Berto II as being Plan B.
"Vicious" Victor's big win has made him the new entrant into the Pacman Sweepstakes. Unless Pacquiao vs. Mosley sees an even bigger upset, the whirlwind from the Philippines will soon be looking for a new opponent to fill in his dance card later this year. A quick look at the welterweight top ten reveals that only two names with any cachet: Ortiz and Berto. Ortiz has the win and the belt and a more fan-friendly style, making him a more attractive prospect than Berto. The same could be said for Floyd Mayweather, as there is some speculation he is eyeing Berto for his comeback fight, should "Pretty Boy" manage to clear away his legal difficulties. Odds are pretty good that Ortiz will see a big-money, PPV fight later this year.
The picture is not nearly as good for Andre Berto, but it certainly isn't bleak. HBO has invested quite a lot in Andre Berto, and I strongly doubt they will discard him simply because he lost what was an entertaining bout to Victor Ortiz. After all, two major belts are currently held by Eastern European fighters whom few even in Eastern Europe know about. Jan Zaveck of Slovenia hasn't fought outside of Slovenia since winning his IBF strap. Undefeated WBA beltholder Viacheslav Senchenko won his belt at home and hasn't left since. Senchenko's promoter is Union Boxing, a Ukrainian outfit that has seemed open to American and British fighters in the past, so I find it hard to believe they would balk at a lucrative, HBO-televised fight card. Zaveck, on the other hand, has German management, and that probably means staying in Europe for fights in Central and Eastern Europe. Still, with two belts out there, it is hard to believe HBO could not arrange a new title shot for Berto within the next 12 months.
Another thing to consider about Berto is that while he is now #2 to Ortiz, both Pacquiao and Mayweather will be looking for opponents soon (unless Mayweather goes to jail, that is). Whoever does not get Ortiz might very well turn to Berto instead. As I wrote, Berto's career prospects are hardly bleak, and I do not expect this loss to banish him into the wilderness.