After losing their 2012 gym war, Nigel Benn invited Carl Froch out to the pub for a pint. Froch accepted, and soon found himself joining Benn and the 4th incarnation of the Doctor foiling a plot to turn the entire population of Glasgow into Cybermen. In the wake of that adventure, The Cobra decided to join The Dark Destroyer's trip home to 1993, and once there, he tore off to where Chris Eubank was preparing for what would have been the Eubank vs. Benn rematch and offered his services to Simply the Best as a sparring partner…
Carl Froch vs. Chris Eubank Fantasy Fight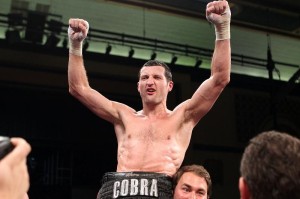 Froch opens the fight by seeking to apply his advantages in height, reach and sheer strength to establish his jab, and use that as the basis for his offense. He comes on with his hands down, pumping stiff single and double jabs, sometimes with a straight right or right-left hook combo coming in for good measure. For his part, the 1993 version of Eubank has been in the ring with quicker and more powerful opponents than Froch, but never anyone who has Froch's size and strength, and that makes him more cautious then usual. Eubank retreats, picks off a few counter-punches, and observes Froch closely. Starting slow, Simply the Best drops the first two rounds.
Feeling more comfortable mid-way through the 3rd, Eubank starts using his superior hand speed to establish his own jab. Just as skilled, but more fluid than Mikkel Kessler, Eubank also carries his hands low (although not around his waist as Froch does), and uses small lateral movements to snap the jab. As Eubank gets his jab going, his hands start flowing more freely, and in the 4th and 5th Froch is repeatedly stung by quick rights and hooks. Froch responds by clinching and roughing Eubank up, but the Brighton fighter is not intimidated by grappling on the inside, and responds with his own sneaky repertoire of dirty, inside tricks.
Froch shifts tactics in the 6th. Knowing that Eubank likes to fight at a measured pace and pick his shots, he turns swarmer and applies pressure tactics. Although it means eating Eubank's jabs and catching vicious, one-punch counters, Froch catches only a little more leather than he was in the prior few rounds, and starts landing a lot more in return. Eubank is once again backing up, and although he blunts much of Froch's initial fury in the 6th and into the 7th with his skills as a boxer and counter-puncher, the Nottingham man's dogged, brawling aggression eventually gains traction. Froch sweeps the 8th, 9th and 10th.
At the end of the 10th, Froch catches Eubank with a particularly ugly, clubbing overhand right that drives Simply the Best onto the ropes. Froch follows up and unloads, driving Eubank to the canvas. Eubank's people are about to call off the sparring session-turned-gym war, but Eubank gets on his feet and waves them off. Froch drives forward in the remaining seconds of the round, but catches a picture-perfect Eubank uppercut as he comes in, snapping his head back. The bell rings and both men go back to their stools.
Eubank fought conservatively after the grueling and ultimately tragic 1991 battle with Michael Watson that began his long stint as WBO super middleweight champion, but on those rare instances where Eubank was hurt and in trouble, he showed flashes of his old killer instinct. That vicious side of his nature re-emerged for the 11th Round. Playing possum, Eubank moved less and more sluggishly, luring Froch in. Initially cagey, Froch eventually abandoned his caution and plowed forward. Eubank stepped aside and in, drilling Froch with a hard right followed by a short, sharp left uppercut.
Froch hit the canvas for the first time since his fight with Jermain Taylor. He rose to find Eubank all over him. Covering up and clinching, Froch bought himself the previous minute to clear his head, and started firing back. For the remainder of the 11th and going into the 12th, the two fighters tore at each other in the center ring, each man relying solely on his chin and trying to batter the other into submission. Both came out hurt, but standing, if only just.
Who won? Benn thought it was Froch. The Doctor thought it was Eubank. Everyone present had their own opinion. It was very, very close.