Abner Mares Fighter Profile, Career Record & Bio (20-0-1, 13 KO's)
Abner Mares is one of the top young prospects in boxing today. He established his dominance as an amateur and is now a professional bantamweight, looking to get his shot at the top of the division.
Amateur Career
Mares was phenomenal as an amateur boxer, compiling a record of 112-8 with 84 KO's, including a notable victory over Juan Manuel Lopez in the 2002 Central American Games. Mares successfully medaled in the 2004 world junior championships, 2003 Pan American Games, 2002 Central American/Caribbean Games, and 2002 World Cadet Championships.
Professional Career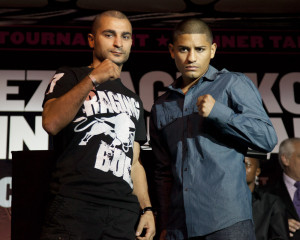 As a professional, the explosive and exciting Mares has remained undefeated in 21 professional fights with 13 knockouts. In 2007 he defeated Isidro Garcia for the WBO NABO Bantamweight title and since then, has been on an upward climb to the top, using his superior boxing skills to earn one-sided victories.  Mares was sidelined briefly due to an eye injury that required surgery but since the surgery has continued his surge.
Fight Against Perez
Mares challenged IBF bantamweight champion Yonnhy Perez in May of 2010 for his belt in a tough fight that ended up being scored as a draw. This decision was quite controversial, as many believed that Mares won the fight by a narrow margin.
Future
Mares is still very young and has already established himself as one of the top contenders in the bantamweight division and will attempt to further prove himself by taking on IBO Champion Vic Darchinyan in December in his home country of Mexico. This should be a very tough fight for Mares, but if he is victorious, he may get another shot at Perez's belt if Perez is able to hold off Joseph Agbeko in the "Winner Take All" tournament featuring Perez, Agbeko, Mares and Darchinyan.
Mares will have a lot more tough fights on the horizon, but if he keeps up this momentum, he will have a major belt to his name very soon.