Joseph Agbeko Fighter Profile, Bio & Career Record (27-2, 22 KO's)
Hailing from Accra, Ghana, a city that has produced more than a few notable fighters, Joseph Agbeko is one of the premier bantamweight fighters in the sport. His quick hands and powerful punching have allowed him to knock out 22 of the 27 men he's defeated.
Early Career
"King Kong" was quite dominant in the early part of his career. Doing most of his fighting in Africa, between 1998 and 2004, he only fought twice outside of his native continent. While in the early stages of his career, Agbeko won the Ghanaian bantamweight title, the vacant African Boxing Union bantamweight title as well as the WBF bantamweight title.
Bid for the EBA title
In 2004, Agbeko fought against Volodymyr Sydorenko for the European Boxing Association bantamweight title. In this fight, Agbeko suffered his first loss in 6 years as a professional, but was able rebound nicely with a win over Sumaila Badu for the vacant Commonwealth (British Empire) bantamweight title.
Bid for the IBF Title
Agbeko has earned many smaller scale titles over the course of his career, but in 2007, Agbeko earned himself a chance to fight for the IBF Bantamweight Title, the most official title fight of his career thus far. In this fight, he defeated Luis Alberto Perez in a 7th round stoppage and became the new champion.
Defenses
As the new IBF Champion, Agbeko was at the peak of his career and ready to take on tough opponents. His first test was William Gonzalez, which Agbeko won by decision. The following challenge was by the always-tough Vic Darchinyan, whom Agbeko defeated in a close 12 round unanimous decision.
Fights against Perez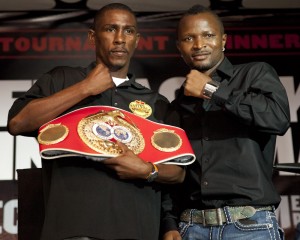 On Halloween of 2009, Yonnhy Perez, one of the premier young, undefeated fighters in the game, stepped up to challenge Agbeko for his title.  Perez used his fluid fighting style and ability to throw well timed combinations to defeat Agbeko by unanimous decision and take over as the IBF Champion.
Agbeko is still hungry for more championship fights and will be taking on Perez in a rematch later this year. This is a part of the Showtime bantamweight tournament, which also includes Abner Mares and Darchinyan. Of course, this will be a tough test for Agbeko, and he will need to find solutions to the problems that plagued him in their tough, back and forth first encounter. Look for Agbeko to remain near the top of the division and welcome all challengers, whether he wins, loses or draws Perez.