Andre Berto Bio & Fighter Profile
Andre Berto had long been considered one of the main up and coming forces in the Welterweight division. Berto is quick, skilled and athletic, and is very interesting to watch. After a stellar amateur career, he has captured the WBC and IBF Welterweight championships. However, after some recent career setbacks, Berto is looking to once again jumpstart his career.
Profile updated & amended by Matt Andrzejewski November 2012
Andre Berto 's Early Professional Career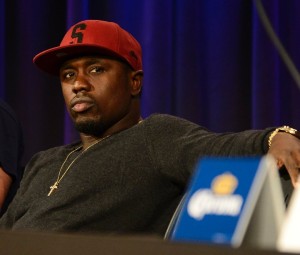 During the span of December 2004 to October 2006, Andre Berto won a total of 15 fights. Thirteen of those wins came by way of knockout. From this set of impressive victories, Berto was named ESPN's 2006 prospect of the year. His next challenge in February of 2007 was against Norberto Bravo of "The Contender." Berto defeated Bravo by way of technical knockout in the first round. Bravo was knocked down three times, triggering the three knockdown rule. Berto followed this win by another against Martinus Clay. Andre defeated Clay by another impressive seventh round technical knockout.
Andre Berto then climbed into the ring against top contender David Estrada on September 29, 2007. During rounds three and eight, both fighters went toe to toe exchanging blows. It was Berto who was able to land the cleaner more accurate shots to the head of Estrada. The end of the fight came when Berto dropped Estrada with an uppercut followed by an overhand right. While Estrada beat the count, he was unable to defend himself, as Berto pressed with a barrage of punches.
WBC Welterweight Champion
On the night of June 21, 2008; Andre Berto went on to capture the vacant WBC Welterweight title. Berto defeated Miguel Rodriguez in the seventh round by technical knockout. Berto managed to knock Rodriguez down twice before the referee stopped the bout.
Andre Berto has already gone on to defend his title three times. The first fight was with Stevie Forbes, a reputable opponent recently coming of a loss to Oscar De La Hoya. Berto consistently out-punched Forbes, winning the fight by unanimous decision.
Berto's second title defense was against the former WBA title holder Luis Collazo. Berto started rough during the first round, when he was hurt by Collazo. Berto also went on to have a point deducted for holding Collazo's arm in the fourth round. Nevertheless, Berto was able to take advantage of the tiring Collazo in the later rounds and score the unanimous decision. The decision was fairly controversial however.
Andre Berto's next title defense was against Juan Urango. Berto, clearly the faster of the two, used movement to get in and out effectively. In round four, both fighters exchanged several heavy power shots, but it was Berto who clearly out boxed Urango. Berto picked up the one sided unanimous decision and retained his WBC Welterweight title.
Tragedy in Haiti
For his next bout, Berto signed to fight "Sugar" Shane Mosley in what would be his biggest test to date.  However, just weeks before the fight, a massive earthquake hit Berto's native country of Haiti.   Due to the tragic nature of the earthquake and Berto's concern for his native homeland, the fight was postponed.
Three months later, Berto would return to the ring to face veteran contender Carlos Quintana on April 10, 2010.  Berto got off to a slow start as Quintana's movement seemed to give him some issues in the early rounds.  As the fight progressed Berto picked up the pace and started landing his power shots.
In the 8th, Berto was able to hurt a tiring Quintana and force him back into the ropes.  Shortly afterwards, Berto landed a powerful right hand that violently snapped Quintana's head back and caused the referee to call a halt to the contest.
In his next bout, Berto faced Freddy Hernandez on November 27, 2010.  Berto put Hernandez down in round one with a brilliant left right combination.  The referee would not bother finishing the count giving Berto another sensational TKO victory.
Victor Ortiz Bout
Berto's next fight would come against another former highly touted prospect turned contender in Victor Ortiz on April 16th, 2011.  The fight would become an instant classic and be considered by many to be the fight of the year in 2011.
Ortiz came out aggressive and put Berto down in round one.  Howeve,r Berto evened things up in the second with a knockdown of his own.  Ortiz took control over the next three rounds and seemed to be on his way to outboxing Berto.
But things changed again in the 6th round.  Berto caught Ortiz with a big right that put Ortiz on the canvas.  Ortiz seemed to be in in trouble but late in the round was able to score a knockdown of his own on Berto.
After the wild 6th round things settle down a bit in the 2nd half of the fight.  Ortiz snatched control much like he had earlier landing big shots to the body and head.  The fight would amazingly go the distance and Ortiz would be awarded with a unanimous decision victory.
Controversy in Berto's Career
Berto made his comeback in September and stopped the tough Jan Zaveck in the 5th round to capture the IBF Welterweight Championship.  The boxing public though wanted the Victor Ortiz rematch and that was made for February of 2012.  But an injury forced Berto to postpone the original date.
So the rematch with Ortiz was scheduled for June 23, 2012 in Los Angeles.  However, during pre-fight drug testing, Berto tested positive for a banned substance and the fight was called off.
Future for Andre Berto
Andre Berto has signed to fight former Featherweight and Super Featherweight World Champion Robert Guerrero on November 24, 2012.  This is a big test for Berto as well as an opportunity to begin to put the past behind him.
We have seen fighters overcome positive drug tests in the past, though it does take some time.  Berto is a very talented fighter and is fighting in a very deep weight class.  If he can defeat Guerrero then there are big money fights on the horizon.
Both Floyd Mayweather and Manny Pacquiao are looking for big name opponents and Berto would certainly fit that mode.  A rematch with Victor Ortiz at some point in time also seems inevitable.