What was the best fight in boxing in 2011?
By necessity, the boxing match that becomes Fight of the Year must stand as an event that was much talked of both before and after the fight. The fight must take place in an atmosphere of drama, produce plenty of action and suspense in the ring, and end with a clear result that has significant repercussions for the sport.
With those criteria in mind, one 2011 fight stands a full notch above all comers: Victor Ortiz vs. Andre Berto.
Fight of the Year: Victor Ortiz UD12 Andre Berto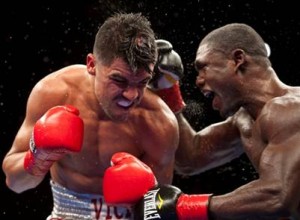 Observant fight fans had plenty of questions going into this WBC Welterweight title contest. Berto was favored by a 3-1 margin (albeit not picked by me), but many thought he was at least semi-protected. He beat the likes of Carlos Quintana and Luis Collazo easily enough, but had yet to take on a Top 5 welterweight. For his part, Victor Ortiz was thought of as yesterday's news after his 2009 collapse to Marcos Maidana, and had everything to prove.
The fireworks started from the first seconds of the opening bell, as Ortiz relentlessly forced the action on Berto. Fighters started dropping from the start, with the defending champion down on a knee in the 1st Round. Berto came right back, almost knocking Ortiz over with a hard right in the 2nd.
The fight continued at a savage pace until the 6th Round (a runner-up for Round of the Year) when another Berto right sent Ortiz down hard. Ortiz got up hurt, but hung on doggedly and survived his window of vulnerability, despite Berto's best efforts. He then landed a savage double left hook to flatten Berto in turn. It was the round that stamped Ortiz's authority over the fight. Berto would prove unable to deflect and defuse Ortiz's aggression, and while every round was competitive, Ortiz's furious assault carried most of the fight. "Vicious" Victor won a Unanimous Decision, with even the closest scorecard showing a two point margin.
In addition to the title changing hands in an action-packed upset and Berto losing his "0," the fight's aftermath rippled through the sport. Victor Ortiz was finally vindicated, and the fight might prove to be his career-defining performance. Although embarrassed by Floyd Mayweather in his next outing, Ortiz's defeat of Berto cemented Ortiz as a top-tier welterweight.
Andre Berto showed plenty of heart and grit, answering many questions about him. His stock remained solid in defeat, and he bounced back to seize the IBF belt from Jan Zaveck.
Victor Ortiz and Andre Berto are scheduled for a rematch on February 11, 2012.
Second Place
Lamont Peterson vs. Amir Khan was a late entry, but a strong one, as it shared many points with Ortiz vs. Berto. This fight came up second because of two factors: point deductions and the fight venue. While I view the points deducted from Khan as legal and valid, that does not make them proper, and it is clear that Peterson got a little extra something from the electric support of his hometown crowd. If the fight had been in New York or Las Vegas or if a different referee had been on duty that night, the result would have been at least a Draw. Change both and Khan wins by a hair. Ultimately, Peterson vs. Khan wasn't as decisive as Ortiz vs. Berto, and therefore not Fight of the Year.
Honorable Mentions: Mike Alvarado vs. Breidis Prescott; Luis Concepcion vs. Hernan Marquez; James Kirkland vs. Alfredo Angulo; Marcos Maidana vs. Erik Morales; Pawel Wolak vs. Delvin Rodriquez I.
Notable Exclusion: I was dutifully forced to exclude Manny Pacquiao vs. Juan Manuel Marquez III from consideration. As previously mentioned, clarity is a factor for Fight of the Year. A proper candidate for Fight of the Year can have a close ending, even a Draw, but that result must be clear and uncontested. The Pacman vs. Dinamita rubber match's results were anything but clear and uncontested, and the decision stands as one of the most controversial of 2011.