Denis Lebedev Bio, Record & Profile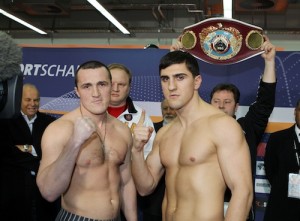 Russian knockout artist Denis Lebedev enters 2011 hoping it is the year he finally gets to call himself a world champion. The quietly spoken 31 year old was born in remote Stary Oskol in western Russia. The city is home to a large iron and steel plant and Lebedev demonstrates the same toughness in his fighting style. Standing just under 6ft tall, Lebedev is a small cruiserweight but more than makes up for his lack of size with a powerful stright left hand. It is a devastating weapon, and one which 16 of his 22 opponents have been unable to cope with.
EARLY CAREER
Lebedev turned professional in 2001 as a light heavyweight and powered his way to 13 straight victories over moderate opposition. After claiming the Russian 175lb crown title with a unanimous points victory over Artem Vychkin in September 2004 he disappeared from the scene as a number of promotional and managerial disputes pushed him into a self imposed 4 year hiatus from the sport.
MAKING WAVES
Returning to the ring as a cruiserweight in 2008, Lebedev set about making a serious impact on the European scene. A quick tune up victory in Russia was followed by an appearance on the undercard of Amir Khan's fight with Marco Antonio Barrera. Although the victory over journeyman Nick Okoth was entirely predictable, the manner of the win put him on the radar of British promoter Frank Warren. After Lebedev returned to Russia to score a career best victory over former Wladimir Klitschko victim Eliseo Castillo, Warren decided to bring him back to British shores as an opponent for comebacking former WBO world champion Enzo Macarinelli.
Macarinelli was returning from knockout defeats to David Haye and Ola Afolabi and the at-the-time unknown Lebedev was expected to be a good opponent for the Welshman to rebuild some confidence against. Things didn't go according to plan for the former champion, as he was unable to deal with the Russian's mixture of power and agression and was busted up en route to a third round stoppage defeat.
WORLD LEVEL
Lebedev's victory boosted both his profile and world ranking and his next two fights saw him win the WBO intercontinental title against Ali Ismailov and defend it against Ignacio Esparza.  Riding a 20 fight win streak with the last 8 of those victories coming within the distance Lebedev was ready for another step up in class and it arrived in the form of a WBO world title final elimination bout with the former amateur world champion Alexander Alexeev. Although a skilfull boxer, the upright Alexeev was blown away in just the second round as Lebedev's powerful attacks left him nursing a broken nose and a shattered ego.
The win earned the unbeaten Russian a shot at Marco Huck's WBO cruiserweight title. The controversial German champion attempted to get under Lebedev's skin with a stream of trash talk before their clash in December 2010. As is his way, the 31 year old  ignored the taunts and vowed to settle matters inside the ring. With both fighters bringing combustible elements to the fight, the clash was expected to produce fireworks and many made Lebedev a slight favorite to take the title.
Although the fight itself was somewhat of a letdown, many observers felt Lebedev had done enough to relieve Huck of his title. The Russian pursued his German opponent throughout the 12 rounds and although neither fighter found themselves in real trouble Lebedev always seemed to be the one in control. Sadly for the challenger, the judges disagreed and Huck escaped with a split decision and his title.
Lebedev has all the tools to rebuild his career and his exciting style will ensure he remains a good draw. With the right opponents and a bit more belief in himself, Lebedev can finally reach the top in 2011.